Allan Barber reports on the latest MIE proposal to bring the two cooperative processors together. Enforceable supply contracts and levy deductions without price guarantees, lie at its heart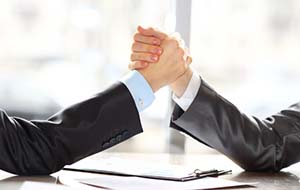 By Allan Barber*
MIE has to be given credit for its persistence with its campaign to persuade Silver Fern Farms and Alliance to look seriously at the benefits of merging as opposed to continuing to beat their respective heads against the brick wall of competition.
But the outcome depends on several planets aligning at the same time.
The present state of flux exists because of the uncertainty surrounding the results of SFF's capital raising exercise, still to be announced at the time of writing, the outcome of two special general meetings called by a minimum of 5% of the shareholders in the cooperatives, and last but not least, the attitude of the majority of those shareholders.
The latest step in this process is the concept of Newco – the Visionary Meat Cooperative which expands on the Big Red proposal contained originally in MIE's Pathways to Long-term Sustainability report launched in April. There is more detailed financial analysis in the latest concept plan which implies a net profit of $92.4 million in the fourth year after merger compared with a combined profit of $6.7 million if the companies remain separate.
Murray Taggart, Alliance chairman, questions whether the savings used in the proposal can be justifiably claimed as benefits of a merger, saying MIE's figures contain savings that are independent of a merger. He reiterates the Alliance board's stance the board would consider recommending the merger to shareholders, if it is as compelling as stated in the proposal. Adviser Ross Hyland doesn't accept this position, saying SFF in contrast is broadly in agreement with the quantum if not the individual weighting of the savings.
However the most critical issues are not necessarily whether the figures all stack up, but first, the result of SFF's capital raising and second, how easy it will be to convince farmers to exercise their democratic rights and vote for a revolutionary new state. This depends on overcoming farmer apathy as well as their appetite for a three year contractual commitment which a major bank, believed to be ANZ, has said would be an essential precondition for providing bank funding for forming Newco and the special purpose vehicle Pasco.
This SPV would be an essential part of the exercise, as the redundant processing facilities would be parked in Pasco to be disposed of over time in an orderly fashion. The third issue will be to obtain the agreement of the companies' boards.
A serious element of doubt arises from the uncertainty of what might happen with the capital raising. If SFF has a genuine offer of new capital on terms which are acceptable to the banks and the majority of shareholders, the MIE proposal and the outcome sought by the shareholder group at the SGM will presumably be dead in the water. There must be an announcement very soon now to comply with stock exchange rules which impose a maximum time limit after declaration of a trading halt.
If none of the investment proposals is acceptable to the board, the SGM assumes much greater importance, because it may start a bow wave of supplier support for getting SFF to appoint an independent expert to re-examine the benefits of a merger. This would have to take into account MIE's figures, if only to prove or disprove the supporting methodology and conclusions.
Of course none of this will necessarily have any impact on Alliance's thinking, but it is safe to assume Alliance shareholders who are supportive of the merger concept or at least neutral, may be encouraged to believe there could be a valid reason for going through the same exercise. It will take longer to gain momentum and persuade the board, but it could lead to a similar outcome.
Questions to be answered focus on the assumptions built into MIE's numbers which Ross Hyland assures me have deliberately taken a conservative view of such critical factors as gains from combined international market activity, livestock retention by the merged entity, plant closure costs and annual revenue growth rates.
The basis of MIE's plan which must be absolutely understood by farmers is the need to commit to three year enforceable supply contracts which will serve as security against which the banks would be prepared to lend money.
Suppliers would be required to commit livestock without price guarantees from which a levy would be deducted to repay the bank loan, although Newco intends to pay premiums for quality, yield and shoulder supply.
The levies would contribute up to $115 million, roughly two thirds from sheep and one third from cattle, which would be sufficient to raise $150 million subordinated debt to meet peak funding requirements. It is estimated this would earn interest and either be repaid to shareholders or converted to equity at the end of year 4. Levies applied to funding Pasco and the redundant assets would only be repaid to the extent of the value of assets sold.
There is much for Alliance and SFF shareholders to get their heads round, if this plan is ever going to have much hope of flying.
Therefore, depending on other events such as SFF's capital raise, it will be essential to get the boards of both cooperatives to accept the logic and promote it to their shareholders.
This may be the hardest task of all.
---
To subscribe to our weekly Rural email, enter your email address here.
---
Farms For Sale: the most up-to-date and comprehensive listing of working farms in New Zealand, here »
---
Here are some links for updated prices for
- lamb
- beef
- deer
- wool
-----------------------------
Allan Barber is a commentator on agribusiness, especially the meat industry, and lives in the Matakana Wine Country. He is chairman of the Warkworth A&P Show Committee. You can contact him by email at allan@barberstrategic.co.nz or read his blog here ». This article first appeared in Farmers Weekly. It is here with permission.