English says farmers should invest capital if they want to keep Silver Farn Farms out of Chinese hands; says Govt looking at speeding up Overseas Investment Office processes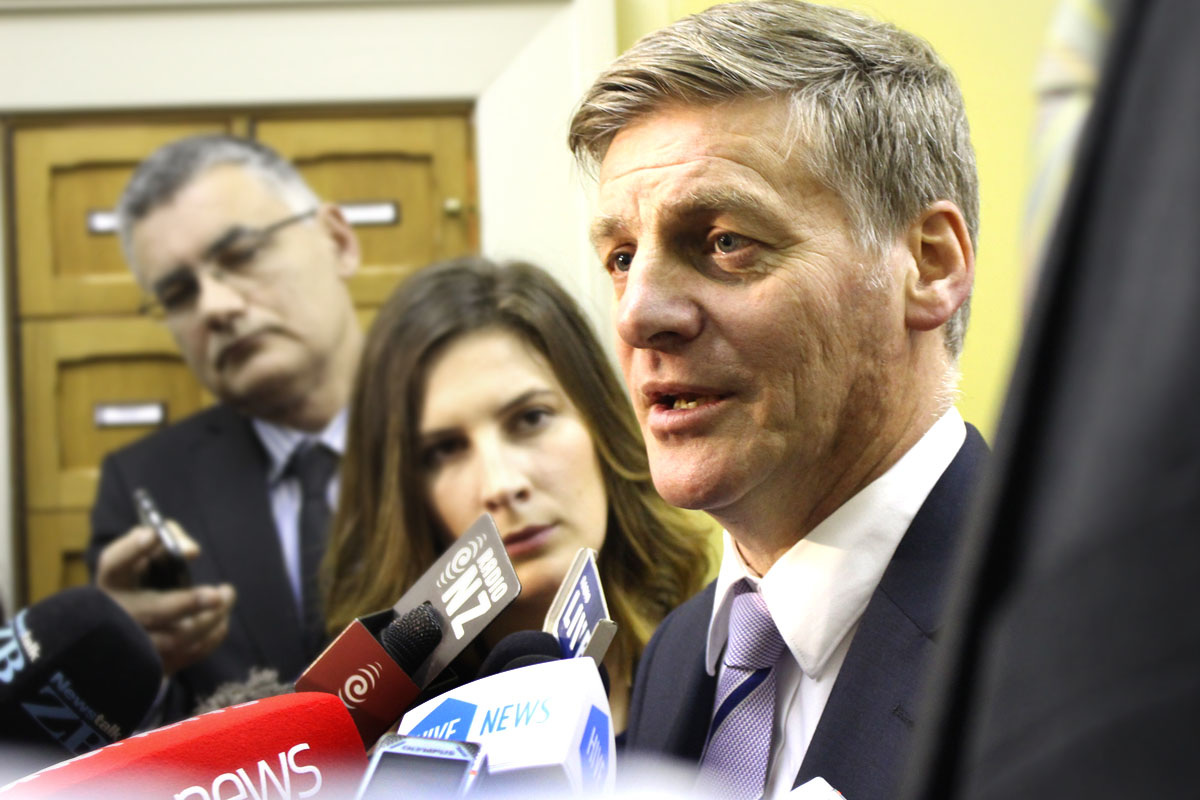 By Lynn Grieveson
Finance Minister Bill English has firmly placed responsibility for the potential sale of a major stake in New Zealand's largest meat processor back onto its farmer shareholders.
English said the Government had not been asked to intervene and would leave any decision up to the Overseas Investment Office.
Silver Fern Farms, which is New Zealand's second biggest exporter after Fonterra with over NZ$2 billion a year in revenues, is expected to announce the sale of up to 50% of the company to a Chinese firm as early as this week as it seeks to reduce more than NZ$100 million of debt. Attempts by the farmer-owned cooperative to raise fresh equity from its farmer shareholders have flopped in recent years. NBR has reported that Bright Dairy and Food, which has also bought into the Synlait dairy operation in the South Island, is the preferred buyer.
Speaking to reporters on the way into National's caucus meeting on Tuesday morning, English also suggested that the government was looking at ways to speed up the process of applying for overseas investment office approval in response to "pressure" from disgruntled overseas investors.
English agreed that opponents of such a deal felt it represented the loss of a strategic asset that should stay in New Zealand ownership.
"That's right, including some of its current owners think that," he said.
"But in order for that to happen they have to provide the capital that's needed to sustain the company. So the real test is not whether people have an opinion, it's whether they're willing to put the money up. And it's not as if these are new or unexpected issues - financing the meat industry's been quite a big issue for the past three or four years."
A former Silver Fern shareholder himself, English told reporters there were "quite a number" of farmers opposed to the possible deal from his own electorate, including one from his home town of Dipton.
"This is an issue where there has been strong opinions among farmers and fairly divided opinions which no doubt has been frustrating for the company itself," he said.
"The farmers have had a number of opportunities, and they may have more opportunities, to work through whether they want to support it by investing in the company."
"The owners of it, the New Zealand farmers who are the shareholders, have total control over that business now. It's in their power to keep control of it. We can't really force them to keep a business when they don't want to own it, " English said.
"Our message to them would be that if the New Zealand shareholders want to maintain 100% ownership of that company then they have to put up the money to secure that ownership."
English said there had been no requests for government assistance from Silver Fern Farms, and no direct discussions with the government about its financial situation.
"Not from the company itself," he said.
"There's been various proposals from the MIE (Meat Industry Excellence) farmer's group over the years, discussions about whether the government should contribute to the rationalisation of the industry and it's certainly helped government understand the commercial pressures in the meat industry, but nothing's actually come from the discussions."
Asked if the case was indicative of a broader problem with capital markets in New Zealand, English said the meat industry was one which struggled to raise capital.
"It's just a market where some sorts of businesses seem to find it hard to raise the capital they need, particularly at scale. This meat company's very big business - billion dollar plus business - and it is seen as a reasonably risky business. But you would need to talk to the company themselves about how they have got on with trying to raise capital. But it does appear they are not able to get their own shareholders to provide the capital they need."
"There's been a commercial process going on. It's only got to this point because the existing owners, for whatever reason, haven't put money into the company so the company's finding someone else that will."
Overseas investment process may be sped up
English was also asked if the government was considering tightening up the Overseas Investment Act. He responded that, rather than making it harder for foreign investors to apply for approval to buy land and assets, the government was considering speeding up the process after hearing complaints from applicants.
"There's a bit of pressure over speeding up the process," English said.
"When you get around, the professional services and applicants you come across, they often complain about it."
"People who are applying want to go through it faster. The government has yet to decide whether it agrees with that."
"We get feedback from people who use it that it takes a bit long, that the hurdles are pretty high. Now some of that is intentional - the Overseas Investment Act is there to test the propositions for people coming in buying, particularly land. There's something like 23 tests that have to be met legally. Recent court decisions over Crafar Farms have raised the bar. So we are not going to reduce those hurdles but there are some issues about whether the processes take too long."
"The market's always telling us that we should. We are just making it clear that we are not going to reduce the hurdles that they have to get over, but we are listening to the complaints about the processes taking too long."
Asked if there was a risk applications could come under less scrutiny, English said that was "a fair question" but added "so far we are just speculating here."
"The only way you can do it is more staff, more money. We are not talking about a major review of the process, but we can guarantee that the legislation won't be watered down." "All I am saying is we are getting complaints and we are listening to those."
Little calls for more follow up after OIO approvals
Labour Leader Andrew Little said he hoped any proposal to sell Silver Fern Farms to foreign investors would be looked at very closely by the Overseas Investment Office.
"Unfortunately their track record is not a good one," Little said.
"They have a track record of approving deals and, in spite of promises made about jobs created and wealth created, the OIO never does any monitoring and follow-up to see whether that's actually happened."
Little called for either the OIO or the Ministry of Business and Employment to be charged with following up applications to check that conditions placed on the deal are being met. "There has been a swag of applications made, " he said.
"Every application that has been made has been approved and there has been no record, at least in response to Official Information Act requests, no information confirming there has been follow-up to see whether the promises made in applications and the conditions attached to applications have actually been met."
"That is the failure of the OIO process to date."
Peters wants Govt to intervene
New Zealand First Leader Winston Peters has called on the Government to intervene to prevent the sale, possibly by lending to the co-operative.
"It speaks volumes that this government will spend tens of millions on a Saudi farm they don't own, but will not spend a cent to save our second largest meat co-op. National's agenda doesn't really care what they sell and to who," Peters said.
"National has also betrayed the thousands of farmers who backed Meat Industry Excellence. This is a betrayal of farmers, farming and our export economy," he said.
"The timing could not be worse with lambing under way so farmer attention is elsewhere. New Zealand First will not be quiet on calling National, the banks or the Silver Fern Farms' board on what is nothing short of economic treason."
(Updates with comments from Winston Peters)