Shanghai Pengxin's dairy farming group breaches terms of ANZ loan, posts $9.4 mln annual loss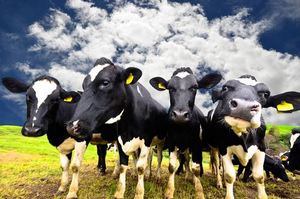 Milk New Zealand Holding Ltd, the Shanghai Pengxin Group operations that run the former Crafar farms, has breached conditions of its ANZ bank loans against the backdrop of falling dairy payouts.
A Companies Office filing from Milk NZ notes that as of June 30 last year it had drawn down $94.7 million of a possible $99.3 million worth of ANZ loans. And the company breached one of its bank covenants.
"The Group exceeded the interest coverage ratio as at 30 June 2015 and therefore all debt subject to this covenant measure is classified as current at year end," the financial statements say.
"The Group obtained a waiver for any breach of the interest coverage ratio post year end up to and including 30 November 2015. Management has been in a process of negotiations with the bank and anticipates to put a debt service facility in place for Pengxin Group Co Ltd (Shanghai Pengxin) that Shanghai Pengxin will continue to provide financial support to the group for the foreseeable future to enable the companies within the group to pay their debts as they fall due."
The interest rate coverage ratio breached must be of no less than 1.50, being earnings before interest, tax, depreciation and amortisation, profits or losses from the sale or revaluation of capital assets, extraordinary or abnormal costs and losses and extraordinary or abnormal gains, and unrealised losses or gains under derivative transactions, divided by interest expense. The report says NZ Milk was paying interest of 4.41% to 5.51% on its loans.
A footnote in the report says following the company's balance date $8.8 million was repaid to ANZ after cancellation of an agreement to purchase Lochinver Station and refund of the associated deposit.
Milk NZ, a Fonterra supplier, posted a loss of $9.4 million for the June 2015 year versus a profit of $32.8 million the previous year. From continuing operations, the loss was $7.65 million.
ANZ's economists are now tipping Fonterra will drop its forecast milk price for the current season from $4.60 to possibly nearer $4.25 per kilogram of milk solids. This follows another fall, albeit not a big one, in global dairy prices. The GlobalDairyTrade price index fell by 1.4%, while the key whole milk powder prices on average eased 0.5% to US$2188 per metric tonne. Fonterra re-affirmed its $4.60 price pick as recently as December 10, but has made clear that the forecast is dependent on an assumption that there will be reductions in production globally and that this will help to boost international prices this year. See here for the full dairy payout history.
Dairy NZ estimates the average farmer needed a payout of $5.28 to breakeven in the 2014/15 and 2015/16 seasons. The 2014/15 payout was $4.65 including 25 cents of dividends. This season's current Fonterra forecast, including dividends, is $5.05 to $5.15.
Last June ANZ, the country's biggest rural lender, said its dairy lending had been reduced by about 16% to $11.3 billion from $13.1 billion in 2010. At that time the bank also estimated about 5% of its dairy book would be stressed over the next 12 months.