Fonterra CEO sees 5.5%/yr compound demand growth in global dairy markets by 2020; says European suppliers can't respond to that as limited by environment and herd size; Chairman says cash loan was unique to 2015/6; no plans to do it again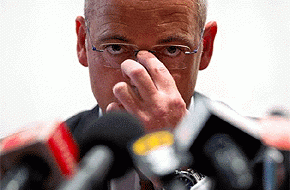 By Bernard Hickey
Fonterra Chief Executive Theo Spierings remains confident in the long term outlook for dairy prices despite the extended slump in dairy prices over the last two years.
Spierings said Fonterra expected global demand for milk to grow around 2-3% per year and that domestic supply constraints in Europe and the United States would mean that would have to be supplied from the globally traded market for milk products, which Fonterra dominated.
He referred to a chart (see below) where that 2-3% global demand growth translated into a 25 billion litre increase in demand for globally traded milk products to 91 billion litres by 2020, whereas New Zealand produced 21 billion litres currently and was expected to increase that to 25 billion litres by 2020.
"That picture is not the situation right now. Right now we're in an imbalance. That's why we have the NZ$3.90/kg," Spierings told a news conference announcing Fonterra's first half results.
Spierings said European producers would not be able to supply that long-term increase in demand, and that Fonterra was also seeing an increase in US demand that would prevent US producers from being able to export into the globally traded pool.
"This is why we say dairy has a good future because that big bucket is growing at 2-3%," he said, referring to annual growth of 8 billion to 12 billion litres of global dairy demand each year.
"We are saying that that would be traded through the globally traded arena and it will be extremely difficult to get that growth on the supply side because Europe is constrained," Spierings said.
"Yes the quota is off, but there's environmental limits -- they're running into that right now -- and the US can do quite a bit, but we see very strong domestic growth in the US," he said.
"The US has been flat or declining in domestic milk consumption, (but) the whole scene in the US is shifting away from soy and vegetable and back into dairy. Dairy has a very big tick in the US," he said, pointing to a recent decision by McDonalds to move back to using dairy supplies.
"So the US will see 2-3% domestic growth, so they won't be exporting," he said.
Challenged again on whether European dairy farmers could repeat their 3.2 billion litre production increase from this year to satisfy that demand growth, Spierings said European farmers were hitting limits.
"They're running into limits on herds and environmental constraints. In my own country there is phosphate limits being introduced right now which will have an impact. So they're running into some limitations," he said.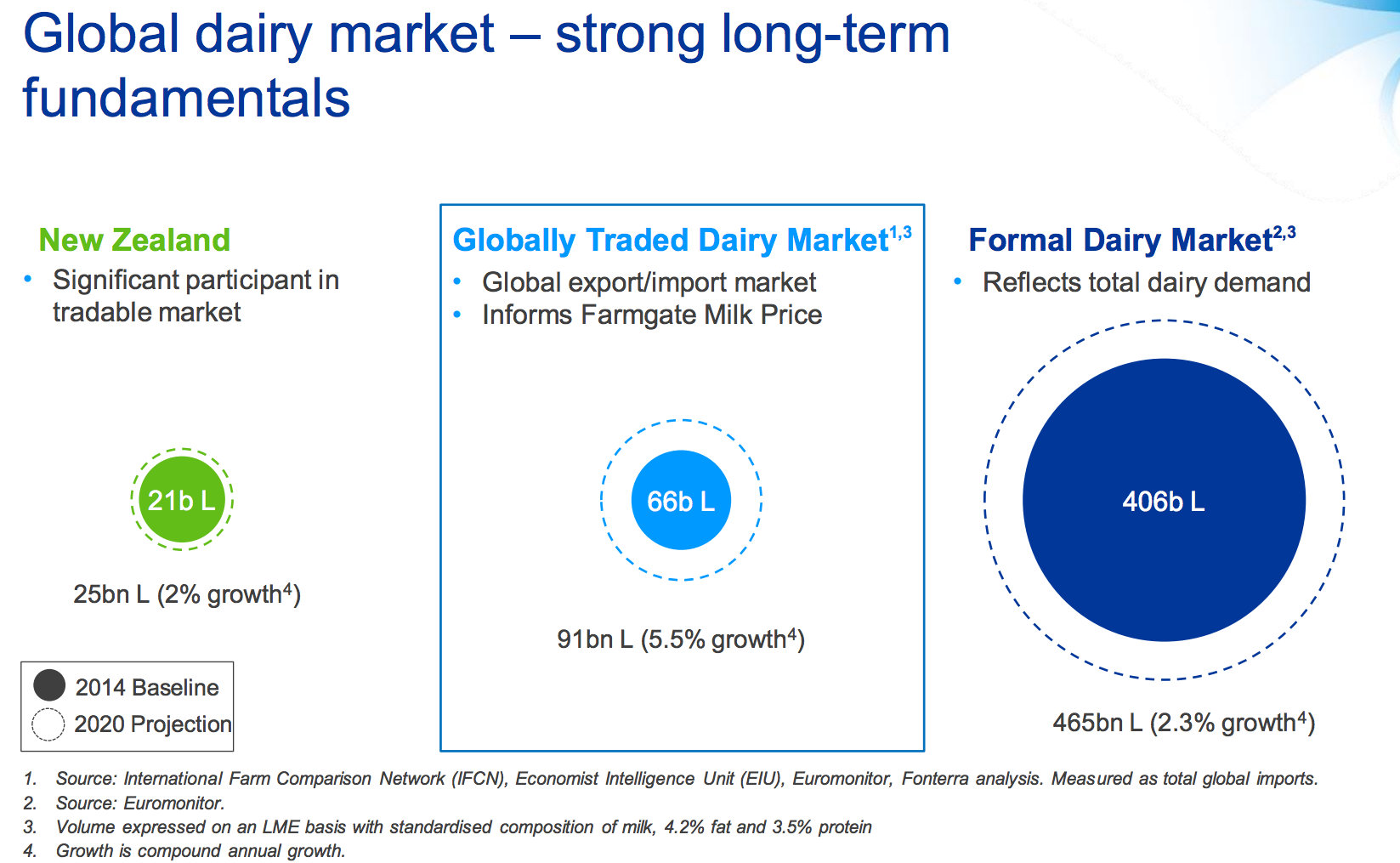 NZ 'still lower cost'
Chairman John Wilson also said New Zealand dairy farmers were still lower cost producers than those of Europe and the United States.
"Nothing has changed there. Our farmers are still the most competitive in the world now," he said.
"There's always a lag," he said, referring to the reaction of producers to a quick fall in prices. He said the lag was usually longer in Europe and the United States, where 85-90% of production was for domestic markets, whereas the export share in New Zealand was 95%.
"We are seeing that start to kick in now. It's been drawn out. Out of the box events like the embargo from Russia, they had a big impact on extending that time," Wilson said.
He said Fonterra would announce its initial payout forecast for 2016/17 in May, but Fonterra was seeing signs that the supply and demand were returning to some sort of balance.
"We certainly believe that the global dairy market is not as imbalanced as the price would indicate, and we certainly believe that prices will start to pick up over the second half of this year. We can't name the date or the month, but we certainly believe that will occur because the fundamentals are very strong," he said.
"We've had some unusual events on both the supply and the demand side. We believe it will work itself through over the next 6-12 months."
Cash loan 'unique' to 2015
Earlier, Fonterra announced it expected to pay a dividend of 40c/share, increasing the cash payout to fully shared-up farmers to NZ$4.30/kg, but it said it had decided against extending a 50c/kg interest free loan that it ran for the first half of the 2015/16. Fonterra is bringing forward the final 20c dividend to May and August and the interim dividend of 20c would be paid in April.
Asked if Fonterra had the debt-raising capacity to do the cash loan again, Wilson said Fonterra had the balance sheet flexibility, but said the situation in early 2015/16 was unusual.
"That Co-op support loan was at a unique time -- 8-9 days into our financial year -- forecasting forward, it was our best approach we could take to provide a solution for our farmers," Wilson said.
"It's a different environment right now. We'll always look at what we can do in times of uncertainty. The most important thing we can do is ensure we've got a strong balance sheet," he said.
Pressed again on whether a repeat of the cash loan was possible, he said: "We look at these things from time to time. We cannot foresee what the situation is going to be months in advance."
Elsewhere, CFO Lukas Paravicini said Fonterra's change of payment terms to delay payment to as much as 60 days for 1,000 local suppliers had improved Fonterra's working capital by NZ$50-70 million.
Wilson said Fonterra was working harder to communicate with its suppliers, having sent out letters to those 1,000 suppliers in October last year notifying them of the payment term changes.
"We could have done a far better job of communicating with some of those suppliers," he said.