South America's access to both the giant markets in the US and China will pose a significant challenge to the New Zealand beef trade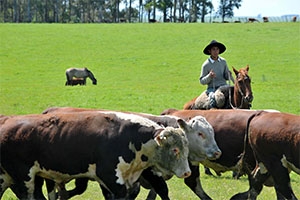 By Allan Barber*
Rabobank's quarterly report on the global beef market maintains South American beef producers, particularly Brazil, will be the major influence on the beef trade in 2016.
The most notable features are expected to be an increase in China's official imports which rose sharply by 60% last year, a decline in US imports and lower than usual Australian beef production. New Zealand's cattle kill is forecast to be earlier and lower than 2015 because of the earlier dairy cull. Although the American beef kill is still at 20 year lows, high stocks of frozen product will continue to put a dampener on both prices and import volumes.
Therefore South American beef producing countries are expected to be the only major producers demonstrating growth during 2016. Brazil, Argentina and Uruguay are the most notable South American beef exporters and are already benefiting from weaker exchange rates.
Brazil's economy and political situation are pretty dire with high unemployment and a declining GDP leading to lower domestic consumption. However this combination means more volume available for export at market prices that incentivise cattle farmers to maintain their cow herds. This will result in a rebuilding of the beef herd going into 2017. Meanwhile Brazil is expected to be granted access to a share of the US duty free annual imports during the first half of 2016.
If the Brazilian exchange rate remains favourable, it may also be possible to export beef at the standard duty rate for out of quota product. It has previously been excluded from the USA for several years because of FMD. Access to the US market may also enable Brazil to negotiate access agreements with other countries from which it is currently excluded.
Brazil is expected to export 200,000 tonnes of beef to China in 2016 which is twice the amount shipped in 2015 and would make it the largest supplier to China. This compares with New Zealand's export tonnage of 74,500 in 2015. A significant proportion of Brazil's exports to China will be a transfer from the grey parallel market to the official market, as Chinese authorities tighten controls on the grey market. Furthermore 16 Brazilian beef plants are now licensed to export to China with five being added recently.
Argentina's beef production has been restricted since the introduction of the 15% tax on exports in 2003, but this was removed at the end of last year. Although it will take at least two years for herd rebuilding to take effect, exports are expected to replace domestic consumption. Exports to all markets in 2016 are forecast to reach 300,000 tonnes, a 30% increase on 2015 (New Zealand's are 450,000 tonnes).
Uruguay already holds 20,000 tonnes of quota for access to the US market and is expected to export more than twice that amount in 2016.
There are two major implications for New Zealand from these various global beef trade developments. The first is how soon US demand and prices will recover and what effect, if any, higher imports of South American product will have, although lower availability of Australian beef will have a favourable impact. The second is the effect of Brazilian exports to China, the level of Chinese demand and the impact of grey market imports as distinct from official imports. While Brazilian exports to China have traditionally gone via the grey market, most Indian buffalo exports have also taken the same route.
Rabobank's report predicts New Zealand will see a slow improvement in demand from the USA, aided by reduced inventories and lower Australian production. But the report suggests the challenge in future will be to remain competitive in key markets when production in other countries picks up, by ensuring product differentiation through quality, food safety and traceability.
---
To subscribe to our weekly Rural email, enter your email address here.
---
Farms For Sale: the most up-to-date and comprehensive listing of working farms in New Zealand, here »
---
Here are some links for updated prices for
- lamb
- beef
- deer
- wool
---
*Allan Barber is a commentator on agribusiness, especially the meat industry, and lives in the Matakana Wine Country. He is chairman of the Warkworth A&P Show Committee. You can contact him by email at allan@barberstrategic.co.nz or read his blog here ». This article first appeared in Farmers Weekly and is here with permission.