Export supply tight into China and India holding up prices. Domestic demand remains strong. Returns to forest owner rising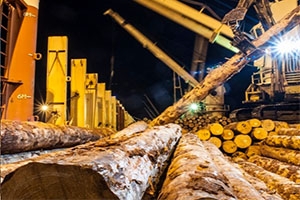 This month export log prices were up $3-6/JAS m3 for unpruned logs and were unchanged for pruned logs. Domestic log prices remained largely unchanged as is usual for a within-quarter month.
Export Log Market
We are in a period where all the drivers affecting log price are moving up. Whilst higher US$ CFR log prices increase NZ$ at-wharf-gate log prices, a higher kiwi dollar and higher ocean freight costs decrease NZ$ at-wharf-gate log prices. On balance, the New Zealand export unpruned log prices rose in May and pruned stayed flat.
Logs stocks in China are down to 2.6 million m3 and are close to levels seen in 2013. Back then we had a sustained period of steady pricing with modest increases throughout the year.
Daily offtake/sales from China ports is reported at around 50,000 m3 currently. This makes log stocks equivalent to about 55 days' supply, a figure lower than the past two year average of about 65 days.
A-grade landed in China has traded in the US$ CFR 121-130 range April/May depending on destination port, timing and the supply arrangements. New Zealand export volumes have increased in March and April but the relatively low in-market inventories are supportive of firm pricing.
Pruned logs are much less sought after currently as China moves into the hot "sapstain season". Most of New Zealand pruned logs are supplied bark-on and after a trip across the equator and storage in hot and often humid Chinese summer weather, they are often heavily sapstained. Even the debarked and sprayed logs can have significant sapstain since many of them are subject to delays from the time of felling to treatment at the debarker. This greatly reduces the efficacy of the anti-sapstain treatment.
The higher US$ CFR pricing is expected to stimulate more log supply from the Pacific North-West (PNW) (and maybe Russia) in the second half of the year, but this increase is expected to be modest at current pricing especially considering that the PNW has buoyant domestic markets to attract sales. Also, the record volume of export log supply from Australia last year is not expected to be repeated in subsequent years. This record volume was boosted by one-off effects such as the Queensland wind throw salvage and a short-term aggressive harvest programme by a large forest owner clearing older-age standing inventory. In summary, the supply side is expected to keep the market reasonably tight.
The current stability in the China log market is also being reflected in our other main log export markets of Korea and Japan.
India log import volume in May is relatively high. The market is steady enough, but with more exporters selling into India it has become a little less disciplined. It is probable that Indian demand will come under some pressure over the next quarter due to higher import volumes and the impending arrival of the monsoon in June which tends to reduce demand.
Chart courtesy of Pacific Forest Products Ltd
Domestic Log Market
The month of May saw a continuation of the strong trend in the domestic log market. Prices were stable (being mid second quarter). To boost log supply of high-demand grades some mills have been lowering the minimum diameter specification on structural logs. For example, S25 is being substituted for S30 whilst holding price. This lowering of the minimum small-end-diameter from 300mm to 250mm effectively increases the yield of this log type from any given woodlot and increases the net return for the owner. It also increases supply of the high-demand log type to meet the mill's log requirements.
New Zealand's current net migration gain of nearly 68,000 people per year is in stark contrast to the net migration loss of 3,383 people in 2012. Whilst adding to the risk of excessive inflation in house prices, the growing population is contributing to robust economic growth, demand for new house construction / house renovation and demand of wood products generally.
The recently released manufacturing and services indices confirm robust economic growth, supporting an already buoyant property market. These trends are expected to continue for the foreseeable future and be supportive of domestic log demand.
PF Olsen Log Price Index to May 2016
The PF Olsen log price index rose two points in May to put it back at March's $122. It is now $35 higher than its low of $87 in July 2014 and $17 above the two-year average and $19 above the five-year average.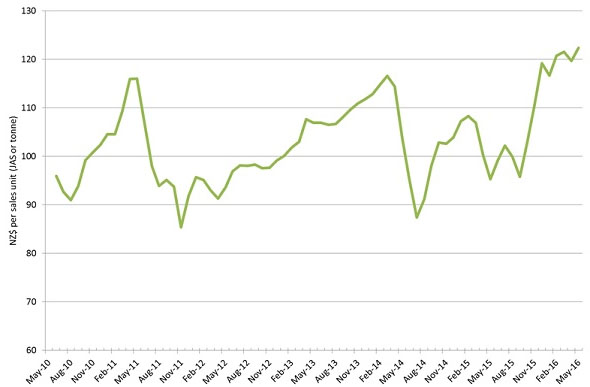 Basis of Index: This Index is based on prices in the table below weighted in proportions that represent a broad average of log grades produced from a typical pruned forest with an approximate mix of 40% domestic and 60% export supply.
Indicative Average Current Log Prices - May
Log Grade
$/tonne at mill
$/JAS m3 at wharf
 

May-16

Apr-16

Mar-16

Feb-16

Dec-15

May-16

Apr-16

Mar-16

Feb-16

Dec-15

 
 
 
 
 
 
 
 
 
 
 
Pruned (P40)
196
196
196
195
175
195
195
198
198
195
Structural (S30)
112
112
112
112
106
 
 
 
 
 
Structural (S20)
98
98
99
99
98
 
 
 
 
 
Export A
 
 
 
 
 
131
124
128
127
128
Export K
 
 
 
 
 
124
118
122
120
121
Export KI
 
 
 
 
 
114
106
110
108
108
Pulp
50
50
51
51
50
 
 
 
 
 
Note: Actual prices will vary according to regional supply/demand balances, varying cost structures and grade variation. These prices should be used as a guide only.
---
This article is reproduced from PF Olsen's Wood Matters, with permission.