Fonterra increases 2016/17 forecast Farmgate Milk Price by 50 cents to $4.75 per kgMS
Fonterra is increasing its 2016/17 forecast Farmgate Milk Price by 50 cents to $4.75 per kgMS. 
When combined with the forecast earnings per share range for the 2017 financial year of 50 to 60 cents, the total payout available to farmers in the current season is forecast to be $5.25 to $5.35 before retentions.
Chairman John Wilson says current global milk prices remain at unrealistically low levels, but have started to improve as global demand and supply continue to rebalance.
"Milk production is reducing in most dairying regions globally in response to low milk prices and this is bringing the world's milk supply and demand back into balance. Milk production in the EU is now in decline and our New Zealand milk collection at this early stage is around 4 per cent lower for the year to date.
"Prices have increased on GlobalDairyTrade but the increasing NZD/USD exchange rate continues to offset some of these gains. 
"We expect the dairy market to be volatile over the coming months and will continue to keep our forecast updated for our farmers as we move into the season," he says.
Westpac acting chief economist, Michael Gordon, says that while Fonterra's announcement wasn't scheduled, "it comes as no surprise given the extent of the improvement in world dairy prices in recent weeks. Dairy prices have risen by more than 20% in the last two GlobalDairyTrade auctions. 
"We recently revised up our milk price forecast to $5.00/kg, which we regard as a cautious estimate. It's still early in the season, and there was a similar surge of buying around this time last year which proved to be short-lived. Global milk production has fallen in recent months in response to low prices, but it remains at elevated levels."
ASB is more bullish on the matter, sticking to its expectation for the milk price to hit $6.00/kg.
Its senior rural economist, Nathan Penny, says: "First up, the NZ dollar movements are small relative to the surge in the dairy prices, and are not enough to offset the gains. For example, the NZD (currently trading at US$0.7307) has lifted around 2 cents or 3% over dairy price surge outlined above.
"In addition, we expect the global supply correction to accelerate, and for this to lift dairy prices further this year. For example, we estimate that the NZ dairy herd has shrunk an unprecedented 5% or 300,000 cows on top of the 3% fall last season. This heavy slaughtering is irreversible and we expect this to translate into a 5% fall in NZ production this season.
"Similarly, our view is that the EU production slowdown is more advanced than most other analysts are currently factoring in."
Noting that Fonterra has also lifted its advance payment, Penny says: "With most of the lift in payments allocated to later in the season, farm cashflows will remain tight until mid-2017. So while this revision will boost farmer confidence levels, we don't expect much, if any, change in farming practises over coming over the remainder of 2016."
Fonterra is required to forecast its Farmgate Milk Price every quarter under the Dairy Industry Restructuring Act (DIRA).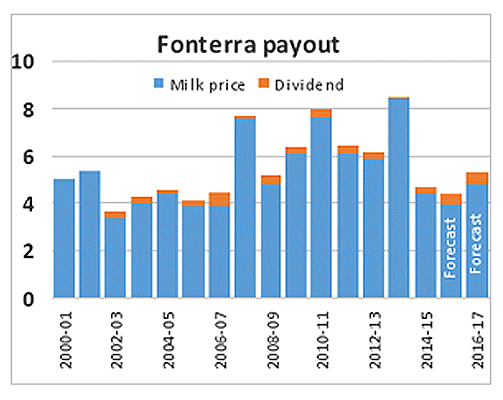 See this Interest.co.nz page for more on the dairy industry payout history.