China uses up its log stocks at a very fast rate, setting the stage for rising demand and prices for New Zealand logs and lumber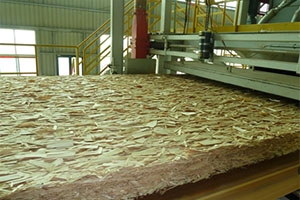 It would probably be remiss not to mention the ascendency of Donald Trump to the coveted position of president-elect of the USA, but since every journalist, news anchor, talk show host, blogger and panelist is covering this ad nauseam, Wood Matters will spare readers more coverage.
An immediate outcome (apart from mild nausea that such a thing could come about in the 21st century) is rallying USA and Asian share markets and a weaker NZ$. Both, on face value, are supportive of the log market.
On a more sombre note, Wood Matters and PF Olsen would like to acknowledge those affected by the recent devastating earthquakes centered around Hanmer but affecting a much wider area. We wish those affected courage and resilience as they work through putting their lives back together. Some of those affected include our clients and contractors, especially those working around the Marlborough and Wellington regions. Our local managers will try their best to minimise disruption and keep affected people informed.
In November pruned export logs lifted $5/JAS m³ although we are told demand is still not that strong for this product. Some purchasers in China have told us that they only take pruned logs to ensure a supply of unpruned logs (see China Trip Report). Unpruned export logs lifted $4/JAS m³ for China logs but remained steady for India supply.
The domestic market is "in-quarter" (4) and consequently has seen little movement in price. Demand remains strong.
Export Log Market
China
After bottoming out in the middle of last year, the housing market in China is in a strong upward trend with 62 out of 70 cities monitored experiencing a lift in price in the past 12 months. Tier one cities are experiencing very strong house price increases (30% in Beijing). For more information, see the China Trip Report.
A recent report on log stocks at China ports reducing from 2.4m m³ in early October to 2.1m in early November. This 12% reduction is significant over such a short period and should support demand and price for NZ logs and lumber.
In a recent research report into log exports to China, Scion presented an interesting chart that showed (according to FAO's 2016 statistics) that the trade of logs between New Zealand and China is the largest roundwood flow between any two countries in the world. The chart below shows the relative size of this and the other highest roundwood flows.
Largest roundwood trade channels in the world in 2014 (source: The New Zealand – China Log Export Market:
An Investigation of Supply Chain Integrity, Carel Bezuidenhout et al, Scion Research
While the high ranking of the NZ-China log trade is note-worthy, another important point to note is the high volumes of logs from the Solomon Islands, Papua New Guinea, Myanmar and Malaysia. [It is likely that the actual trade flows are even higher among these parties than reported due to widespread official banning of purchasing illegally harvested logs.]
The point is, however, much of this harvesting is not sustainable and these South Sea hardwood logs are going to get increasingly hard for China and India to get hold of. This will continue to support the current strong trend of substitution to alternative timbers – Radiata pine from New Zealand performs particularly well in this substitution role and this will be supportive of demand and price in the future.
India
In an unprecedented move the Indian government has demonetised the two highest value currency notes of Rupees (the Five Hundred and the One Thousand Rupee notes). The move was to further the Indian government's policy to erase "black money" and counterfeiting. The notes are being replaced by new high-security notes of Five Hundred and Two Thousand Rupee denominations.
A demonetisation amnesty window is available till 30th December 2016. Within three days of it being introduced approximately NZ$6 billion of the demonetised currency has been deposited in the banks. The enormous influx of cash is expected to decrease the cost of funds by 0.03 to 0.10 percentage points within the short to medium-term.
In the short-term, the demonetisation is expected to affect small firms and rural demand which is driven by the cash economy. Real estate has been affected as "black money" is used extensively especially in secondary sales and in tier two and three cities, and below. Business has come to a slow down with 200,000 ATM's and banks being stretched; most people spend their time in queues exchanging their notes.
The banking sector has been stretched beyond imagination with a magnitude unseen in global history. This will result in slowing down of banking procedures for Letters of Credit and documentation as all bank staff are being utilised for the purpose of collecting and disbursing cash. This will flow into more difficult credit for log purchasers in the short-term.
Longer-term this bold move by the government is expected to be positive for New Zealand Radiata pine in India. Less "black money" will make the importation of illegally logged South Sea hardwoods more difficult and increase the rate of substitution to other log sources, including NZ Radiata pine. The lower cost of funds (borrowing) is also expected to be stimulatory for the economy and the housing market.
In the meantime, the India market is softer with various stories of stranded vessels (no LCs) and even of one vessel being diverted to China at late notice. Until the volatility of the demonetising bank notes blows over, the log market is likely to also be volatile and forest owners should be cautious.
India's economy is expected to expand by 7.6% both this year and 2017 according to the International Monetary Fund. This is a full 1.0% higher than the rate of 6.6% forecast for China for 2016.
PF Olsen Log Price Index to November 2016
The PF Olsen log price index is up $2 in November to $120. The index is now $33 higher than its 6-year low of $87 in July 2014 and $12 above the two-year average and $15 above the five-year average.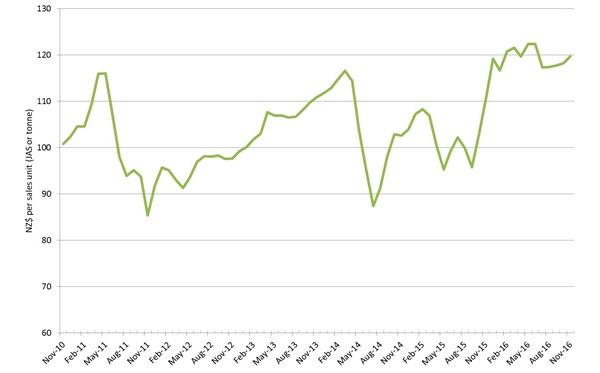 Basis of Index: This Index is based on prices in the table below weighted in proportions that represent a broad average of log grades produced from a typical pruned forest with an approximate mix of 40% domestic and 60% export supply.
Indicative Average Current Log Prices - November
Log Grade
$/tonne at mill
$/JAS m3 at wharf
 

Nov-16

Oct-16

Sep-16

Aug-16

Jul-16

Nov-16

Oct-16

Sep-16

Aug-16

Jul-16

 
 
 
 
 
 
 
 
 
 
 
Pruned (P40)
189
189
192
192
192
172
167
163
165
172
Structural (S30)
113
112
111
110
111
 
 
 
 
 
Structural (S20)
101
102
101
100
99
 
 
 
 
 
Export A
 
 
 
 
 
126
122
120
120
120
Export K
 
 
 
 
 
120
117
115
115
116
Export KI
 
 
 
 
 
109
104
102
102
102
Pulp
50
50
50
50
51
 
 
 
 
 
Note: Actual prices will vary according to regional supply/demand balances, varying cost structures and grade variation. These prices should be used as a guide only.
---
This article is reproduced from PF Olsen's Wood Matters, with permission.