ANZ economist Con Williams argues forestry's long-term prospects depend on how the international carbon market develops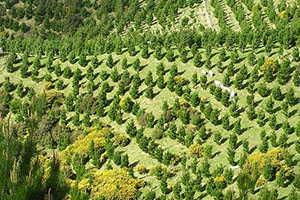 By Con Williams*
New Zealand's forestry sector is experiencing a period of strong returns fuelled by a combination of steady Chinese demand, restrictions in export markets on native-forest harvesting, low shipping costs, a local building boom and a supportive NZ dollar.
Many of these trends look like they could extend for a number of years, supporting demand for forestry products and returns. In addition, there is a range of new applications emerging in the likes of housing fitouts, wood remanufacturing, furniture end-uses and cellulose fibre which could open up new opportunities in the sector.
Despite this positive outlook the overall plantation area has declined 5 per cent over the last 10 years. Such levels of deforestation are leading many industry participants to worry about the long-term supply of wood beyond 2030.
This is restricting investment further along the supply chain in new wood-processing facilities which produce higher-margin products.
Recent returns should encourage replanting. Prices over the last 12 months suggest forests good-to-excellent in quality and yield located within 200 kilometres of a port and/or mill would have shown an average pre-tax real rate of return (excluding carbon revenue) of 6.3 per cent, with a range from 4.4 per cent to 7.9 per cent.
If you include carbon revenue the average pre-tax real rate of return lifts to 9.9 per cent, with a range of 8.3 per cent to 11.25 per cent.
Landscape
NZ's forestry sector is an important part of economic and environmental landscape. In economic terms it generates around $NZ5 billion in annual gross income or 3 per cent of GDP each year.
It is one of New Zealand's largest export earners, bringing 11 per cent of total 2016 exports. The top 10 forestry export markets account for 91 per cent of total export returns.
Of these, the top six destinations of China, Australia, Japan, South Korea, US and India account for 83 per cent of total exports. This makes for a somewhat consolidated marketplace compared to other export sectors.
Forestry is seen as an important contributor to New Zealand's Paris Climate Change commitment to reduce the country's net greenhouse gases to 30 per cent below 2005 levels by 2030.
It also contributes to erosion control on some of New Zealand's steeper landscapes and can be used to improve water quality in catchments – albeit the harvesting phase carries a heightened risk of sedimentation occurring.
Over the past year the forestry sector has seen some of its best returns in at least 20 years.  Despite this, forestry seems to remain an unloved investment class amongst many landowners.
Indeed, statistics show the sector's land footprint has broadly been in a state of decline over the last 10 years or so.
Such levels of deforestation are leading many industry participants to worry about the long-term supply of wood beyond 2030. This is restricting investment further along the supply chain in new facilities which produce higher-margin products - such as panels, laminated products, glulam beams, mouldings and furniture - and other important supply chain functions.
End-market prospects
The vast majority of sawn timber and other wooden materials utilised in New Zealand are destined for the local construction market, specifically new houses. This is highlighted by the strong relationship between sawn timber consumption and new dwelling consents.
Since post-recession lows in 2011, the annual number of new dwellings consented has surged toward 30,000 per annum, the highest since mid-2004. In real terms, residential investment has subsequently risen by 84 per cent, experiencing a compound annual growth rate of over 11 per cent the same period.
Historically low borrowing costs, strong house price gains, rebuild work associated with the 2010/11 Canterbury earthquakes, and a strong economy more generally, with decent levels of confidence are all generating an appetite to put cash to work.
Looking forward, many of the factors mentioned above are expected to continue to support housing construction activity. While now rising, borrowing rates are expected to remain historically low.
Given New Zealand's solid economic performance and political upheavals globally, we expect net migrant inflows to remain strong for some time yet. The demand outlook is strong.
Elsewhere
In addition to being competitive with drystock farming, forestry is a solid diversification strategy and can also help farmers meet new environmental regulations coming into force.
China accounts for 38 per cent of New Zealand's total forestry export returns. Overall Chinese lumber and log imports have trended higher in recent years on the back of strong construction sector activity and a tightening in commercial harvesting of natural forests.
All up, market dynamics combined with an opaque supply chain make it challenging to forecast what might happen to the demand for and price of New Zealand radiata pine in China over the long term.
However, with pine being very good for a wide range of end-use applications it is very versatile. This should serve it well in meeting current applications in the housing and construction sectors.
The other potential revenue stream from forestry is carbon, with the introduction of the emissions trading scheme in 2008.
NZ's commitments mean there is a need to reduce domestic emissions, increase forestry carbon-removals (i.e. plant trees) and/or purchase credible international units.
Given the market is heavily regulated there is a lot of political risk. Things could easily change with each election cycle – favourably or unfavourably for the forestry industry.
The real long-term prospects crucially depend on how the international carbon market develops. Globally there are an increasing number of schemes, suggesting continuity and possible new opportunities.
There are a number of different ways to view the potential revenue from carbon units. The 20 per cent to 25 per cent deemed permanent can be sold fairly easily if the land use is intended to remain forestry.
The remaining trading pool is trickier and depends on the price movements in the carbon and forestry markets over its growth cycle and at the time of harvesting.
Perhaps most importantly, carbon units provide forestry owners with an earlier cashflow option over the growth cycle of the forest.
---
Con Williams is a Rural Economist at ANZ NZ. You can read the full ANZ Research report here. This article was first published in ANZ's BlueNotes and is here with permission.