The Weekly Dairy Report: Fonterra surprises with a more optimistic forecast for next year and a strong one for this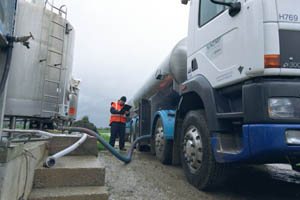 Winter arrived last week with a very cold south westerly with snow, that was followed by hard frosts.
While feed conditions over the country are good, this early cold snap could hasten the advent of cow dry off for the south, and start of the winter spell.
Very wet conditions are being reported in many areas of the North Island and managers would do well to follow Dairy NZ advice on how to minimise pugging damage so pasture will perform as expected in the crucial spring period.
Another auction last Tuesday saw the market lift for the fifth event in a row, and create consolidation for this season, and optimism for next year.
ASB again led the way with a $6.75/kg ms followed by Westpac on $6.50, but Fonterra's prediction is due this week, and most pundits suggest early $6 dollars are a real possibility.
And did Fonterra deliver, with a lift of 15c forecast for this year, and an opening prediction of $6.50/kg ms for next.
This was ahead of market expectations and will give all in the industry renewed optimism for the future, especially as the big Co-Op has made good progress in increasing its production of added value product.
Milk flows were also ahead of earlier forecasts, as the very poor spring was followed by a growthy summer and autumn,  and allowed the previous estimated shortage to be cut in half.
The economic impact of the improved payout will be dampened by the repayment of the Co-Op's loan, taken up by 70% of Fonterra shareholders to help them survive a very difficult cash flow position last spring.
This was due to be repaid once the payout reached over $6 and if the final payout goes according to plan much of that surplus will be used for debt reduction.
Commentators have been analysing the detail of progress on the water accord targets, and the numbers on the fencing and culvert construction, and riparian planting of waterways, makes impressive reading.
Non compliance on dairy effluent disposal is now the lowest ever, but more progress is needed in nutrient budgets and plans to reduce nitrate leaching into the ground water.
Some commentators are suggesting covered feed sheds are inevitable if nitrate targets are to be met and interest has increased on hybrid systems that focus on outside grazing from spring to the autumn and house inside in the winter and times of heavy rain and cold.
The ASB is floating the idea of quarterly based farmgate milk price payments to reduce price volatility, and encourage participation in milk futures.
Legislative changes would be needed, but ideas aimed at making income predictions more reliable, will be welcomed by all farmers.
The Immigration authorities have given South Island foreign dairy workers another 3 years to sort out the regulatory concerns brought about by agents offering fraudulent entry visas.