The Weekly Dairy Report: Feed supply is improving but the milk market still uncertain as global supplies grow in the US and Europe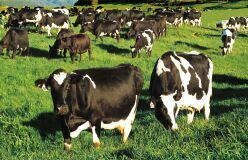 The temperatures are on improve, and with all that moisture available pastures are now close to surplus and further north are starting to move into the reproductive phase
A few paddocks are being cut for silage in Canterbury, lighter soiled farms have started their irrigation systems, and tractors are out heavy rolling areas that suffered pugging damage during the wet period.
Nitrogen is being applied to non-effluent areas, and land dry enough for cultivation or direct drilling has seen establishment of next year's winter feed.
Mating is close on many herds in the south, and tail painted cows help the recording of heats to enable a tight efficient calving next year.
While in the North Island, farms are about a third the way through, and with less animals now cycling, heat detection has become more difficult.
Dairy advisers are suggesting using short gestation semen as a way to claim back a few days lost through slow mating due to some areas having the wetest year on record. 
Livestock agents reveal that this seasons dairy bull sales were one of the best ever, with averages prices about $500/hd better than last year, as managers look to add value to their bobby calf crop.
The dairy futures market dropped before last weeks auction as Fonterra lifted supply to offer peak volumes for this event.
And for the second consecutive event prices fell, this time by just over 1%, led by skim milk powders which have large global stocks, but also whole milk powders which are now priced close to the pivotal point of $3000/tonne.
Buyers seem to be satisfied about global supply volumes, even though Fonterra adjusted their annual production forecasts to just 1% above last year, and analysts suggest about half this years production is already sold.
Commentators say increasing European and US supplies are easily making up any shortfall from NZ, and the next few auctions will be pivotal in defining this years market direction.
Some bank economists have cut forecast predictions back to $6.25-$6.50/kg/ms, although the ASB at this stage holds firm at $6.75.
With a new coalition government now formed from more left wing parties, farmers are nervously awaiting to see the policy details in areas that apply to them.
It appears the water tax has been removed after coalition negotiations, and irrigators will be very thankful for NZ First's input in that direction.
And the US currency has also adjusted downwards to sit below 0.70c for the first time since May, but whether it stays low will depend on how the market views all the newly negotiated policy that is slowly being released.
Suggestions by officials that the mycoplasma bovis disease outbreak was most likely brought in via imported semen, is the first clue on how this outbreak may have occurred in North Otago.
They are however still very confident eradication is possible, especially as at present it is contained within only a specific number of farms.