Green Party's Shaw reveals leached nitrate levy policy is off the table - for the time being; Alex Tarrant reviews the government parties' climate change mitigation stances and wonder whether there'll be a future clash on the means to the end?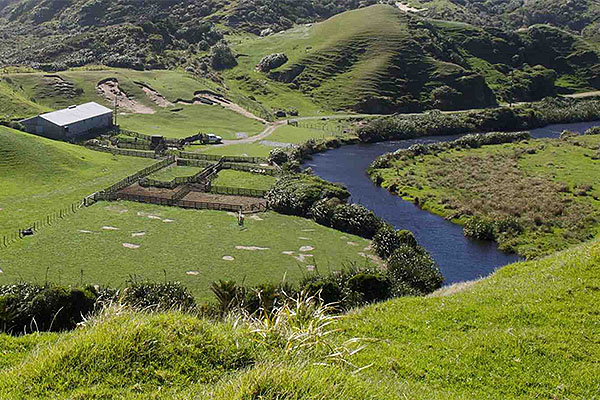 By Alex Tarrant
The Green Party's policy to introduce a nitrates levy is on the backburner until further notice, having not made it through the government formation discussions.
Leader James Shaw confirmed the development while speaking to the NZ Herald's The Country programme on Thursday. Host Jamie Mackay put to Shaw that Labour's water levy policy was gone, and asked what had happened to the Greens' nitrate fertiliser tax during negotiations.
"At the moment that's off the table," Shaw replied. "And this is the thing about MMP, right, is it's actually designed to moderate all the parties there – no party gets everything that it wants."
Farmers shouldn't have anything to fear from the new government, he said. "I know that there will be some, and I can understand why that's there. But all three parties have got strong advocates for farmers and the agriculture sector in them, and we all know that this is all of our problem to solve."
"We're all aware of the challenges that we face and we're all aware that what government needs to do, on behalf of all Kiwis, is to have some skin in the game, so how do we support the farming community…through all of this transition."
"I know the vast majority of farmers are already doing so much up and down the country when it comes to things like cleaning up our rivers and all that kind of stuff," Shaw said. Added support from the government would mean this can be moved along more quickly.
Nitrates levy
A leached nitrate levy policy was announced by the Greens in early September as part of a wide-ranging environmental and agriculture platform. It also included a moratorium on dairy farm conversions, and incentives to encourage conversion to organic farming practices.
When the Greens' policy agreement with Labour was revealed on Tuesday, there were only a couple of lines which broadly touched upon the issue: "Provide assistance to the agricultural sector to reduce biological emissions, improve water quality, and shift to more diverse and sustainable land use including more forestry."
And: "Improve water quality and prioritise achieving healthy rivers, lakes and aquifers with stronger regulatory instruments, funding for freshwater enhancement and winding down Government support for irrigation."
Note that there is no mention of the tools to be used to achieve the end goals.
Carbon pricing mechanism
Shaw on The Country was also asked about the risk of farmers being brought under the Emissions Trading Scheme (ETS). He was asked whether Labour's agreement that 95% of all agriculture emissions would initially be exempt from any pricing mechanism meant it was merely tokenism. Why not just continue with the stance to leave agriculture out?
"Well, because over time – and I think everybody acknowledges this, including farmers and people in the sector themselves – over time, that will eventually change," Shaw said. "But what's important is that people…get into the mechanism and kind of start to understand it."
While most wouldn't feel the impact, the process of being in it and getting a sense of how it works is probably a healthy one. "We're talking about a 30-year transition between now and 2050. I just think the sooner that people get into the system, even if it is essentially in a way that's free, means that they can kind of see how it may unfold over the coming decades, and start to adjust early."
ETS not even in the Greens-Labour policy agreement
It should be noted that getting agriculture under the ETS, or even some sort of carbon pricing mechanism, was not even mentioned in the agreement between the Greens and Labour. It was the Labour-NZ First document which stated:
"If the Climate Commission determines that agriculture is to be included in the ETS, then upon entry, the free allocation to agriculture will be 95% but with all revenues from this source recycled back into agriculture in order to encourage agricultural innovation, mitigation and additional planting of forestry."
All three government parties agreed on setting up a Climate Commission, and on the goal of New Zealand becoming carbon neutral by 2050. However, because their prescriptions for getting there differed, there is a distinct lack of mention of any means to the end goal in the two agreements signed between Labour and its support partners.
Where Labour wanted to keep the ETS in place, the Greens wanted to replace it with an all-sectors, all gasses Climate Fund. New Zealand First wanted to exit the ETS and replace it with a Climate Change Act with carbon budgets set.
A future clash?
So, perhaps this is one policy area where there might be future clashes between the government parties?
We have some knowledge of what we're going to get: A Climate Change Commission is going to be set up. The Commission is going to be tasked with coming up with recommendations for how to achieve net zero emissions by 2050 – as stipulated by a Zero Carbon Act. And, if one of those recommendations is to include agriculture under the existing ETS at some time, then only 5% of these emissions will initially be covered.
What we essentially have is broad consensus on the principle of the end-goal. What's missing is the actual policy meat required for getting there.
The go-to publication on Climate Change this year was the Net Zero in New Zealand report by Vivid Economics for the cross-party Parliamentary group of MPs, Globe-NZ. While it sets out various paths for New Zealand to hit net zero carbon emissions between 2050 and 2100, the policy track required to actually have arrived there by 2050 is pretty eye-watering.
This is how we reported on the three emission reduction tracks offered up by Vivid – dubbed Off Track, Innovative and Resourceful – back in March. These comments concern the 'Innovative', then 'Resourceful' tracks (Off Track doesn't get close to the 2050 goal so let's leave that to one side):
Try something a bit more like this. By 2050:

Coal electricity generation: Zero; Gas generation: Down 73%; Hydro: up 21%; Geothermal: up 161%; Solar: Up 21,000%,

Dairy livestock: Down 20%; Diary livestock productivity: up 25%; Dairy emissions inhibited by new vaccines: Down 30%; Dairy emissions inhibited by selective breeding: Down 15%. (Similar numbers for beef and sheep)

Farmland: Down from 12.4m hectares to 10.6m, while Forestry rises from 1.7m hectares to 2.9m and some livestock farming is replaced with Horticulture.

Those are just some of the shifts (on top of vehicle and train electrification) that would be required to get our greenhouse gas emissions on a trajectory to net zero by sometime in the second half of the century.

Not by 2050 like we've agreed to, but by sometime after that. The problem? (other than short-term politics):

"[This track] is heavily reliant on a series of technological advances whose feasibility and costs remain uncertain and which, if they fail to materialise, would make this scenario high cost or unattainable."

Translation: That's going to be bloody tough.

So another track was suggested [Resourceful]. This basically required a shed-load more farmland to be converted to planted forests (as well as the renewables targets, some livestock productivity growth and electrification).

Sound easy? There's a catch:

"the substantial change in land-use patterns implies significant social and environmental challenges. Socially, it would imply profound changes to rural livelihoods and New Zealand's rural economy."

That, in a nutshell, is the challenge. A big challenge.
Keep in mind that stark warning about livelihoods in New Zealand's rural economy if the changes aren't managed carefully (particularly for the Resourceful track). Then try and remember which new government party campaigned heavily to the rural voter base.
New Zealand First MP Tracey Martin earlier this year said NZ First believes there are ways for New Zealand to reach net zero by 2050, with her comments focussing on the technological advances required – putting less stress on the need for widespread land-use change.
"We must optimise the opportunities that the Innovative pathway offers," Martin said a few months back of the Vivid Economics report.
Remember, the Innovative track is the one most heavily reliant on technological stuff we don't know about – how good will desired new technology and research actually be? Resourceful is the one which could be the more realistic way of actually hitting the target without relying on the unknown.
Here are some of Martin's thoughts from earlier in the year on the Innovative and Resourceful tracks:
We must optimise the opportunities that the Innovative pathway offers. However, the Resourceful pathway relies less on those technologies and will require much more land use change. It is an especially huge project for afforestation and therefore a start on these opportunities must be made as soon as possible.   Whichever pathway is chosen, the choice must be meaningful, not only as a means to offset emissions through carbon sequestration but also as a way to enhance regional economies and job creation.

New Zealand First believes that it is possible for New Zealand to reach net-zero emissions by mid-century. This could be achieved by combining the best elements of all identified pathways; by including a high uptake of technological innovation to reduce emissions, by the optimisation of afforestation, by progressively switching to less emissions-intensive agricultural production and by the closure of energy-intensive industries. However, it is also true that it is possible to enhance internationally energy-competitive industries such as the Tiwai Point aluminium smelter, which unlike many overseas plants, is powered by a fully renewable and almost carbon-free source.

Obviously, agriculture is the biggest challenge. It is already clear that the potential for an innovative transition—not decimation—in New Zealand's agricultural production is available for us to grasp, provided we start now. It is essential that NZ lead in this – fast following is far too late! The farming industry and its supporting sectors are both able and willing to do this because they know what the future will bring and they understand the nature and the importance of the challenge. They also know and understand the magnitude of the opportunity.

The fundamental need is not to reduce water takes and uses, provided they are sustainable, and not to attack intensification (as some do). It is to invest much more in research and innovation to ensure that future intensive agriculture is sustainable.  This means an end to the leaching of nitrates, phosphates, and harmful organisms, an end to water mining and excessive takes of surface water and the reduction of greenhouse gas emissions to a level which will enable us to reach our Paris commitments through the use of new technologies. We need to combine these measures with deft land management policy, land use change and a major afforestation project (especially on the millions of hectares of marginal land we have in New Zealand).

There is a responsibility on the whole nation to stop pointing fingers, especially at the agricultural industry. We all need to work with our farming communities to ensure that the changes needed are made progressively and in an orderly practical way. This will need investment by farmers, industry and the government on a large scale, because without farms that can be run as successful businesses we will have no hope of success. Consequently, the on-going viability of agriculture is a bottom line for New Zealand First.
So, any policy prescriptions for net zero by 2050 offered up within the next three years which look like they're veering too close to the 'Resourceful' track, rather than staying firmly on 'Innovative', could ruffle some feathers.
Particularly if "the regions" are New Zealand First's prime target for boosting its party vote in 2020.