The Weekly Dairy Report: Forecast at risk after another weak auction, as production figures lift for October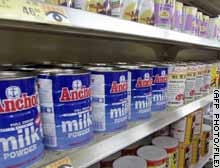 It is now nearly 3 weeks since much of Canterbury has had significant rain, and the dryland areas of the province are now turning colour from the spring green.
Waikato and the lower North Island are also dairy areas waiting for rain, and dairy advisers are urging managers to start now planning for the summer period.
Avoiding over grazing is the message when feed shortages occur, and use of silage, summer brassicas and light applications of Fertiliser N are suggestions to cope during this period.
Mating is progressing well in most herds, and those cows not seen cycling are being checked by vets, and treated to encourage the start of oestrus.
First calving heifers are being run with bulls in their natural mating phase, and these sires are rotated to ensure continued interest to the job at hand.
Concerns are growing about the lack of strength in the milk market, and national production figures for October revealed peak milk volumes lifted 2.9% on last year.
Given the present weakness in the powder market, analysts worry this extra milk will put further pressure on prices, although the dairy futures market did lift slightly last week.
But overnight those concerns grew, after the dairy trade auction fell for the fourth event in a row, this time by 3.4%, led by skim milk powder at US$1701/tonne.
Even butter and cheese fell in price, and with whole milk powder now back to US $2778/tonne, a cut in forecast for the year seems inevitable.
The weak currency is helping, but ANZ economists seem sure Fonterra will ease back to $6.25 in December, and even the optimistic ASB team have cut .25c/kg/ms off their early estimates to sit at $6.50.
A2 Milk seem to be weathering the storm with their specialist product, and they report double the profit, and a surge in share values.
It has been reported that Chinese milk output has rebounded, and this may limit NZ exports to that country during 2018.
More negative news on the mycoplasma outbreak, as another 1000 cows will be culled, as MPI officials endeavor to isolate and eradicate this disease at its source.
Twenty three farms now surround the source, and these are all subject to extensive testing, movement controls, and possible double fencing the boundaries to prevent the infection to spread.
The smaller milk processors are heralding the success of incentive schemes, as their suppliers respond well to monetary carrots, to improve the quality of their milk product.
Dairy NZ has launched a new strategy for the sector that aims to tell the wider community how it is addressing the environmental, animal welfare, and emission issues in a transparent and open manner.
Fonterra introduced its plans to have net zero emissions by 2050 and cut back on it's coal use, but some commentators have rubbished the soft targets of the dairy giant to limit future monetary penalities.