All purchases of rural land over 5ha (except forestry blocks) will be subject to Overseas Investment Office assessment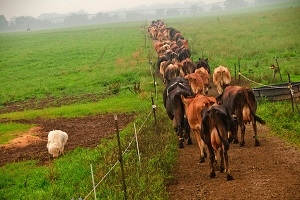 The Government has announced a new blueprint for the way applications for the sale of rural land to overseas buyers are to be assessed.
Associate Finance Minister David Parker and Minister for Land Information Eugenie Sage have issued a new Directive Letter to the Overseas Investment Office which sets out the Government's policy approach to overseas investment in rural land.
Parker said the previous directive was too loose because it only applied to very large land parcels that were more than 10 times the average farm size.
"In practice this meant restrictions in sales generally applied to sheep and beef farms over 7146 hectares or a dairy farm more than 1987 hectares," he said.
"Today's announcement raises the bar for overseas investment in sensitive land by replacing the existing large farm directive, with a new and much broader, rural land directive, which applies to all rural land larger than five hectares, other than forestry," Sage said.
Parker said the new directive tightened how applications to purchase rural land were assessed to ensure authorised purchases provided genuine benefits.
"Too often we see investors buy a New Zealand farm and then use existing systems, technology and management practices which don't substantially add anything new or create additional value for our economy," Parker said.
"We want to make it clear that it is a privilege to own or control New Zealand's sensitive assets and this privilege must be earned.
"We campaigned on these changes and they won't come as a surprise to potential investors."
The new Directive Letter will come into force on December 15 and applications which were being assessed by the OIO at that date will be subject to the new regime.
All applications that were still being considered at that date would have the opportunity to make additional submissions under the new approach.
"This Directive Letter is the first step to strengthening the overseas investment regime," Parker said.
"We will be introducing legislation to ban foreign buyers of New Zealand's existing houses before Christmas, and other work to strengthen the Overseas Investment Act is underway."
The Directive Letter also sets out a separate regime for applications involving forestry land.
It directs the OIO to place high importance on increased processing of primary products and the avancement of the Government's policies, such as it ambitious tree planting programme.
"High quality overseas investment can certainly help us achieve this goal," Forestry Minister Shane Jones said.
"Forestry and the processing of forest products are significant sources of employment in our regions and we want to build on that to get more people into a sustainable workforce," he said.
You can receive all of our property articles automatically by subscribing to our free email Property Newsletter. This will deliver all of our property-related articles, including auction results and interest rate updates, directly to your in-box 3-5 times a week. We don't share your details with third parties and you can unsubscribe at any time. To subscribe just click on this link, scroll down to "Property email newsletter" and enter your email address.