Have banks signalled they've had enough of funding the dairy industry? If funding is closed off, the new Govt's obligations for the industry are likely to be expensive and even more stressful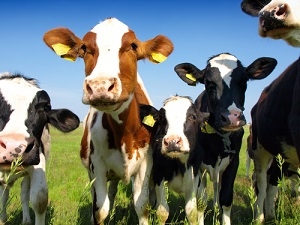 Rural borrowers currently owe banks in New Zealand $60.4 bln, according to the Reserve Bank.
With banks over the past decade rushing to support the capital needs of the growing dairy sector, two thirds of this rural debt is held by dairy farmers.
All rural debt represents just 14% of the debt held by banks in New Zealand and pales in comparison to the 56% of all debt banks hold over urban residences ($240 bln). These numbers don't include another $4.9 bln lent to the rural support sector or the forestry or fishing sectors.
But there is widespread concern over rural debt levels, reinforced by wavering milk payout levels and prospects.
The latest Dairy NZ survey data shows the average owner-operator dairy farmer has debt worth more than 50% of their farm assets (including land), while the average 50:50 sharemilkers' has debt worth more than 70% of their assets (excluding land).
But not all rural debt is taken on by dairy farmers. The scale of these obligations by general sector is here: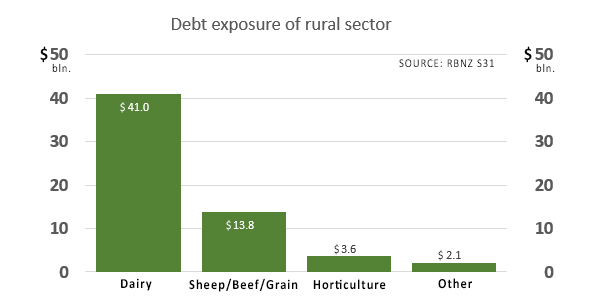 It seems this dairy dominance has bankers and farmers concerned.
In 2017, there was a marked pullback - or at least a reluctance to add to the pile.
Banks only increased their exposure by +$135 mln, basically holding the line.
This was in stark contrast to expanding support for other rural sectors.
The large sheep and beef sector signed up for "more capital", adding +$666 mln, or +4.8%, to its liabilities in 2017.
More aggressively, the horticulture industry grew its bank debt by +11.1%, taking on +$402 mln in additional debt.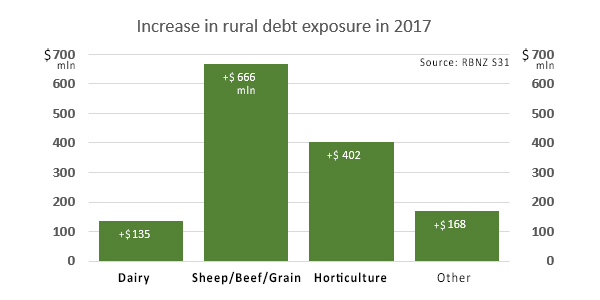 Banks' reluctance to add to their exposure to the dairy industry probably signals an end to rapid expansion of a rural segment that is capital intensive.
The new Government is likely to impose even tougher environmental obligations on dairy farmers. In the past these upgrades and compliance obligations were costly and funded substantially by debt.
New, even stricter rules are likely to require even more 'investment' for things like composting barns, and impose rising costs of operations. But it is clear that banks signalled in 2017 that they are probably not up for additional major industry support for such investment. They can get growth from their rural lending activities from other sectors.
Dairy farmers will be looking at their 2018 prospects with trepidation. Milk payout levels are always uncertain, but funding-required upgrades and modern environmental mitigation will be hard without bank support. And given banks have huge sunk investments in the industry, choices are likely to be tough.
For decades, other farmers have looked at their dairy colleagues with an element of envy at the returns that could be generated. Now the gaze may be shifting back the other way.