The newly launched NFX raises many questions for an amazing, natural product that constantly gets poor prices - unless it is merino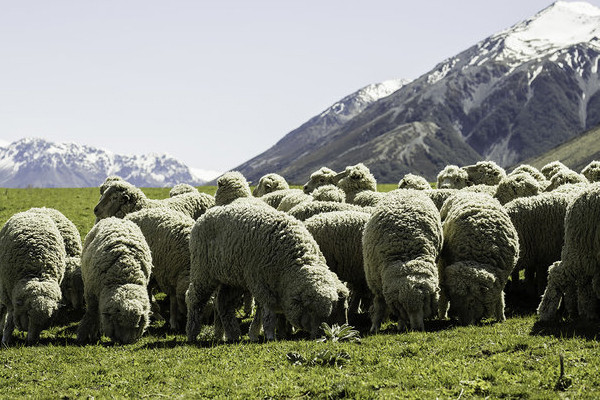 Wool has seen a number of 'false dawns' over the last few decades. It is an amazing product and producers for a couple of generations now have been confounded by why such a great natural product constantly gets poor prices.
Generally, the trend for wools prices has been downward with the occasional lift as it comes up for air, has a gasp and then gets sucks under again.
So, the latest lifts in prices needs to be viewed with suspicion, but we are allowed to hope. Perhaps a tipping point has been reached between supply and demand. We are seeing steady lifts in New Zealand over most classes of wool for a number of sales and across the Tasman Australian growers are also celebrating as the Eastern Market Indicator (EMI) is just short of A$20 a kg clean for the first time. Admittedly this is merino wool and in a different category to crossbred and New Zealand merino has been up there for some time.
However, when trends start to extend to our neighbours we are at least entitled to see the glimmers on the horizon as reason for hope. If wool can lift and stay there, be it at modest levels let's not get too carried away. On top of the excellent prices being achieved for sheep meat this must make sheep farmers glad they have stayed in the industry.
Staying with wool, it has been announced the Wools of New Zealand in conjunction with the Alliance Group are setting an on-line trading system "Natural Fibre Exchange" (NFX) in the mould of dairy's Global Dairy Trade (GDT).
On the surface this sound a good initiative and it will bring more transparency to the industry and both Wrightson PGG and Federated Farmers have applauded the move.
However, without wishing to be negative I can't help but wonder if it is not a step in the wrong direction; is it not a commitment to keeping crossbred wool as a commodity rather than aiming to move it up the stakes in the value chain?
Emulating New Zealand Merino (NZM) would seem to be a better proposition and securing contracts with processors and end users who are committed to using wool and lifting its profile and value.
There has been a debate around this and the merits or lack of them with the current auction system and this just seems to be (unless I'm missing something) just a broadening of this approach. So perhaps better than straight auction but certainly not moving wool higher up the value chain. When was any volume of merino wool last trade through auction? And since they organised their own tight value chain they have gone from strength to strength. They did this creating integrated partnerships with manufacturers and more than a decade after its founding, NZM transacts approximately 85 percent of all Merino wool grown in New Zealand with turnover of more than US$85 million. More than 50 percent of this volume changes hands through direct supply contracts, some of which extend up to 5 years in the future. As a result, NZM growers have greater price stability that allows them to more effectively manage their farms and make important capital investment decisions. In exchange, NZM's brand partners receive sustainable pricing, guaranteed supply, consistency of supply, traceability, and fit-for-purpose processing consignments.
So, the new NFX may have merits over the current system but until I see evidence otherwise I'm not convinced.
Another whole different view of the issue around wool comes from a conversation of a learned colleague out of Lincoln, which occurred with esteemed wife whilst this writer was competing in a shearing contest with Lincoln students, (sound random? my life is.) Anyway, he proposed the view that perhaps we should move away from viewing sheep as a dual-purpose animal and work to the strengths of both the animal and the environment. Have sheep that are specialist wool producers, as we already do with merino, have specialist meat producers putting out exceptional meat lambs, and now also specialist milk producers. All in their own environmental areas where they can express these attributes and all with the specialist management required. I hope Jon doesn't mind me putting these views out there and the recent upturn in wool prices may have suppressed these thoughts going much further. But if it does prove to be a 'false dawn' then this approach I can see rapidly gathering momentum.
With the expanding scope of irrigated land coming on stream in Canterbury and cow dairying no longer flavour of the month there is likely to be opportunity ahead for sheep and beef breeders. Increasing areas of finishing land is becoming available as there is only a limit to how much land for arable crops is required. So looking forward, breeders should be assured of good demand for both store sheep and cattle to go onto irrigated country and climate aside there is likely to be more demand than supply.
WOOL
Crossbred wool at last weeks Napier sale was up 20c on the previous Napier sale at $3.31 clean versus $3.10 and the last Christchurch sale at $3.56 was up from $3.36. The next sale is this week at Christchurch on Thursday and given the lift at Napier prices should at least hold where they are.
SHEEP
Saleyard prices are hitting giddy heights with prime lambs achieving $192 last Wednesday at Coalgate. The best buying appears to be inlamb ewes ranging from $149 - $176 and with 400 on offer a quiet flow beginning. The South Island appears to be slightly ahead of the North Island in the store lamb stakes which is interesting given S.I. schedules are a way behind the N.I.
However, these need to be seen in the context of Allan Barber's comments from last week. The schedules for lamb have moved up with two companies adding 15cents and 20 cents per kilogram respectively. Mutton remains unmoved.
CATTLE
Numbers coming through the yards are modest and prices now back on last year. Annual draft beef cows tested in calf are making up to $1610 which is getting into dairy cow price range. Some 5 -10 cents shifts on some schedules for all grade of cattle so the US dollar reductions are being felt.
DEER
Another small lift in the venison schedule proving the processors haven't been asleep at the wheel.