Guy Trafford traces the implications for agricultural trade flows from the game of poker the US is playing with China. All sides are vulnerable, even those not directly involved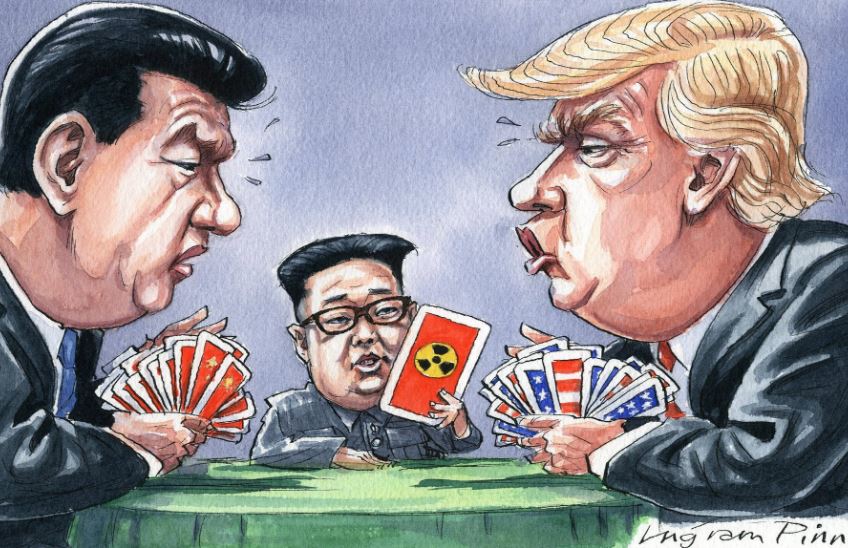 By Guy Trafford

President Trump and China's President Xi Jinping are involved in a high stakes game of poker. Trump played the first hand with a $5 0billion tariff card. Xi Jinping immediately matched it with a similar call and put tariffs on US products, namely sorghum and soya beans.
Trump then matched and raised the stakes by increasing the tariffs to another $200 billion with the threat that if China matched this then another raise to $450 billion would be played.
This threat would put tariffs on over 90% of China's exports to the US.
Stock markets around the globe dropped, the Bloomberg by 280 points, but then rebounded again as China resisted the temptation to respond at least so far.
Most western countries also have a problem with the way that China operates, using its economic clout to influence countries policies and upsetting the geo-balance. We have seen it operating that way with the smaller nations in the Pacific.
However, most countries disagree with the brinksmanship that Trump is using as his negotiating tool. While agriculture appeared to be the first casualty as China slapped tariffs on US soy, sorghum, beef and other agricultural products it may not have as adverse effect as it would appear at first glance.
Agricultural products are widely traded through-out the world and no doubt if China's wishes to purchase soy it will not slap tariffs on the US without knowing where it can get products from elsewhere. Brazil will produce approaching 120 million tonnes this year of which around 78 million are targeted for export, perhaps China. Argentina, another big producer, is predicted to be down by 13% to 47 million tonnes creating a hole to fill somewhere. Similar circumstances will be occurring with other agricultural products and so prices for US producers may be lower in other markets, but markets will exist.
Products that the US exports to China of interest to New Zealand producers will be dairy and beef. Beef had just re-established access into China before the Trump effect began, but only at relatively low levels. However, the US supplies around 10% of imported dairy products into China, so depending where else this milk ends up there may be opportunity there.
Where the damage to world trade is more likely to occur is where either of the countries are exporting products to the other which cannot be purchased elsewhere, at least at reasonable prices.
The losers will be the middle classes who buy or are tied up in the manufacturing of these products. Then, their purchasing power to buy milk and meat will be reduced if this continues and that may have an impact, eventually.
Back to more immediate things, the GDT held on Tuesday dropped again by -1.2% among the products WMP dropped 1%.
One of the interesting things happening with milk is the apparent disconnect with the oil price which have in the past been closely linked (see fig 1.).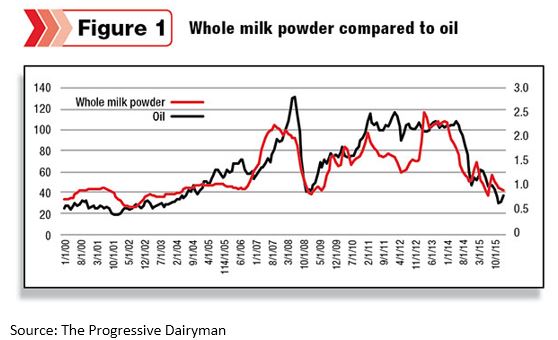 Of late crude oil has seen a steady increase climbing from $42.53 US a barrel 12 months ago to around $65 today. Milk prices have lifted since this time last year but the tracking pattern doesn't appear to have the same linkages as they did in the past.
Its only a short time frame and the pattern may re-emerge, but milk does appear to be stuttering a bit and for New Zealand producers, they are more reliant on the Kiwi vs US$ relationship at the moment. Let's hope a catch-up occurs in the new season.