As peak cow arrives, farmers search for cost-effective alternatives for irrigated land use - and sheep dairy is getting the attention of some heavy hitters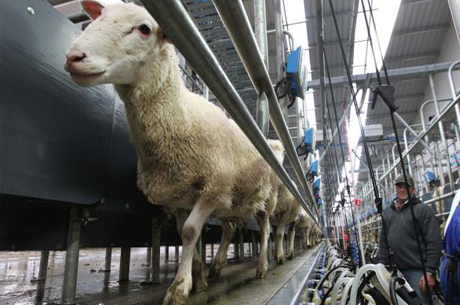 By Guy Trafford

Dairying on a different note this week. The flag has gone up from potentially one of the big players in Canterbury which has requested interested parties in sheep dairying attend a meeting at Ngai Tahu's Office (15 Show Place Addington) on the 16th of August at 10am.
Called by Ben Giesen (Ngai Tahu's General Manager-Commercial and Market Development) with the support of the Mayoral forum, it is a positive step along the road to seeing the establishment of a new industry which many having been hanging out for. One of the irony's is that it appears at least two groups have been working independent to each other towards the same ends. Now is the opportunity to combine resources to maximise traction.
Up to this point the major sticky point in Canterbury has been the lack of a processor of scale, however, potentially there are now two interested parties who may be able to fill this gap.
Expressions of interest from farmer producers should provide the impetus to the processors that this is a serious option.
The timing of this is overdue as Canterbury has had major issues with nutrient management which is limiting the ability to increase cow dairying along with that in October this year Stage II of the Central Plains Water Scheme starts to flow. This provides another 20,000ha of land access to 'new' irrigation water. This is on the back of the 23,000 ha of Stage I, although much of the Stage I land was already irrigated from wells.
Much of Stage II is 'new' land and farmers have been scratching their heads as to how to pay for the $800 -$1,000 per ha per year it costs to irrigate this land. However, farmers are eternal optimist (you have to be to remain in farming) and so, many have committed to irrigation in the hope something would turn up to justify it.
Sheep dairy is a totally different beast to cow dairying and done properly has a minimal nutrient footprint, an excellent animal welfare approach and is highly profitable.