Dairy eyes are on the weather, especially in Australia where stress is building fast. NZ in good shape so far. Prices subject to international milk flow changes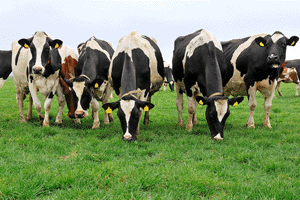 By Guy Trafford

With all the companies having released their final payouts to farmers, and nominations in for the Fonterra board, we have gone into a quiet period of watching and waiting for some of the issues raised earlier to gain traction.
- When will the payout forecasts be pruned? Almost everybody apart from the Dairy companies appear to think it is inevitable.
- What will be the result(s) of the Fonterra reviews over their international investments?
- What will Westland bring to the table regarding their financial future at the next AGM?
- Who will be on Fonterra's Board and how will that change their mode and direction?
- M Bovis has gone quiet although we know it certainly hasn't gone away.
The list could go on if I got really carried away, but for everyone sake I won't.
Looking across the Tasman the drought is continuing with Australia experiencing its driest September and this on the back of one of the longest dry periods on record. The whole of New South Wales is now classified as being in drought. To date the coverage has been on affected sheep, beef and arable farmers with dairy not getting a lot of mention although it has the second largest number of farms, but a long way behind Victoria.
However, Woolworths have instigated a 'drought levy' of 10 cents on milk as a means to raise drought assistance funds. Other supermarket companies have quickly followed suit. However, for some it is too little too late with reports of farmers selling off cows to sustain cash flow and allow for more feed purchases.
If the drought increases its breadth and spreads further into Victoria, which it appears to be what is happening, then Australian milk production will be severely affected. While parts of Northern Victoria have been in drought for "only" a month many farmers are complaining that the heavily subsidised feed going into NSW and Queensland is making almost impossible for them to source feed.
Australian production in July was -4% down on the previous year and the drop is likely to increase. Further afield the South Australia Government has acknowledged the drought for the first time in that state. Wheat and sheep are the main industries affected.
New Zealand, especially in comparison to Australia is having a good season with production up, (+5% to the end of August) and while NIWA are forecasting the potential of a drier summer, to date the weather goods are smiling although just in time in some cases.
Both the EU and USA are slightly ahead with their production levels, so while Australia may take some of the supply pressure out of the global market it doesn't need much of a lift by either the US or EU to more than make up for that. So prices are unlikely to see any real improvement in the near future.
The US monitored Oceania price has mostly dropped again indicating that the next GDT may also fall. However, butter had a small lift which will please Westland no doubt.