Nervous demand from China as their inventories shrink raises prices for logs. Demand for sawn timber remains strong but supply competition rises. Domestic markets unchanged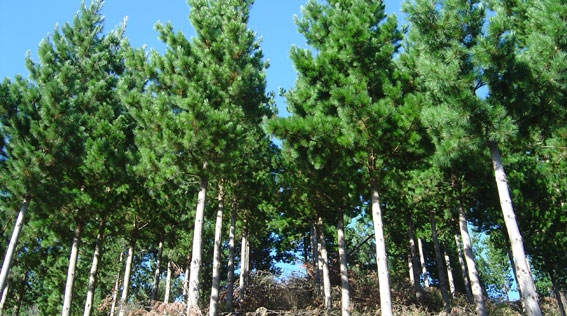 Forest owners and managers received another increase in At Wharf Gate (AWG) prices for sawlogs delivered to ports around New Zealand in November. Prices for unpruned sawlogs increased by 3-4 NZD per JASm3 at all ports while pruned logs increased 7-9 NZD per JASm3.The China softwood log inventory dropped by approximately 400,000 m3 over the last month to 3.0 million m3. This low inventory level combined with reduced North American supply has caused a buying sentiment among nervous log buyers, that has seen CFR (cost and freight) sale prices for logs in China rise by 3-5 USD per JASm3. 
There is very little change in domestic demand for both logs and sawn timber with the domestic market balanced. While export demand for clear sawn timber remains strong, many overseas markets for framing and treated sawn timber are becoming oversupplied as supply has increased from Australia and Europe. 
Due to the increase in AWG log prices the PF Olsen Log Price Index increased $2 to $132 for November. The index is currently $5 above the two-year average, $8 above the three-year average, and $16 higher than the five-year average. 
Domestic Log Market 
Log Supply and Pricing
Some mills were tight for supply (especially pruned logs) through the latter part of October but managed through. Log prices have remained constant as we move through Quarter 4. Most New Zealand mills have now started planning to position themselves to have very little stock at the end of the year.   
Sawn Timber Demand
Most wood processors refer to the domestic market as balanced. Europe and the US continue to have strong demand for clear sawn timber. These markets have been strong all year. The Australian market is heading for oversupply in framing and treated sawn timber as more supply arrives from Europe. The European market is oversupplied for framing. It is interesting to note the European demand for clear sawn timber is strong- yet they are oversupplied for framing.
Recently the Chinese government announced a reduction on a wide range of import tariffs effective from November 1, 2018. Import tariffs for wood and paper products were reduced from 6.6% to 5.4% in order to grow these imports. There is sawn timber starting to accumulate in some China ports, especially the northern ports and down to Shanghai, where inventory levels reached historic lows in August. Historically, increased winter supply and the Chinese New Year causes inventory volumes to rise over the next few months.      
Export Log Markets 
China
With cooling temperatures in China, demand has increased with daily port off-take now around 78,000 m3 per day. Last month we reported total softwood logs stocks in China were 3.4 million m3. The log stocks are currently at 3.0 million m3 with end users slightly nervous about supply. There was widespread opinion that log stocks would increase over the "Golden Week" holiday period in China and in fact the opposite occurred.  
Courtesy: Pacific Forest Products (PFP)
There is speculation that a ban will be imposed on the current practice of fumigating North American logs at Taicang due to concerns about water pollution. Taicang is an aggregation of four ports close to Shanghai and for the first-time lumber stocks are higher than logs stocks (and lumber stocks had hit a new low in August). This would further constrain North American log supply to China which has already reduced markedly over the last few months as the trade war between China and the US takes effect. While the North American softwood log supply of 4-5 million m3 annually is small compared to New Zealand's annual log supply of 15 million m3, constraints on its supply can materially impact market sentiment.   According to Canada Wood Today's published figures the US supply to China of wood products has reduced as follows
13% of China's softwood log imports; was 54% in 2017

2% of China's softwood lumber imports; was 38% in 2017

7% of China's hardwood log imports;

21% of China's hardwood lumber imports.
China's GDP growth of 6.5% in Quarter 3, 2018 is the lowest figure since the first quarter of 2009 which occurred during the global financial crisis. This slowdown in economic growth was caused by a reduction in infrastructure investment by the Chinese government, and a cooling housing market. There was also still negative impacts from financial deleveraging as well as previous economic reforms.
China's forest resources have entered a rapid development phase as the country's plantation estate continues to be expanded into the largest in the world. Total net forest area has grown by 12.2 million hectares; this is due mostly to plantations, while forest stocks show a net volume increase of 1.42 billion m3. In total, this amounts to an average increase of 284 million m3 per year (8th National Forest Inventory, 2009–2013).  The Chinese harvest is steadily moving away from natural forests and toward plantations (which now represent 46% of the total national forest harvest) in order to fulfil China's goal of transferring domestic timber production from natural forests to almost 100% plantations over time.  Accordingly, the country is building a National Timber Strategic Reserve Base aimed at improving forest management practices and establishing a timber security system as a means to improve self-sufficiency and create a stable timber supply.
Through the initiative, China will establish 7 million hectares of National Reserve Forestry by the end of 2020 and 20 million hectares by 2035, marked by an average annual incremental stock volume of 200 million m3.  Over time, as the plantation estate expands, log imports are expected to decline. However, with China's plantations focused heavily on fast-growing, short-rotation eucalyptus and poplar, softwoods are likely to remain in tight supply, keeping softwood imports robust. It takes up to 20 years to grow coniferous trees, so any future supplies from incremental coniferous plantations will not be ready until 2035 at the earliest (excluding previously established coniferous plantations). 
India
The Indian market for New Zealand pine logs continues to move slowly, with liquidity issues strangling bank funding making Letters of Credit (LCs) hard to come by. The Indian Rupee (INR) has now stabilised over the last few weeks at around 73 USD, bringing a level of certainty in transactions for importers.
Most NZ log stocks at the Port of Kandla which were either waiting for LCs or sales, in custom bonding or in port warehouses have now been negotiated and the physical movement of goods from the port to mills is underway. This paves the way for fresh arrivals and a market driven price correction upwards to US$153+ levels from Dec 2018 matching the upward China market price movement. Sawn Timber prices for Kandla are now consistent at Rs 501 levels
The Tuticorin log market has been satisfied with volume from two vessels by two different New Zealand log exporters in the last few weeks. The next vessel arrivals for South India are expected from New Zealand in December.
After a period of 149-150 USD per JASm3 of A grade price levels (with some of the port stocks in Kandla cleared at levels way below the market price), the November/December loadings from New Zealand are likely to achieve 153-154 USD per JASm3 of A grade. The positive aspect remains there has not been any significant log inventory build-up, and with restrained shipping from New Zealand exporters, the pipeline of New Zealand logs to India can be balanced with the market. Shipping freight rates from New Zealand to India vary from 38-41 USD per JASm3. This should keep trade viable.
The Indian market for New Zealand logs has reduced in annual volume from 1.8m m3 to 1.5m m3 largely due to the currency demonetisation, then the introduction of GST and more recently the tightening reforms within the banking sector. The biggest issue for New Zealand logs importers in India is the massive amount of working capital stuck in GST pre-payment while clearing goods from port.
There is a regular influx of pine logs from South Africa and southern yellow pine (SYP) from the US servicing a part of the market and reducing dependence on New Zealand pine Logs. Various buyers have committed orders for South African logs over the next two months.
India has general elections in 2019 and log exporters anticipate government policy helping the business sector. The ruling party may possibly give out a few sops to get businesses to provide party funding and election support.
Exchange rates
The NZD stabilised against the USD in early October after reaching a bottom of approximately 0.6437 and has recently rallied to the 0.6666 to 0.6668 range.
NZD:USD
While the Chinese Yuan (CNY) depreciated against the USD in the last couple of weeks of October it is still currently stronger against the USD than it was at the start of October.
CNY:USD
Ocean Freight
Ocean freight shipping costs increased on average 1 USD from October to November. This steady increase is expected to remain for the year. Of more concern to log exporters is the congestion at New Zealand ports causing consistent vessel delays of between 3-5 days at an average demurrage cost of $10,000 USD per day.     
The stabilisation in oil prices has seen a reduction in the bunker prices.
Singapore Bunker Price (IFO380) (red line) versus Brent Oil Price (grey line)
Source: Ship & Bunker
The Baltic Dry Index (BDI) is a composite of three sub-indices, each covering a different carrier size: Capesize (40%), Panamax (30%), and Supramax (30%). It displays an index of the daily USD hire rates across 20 ocean shipping routes. Whilst most of the NZ log trade is shipped in handy size vessels, this segment is strongly influenced by the BDI.
The graph below shows the recent BDI stabilisation and drop.
Source: Lloyds
PF Olsen Log Price Index - November 2018
Due to the increase in AWG sale prices the PF Olsen Log Price Index increased $2 to $132 for November. The index is currently $5 above the two-year average, $8 above the three-year average, and $16 higher than the five-year average.
Basis of Index: This Index is based on prices in the table below weighted in proportions that represent a broad average of log grades produced from a typical pruned forest with an approximate mix of 40% domestic and 60% export supply.
Indicative Average Current Log Prices – November 2018
Log Grade
$/tonne at mill
$/JAS m3 at wharf
 

Nov-18

Oct-18

Sep-18

Aug-18

Jul-18

Nov-18

Oct-18

Sep-18

Aug-18

Jul-18

 
 
 
 
 
 
 
 
 
 
 
Pruned (P40)
170-195
170-195
170-195
175-195
175-195
186-192
176
176
176
194
Structural (S30)
130
130
130
130
130
 
 
 
 
 
Structural (S20)
115
114
114
114
114
 
 
 
 
 
Export A
 
 
 
 
 
147
145
139
136
147
Export K
 
 
 
 
 
139
138
131
128
140
Export KI
 
 
 
 
 
132
130
123
114
132
Export KIS
 
 
 
 
 
124
122
111
 
 
Pulp
50
50
50
50
50
 
 
 
 
 
Note: Actual prices will vary according to regional supply/demand balances, varying cost structures and grade variation. These prices should be used as a guide only..
A longer series of these prices is available here.
---
This article is reproduced from PF Olsen's Wood Matters, with permission.