Guy Trafford says the arable farming practice of stubble-burning makes no sense farming-wise and is unhelpfully selfish in its wider impacts on the community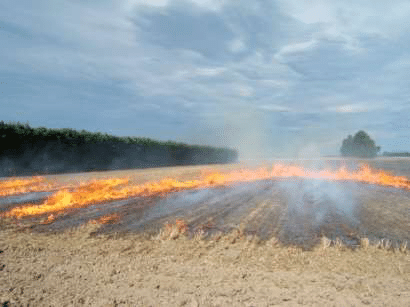 By Guy Trafford

If there are any rural folk out there still unconvinced over climate change, they must have been living in an air-conditioned closet since Christmas.
This year is proving to be the other side of last season's coin. Remember the 46 days of no rain starting in October through to December 2017 before switching to a wet phase for the remainder of the summer and autumn period?
This season (2018-19) had (happily) persistent rain through the same early period and while since the beginning of the new year approximately 50 mls has fallen around Canterbury, the hot weather and drying winds have long since sucked that up and this is starting to look pretty typical throughout the country.
In the meantime, across the Tasman record fires and heat waves have been afflicting the southern parts of Australia with Tasmania losing 200,000 ha to fire while in Western Queensland, Townsville has had widespread floods to the point where up to 300,000 cattle are estimated to have been lost. In the meantime, over large areas the drought continues. Across Australia 2019 January's temperature was 2.9c warmer than the average while in NSW a whooping 6c warmer.
New Zealand experienced some record high temperatures in Hamilton and Wellington with Hamner Forest peaking at 38.4oC for the month high and highest for there for 113 years.  NIWA's predictions for the February to end of April period are 'interesting' with above average temperatures but particularly from March onwards average rainfall but possibly from heavy intermittent event (tropical storms coming down). These may give some respite to East Coast farmers.
This chart is animated here. 
Every year around this time plumes of smoke can be seen rising up around the Canterbury plains as (some) arable farmers burn off their crop stubble and the smell from the evening BBQ is stifled by the smell as crop smoke. Given the issues of the out of control wild fires around the Nelson region being experienced at the moment with over 2,100 ha burnt it seems timely to have a re-visit of the pros and cons.
Farmers use the practise to help prepare seed beds for the next crops. The argument is, this is particularly important when re-sowing with small seed crops. New Zealand grows some particularly heavy crops and getting new growth through can be seen as problematic. The other major benefits are around weed management and reducing future pest and disease problems although on a nutrient basis more is lost via burning. It is also cheap to achieve. Around 40% of stubble in Canterbury is burnt based upon a reasonably old report.
On the converse side of things there is the loss of a potential asset of the bales of stubble which have some feed value and other uses. If the stubble is worked into the soil it helps to build up the soil organic matter especially carbon. Up to 88% of carbon is lost through burning. What is not captured in earlier assessments is the social impact. Most developed countries overseas have long since put a ban on stubble burning, largely due to the adverse social aspects of the practice.
Currently farmers are required to get permits to burn and are meant to take suitable mitigation practices. I.e. fire breaks and the like although some of these have not been effective judging by the number of burnt hedges seen at the end of the 'fire season'. My view is, as a Canterbury rural resident, I would be highly upset if my assets were damaged due to a fire getting out of control just because some practice no longer used elsewhere was considered to be OK. The liability would not only rest on the arable farmer setting the fire but would/should also go back to the Council that allowed the practice to be undertaken. Given that most of our rural fire brigades are manned by volunteers the impact upon them having to 'chase' out of control fire should not be under estimated. Particularly this year with so many away helping to fight the Tasman fires near Nelson.
Finally, in this time of heightened concerns and awareness the general public do feel anxious when seeing plumes of smoke on hot Canterbury days. Farmers are under pressure for many of the environmental practices which impact upon the wider community. This one, given the alternative options available would seem to be a no brainer to stop.
Markets
SHEEP
With the dry hot weather persisting throughout the region store stock are starting to move to the saleyards which is leading to a softening of prices. Those buyers who have been waiting to get a look in in the past are now managing to buy lambs at prices they feel better reflect the export market. Schedules for lamb have fallen again this week. We seem to be going into the usual round of when farmers are starting get under pressure from feed then the processors see it as an opportunity to claw back some profits.
WOOL
Wool prices held, just, allow the monitoring grades dropped but largely due to the lack of finer grades coming through rather than buyer resistance. No sign of any upturns ahead.
CATTLE
A similar story to last week. Saleyard prices are holding at reasonable levels especially for quality but the schedule has reduced or held at best from the processors. Volumes coming forward have reduced which will help hold prices up but as the dry weather continues this may force more store cattle out onto the market.
VENISON
Another -10 cent per kg drop from the processors to continue the fall which has gone on unabated for three months now with no end in sight. Although given prices are considerably below where they were this time last year would signal that they must be about to plateau out soon.
DAIRY
The only really good news on the markets front was the lift in the Global Dairy Trade last week which jumped by +6.7% to staircase upwards for the fifth sale in a row. Whole Milk Powder was the major driver with an +8.4% rise.