A rising US dollar is limiting the buying power of Chinese log buyers as trade war consequences start to bite locally. Export prices down. Local mill supply up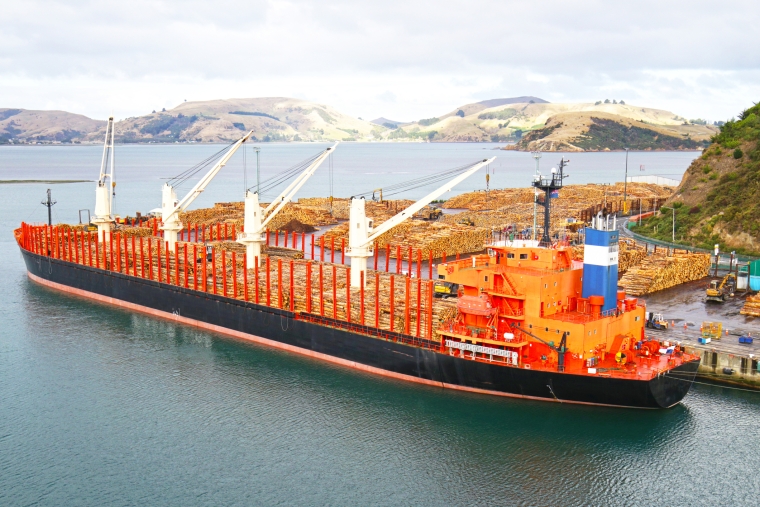 Forest owners received on average approximately -NZ$2 per JASm3 less for export logs in May than they did in April.
The decrease in At Wharf Gate (AWG) prices for logs was higher in the lower value log grades and was not consistent across all export log buyers. CFR sale prices for logs which had dropped over the previous two months stabilised in May, but the recent renewing of the trade war between the US and China means the market is again showing some signs of nervousness.
The recent sudden depreciation of the Chinese Yuan (CNY) against the United States Dollar (USD) is the biggest concern for log exporters to China as it reduces the buying power of the Chinese log buyers.
For the first time in a while virtually all mills report good log supply. The domestic market for logs has continued the very stable yet unspectacular start to 2019. Most mills expect domestic demand for sawn timber to reduce over the winter months. There are high stocks of sawn timber in most Asian markets.
Due to the drop in the AWG log prices the PF Olsen Log Price Index for May decreased $1 to $130. The index is currently $1 above the two-year average, $4 above the three-year average, and $12 higher than the five-year average. 
Domestic Log Market
Log Supply and Pricing
Prices for domestic log sales in May are mostly unchanged from April. Some mills report an over-supply of pruned logs in the Central North Island and Nelson (increased salvaged volumes from the burnt areas). Structural mills report the financials are hard to stack up for the burnt wood as they can't send the chip to MDF and ironically the drying of the timber is uneven. While prices for pruned logs in the Central North Island have remained relatively unchanged, log prices in the South Island have decreased. Many mills report they are now being offered more logs from suppliers due to uncertainty in the export markets.
Sawn Timber Domestic Demand
Mills describe demand as flat. Demand for structural grade logs is expected to drop off through the winter months. Industrial demand is regional as well as seasonal. The demand for industrial grade logs has been average at best and is now reducing in some regions.  
Sawn Timber Export Demand
The Australian sawn-timber market is very soft. The new product developments that had occurred last year have evaporated, and demand for core products (mainly outdoor rather than structural products) has softened a bit as well.  Most mills expect this downturn to be more than short term as market indicators have not been great.
While the European clearwood market remains strong, the prices for the lower grade cut-of-log (COL) and cuttings grades etc are not as strong. There are high stocks of sawn timber in China and this is putting pressure on prices. There is uncertainty in the China market with the impact of the tariffs and manufacturers do not want to carry much stock which is understandable. Sawn timber markets in other areas like Vietnam are also now facing price pressure, as volume is diverted.
These lower grades arise from the production of clear boards and it is the average basket price for all grades that determines the profitability of New Zealand sawmills. It is a similar story from the mills producing structural grade timber who make money from the structural grade sawn timber but struggle with the lower grade arising products.
Export Log Markets
China
Total softwood log stocks across China are now around 4.1 million m3, so are relatively unchanged from last month. Daily uplift from the ports has reduced from the record 90,000 m3 per day levels of last month. This month the daily usage has bounced between 75-90,000 m3 per day. Construction activity usually slows in the hotter summer months that are upcoming in China.  
Courtesy: Pacific Forest Products (PFP)
The CFR sale prices for pine logs in China which had dropped over the previous two months has stabilised for May sales, and A grade and is now in the 134-136 USD per JASm3 range. The confidence in the construction industry is mixed with the slowest economic growth in China in decades.
The South American logs of which there are about 6-7 vessels per month currently have an A grade sale price of about 118 USD per JASm3. The quality and usage is vastly inferior to pine logs from New Zealand.  While these exporters have experienced a slight drop in freight rates from South America to China the returns are not favourable, but most exporters want to maintain their position in the supply chain while looking for price increases in the future.
The renewed trade war between the US and China will likely mean even less log volume (and particularly southern yellow pine) arriving into China from the US. The current inventory of European logs from the storm and beetle damaged area is estimated at about 400,000m3 by China Forestry Group. Infrastructure limitations in Europe has restricted the volume that can be exported to China, and the CFR price is also quite supressed with Spruce in the 110-115 EUR per m3. This equates to approximately 123-129 USD so is heavily discounted.
India
In the port of Kandla the supply of New Zealand pine logs remains relatively low and demand is currently exceeding supply. One of the large New Zealand log sellers managed to sell part of a vessel at 156 per JASm3 for A grade in April. However, there has since been a price correction in response to falling CFR prices in China, and the current CFR price for A grade logs is between 147-149 USD per JASm3.
The market is abuzz with the first ever vessel of logs from Uruguay which is headed to India in May. It is marketed at 149 USD per JASm3 for A grade. The biggest mystery around the vessel is fumigation. It is suggested that the penalty (on arrival in India) fumigation cost of US$12 per m3 has been agreed to be paid by the exporter. The vessel is expected to load about 34,000 m3 of 5.8m/3.8m (china lengths) which suggests that in case of a significant problem the vessel may be diverted to a Chinese port.
Since the pine from Uruguay is younger and primarily composed of taeda and ellioti, it would have a significant impact on imports of southern yellow pine and South African pine to India. Most market commentators think this supply will not significantly impact the New Zealand pine supply. One of the challenges of Uruguay shipment is lack of credible scaling and grading. The average log diameters are also small around 20-25 cm, which is not ideal for the Indian market.
The Kandla sawn timber market for pine in lieu of tight supply has moved up to Rs 511/CFT.
The log buyers in Tuticorin have now formed a unified group and are actively soliciting a vessel for early June shipment from New Zealand. The sawn timber price has firmed up to Rs 521/CFT.
Shipping logs from New Zealand to India is around 33–36 USD per JASm3 and expected to remain at these levels.
Exchange rates
The New Zealand Dollar (NZD) has weakened against the United States Dollar (USD) and this has partially buffered New Zealand forest owners from the falling CFR log prices in China. This is being countered by the weakening of the Chinese Yuan (CNY) against the USD which is reducing the buying power of the Chinese log buyers. How the NZD and the CNY fare against the USD over the next couple of months will have a significant impact on AWG prices at New Zealand ports.      
NZD:USD
CNY:USD
Ocean Freight
Ocean freight rates from New Zealand to China dropped about 1 USD per JASm3 over the last month. The Baltic Handysize index has steadily dropped throughout April and into May. Most log exporters expect freight rates to drop slightly over the next few months. 
Source: Investing.com
The bunker prices have also peaked and show a recent downward trend.
Singapore Bunker Price (IFO380) (red line) versus Brent Oil Price (grey line)
Source: Ship & Bunker
The Baltic Dry Index (BDI) is a composite of three sub-indices, each covering a different carrier size: Capesize (40%), Panamax (30%), and Supramax (30%). It displays an index of the daily USD hire rates across 20 ocean shipping routes.  Whilst most of the NZ log trade is shipped in handy size vessels, this segment is strongly influenced by the BDI.  
The graph of the BDI over the last year below shows the recent increase in the BDI. (The handysize is about 35% of the global shipping fleet). This increase in the BDI is an indication raw materials are growing in demand around the world, but not in the handysize vessels that are predominantly used to cart logs. We wait to see what impact the US-China trade war, Brexit and rising world debt levels have on the BDI.
Source: TradingEconomics.com
PF Olsen Log Price Index - May 2019
Due to the drop in the AWG log prices the PF Olsen Log Price Index for May decreased $1 to $130. The index is currently $1 above the two-year average, $4 above the three-year average, and $12 higher than the five-year average. 
Basis of Index: This Index is based on prices in the table below weighted in proportions that represent a broad average of log grades produced from a typical pruned forest with an approximate mix of 40% domestic and 60% export supply.
Indicative Average Current Log Prices – May 2019
Log Grade
$/tonne at mill
$/JAS m3 at wharf
 
May-19

Apr-19

Mar-19

Feb-19

Dec-18

May-19

Apr-19

Mar-10

Feb-19

Dec-18

 
 
 
 
 
 
 
 
 
 
 
Pruned (P40)
175-192
175-192
175-195
175-195
175-195
178-183
178-183
185-190
185-192
178-186
Structural (S30)
132
130
130
130
130
 
 
 
 
 
Structural (S20)
115
115
115
115
115
 
 
 
 
 
Export A
 
 
 
 
 
144
145
151
156
142
Export K
 
 
 
 
 
136
137
143
148
135
Export KI
 
 
 
 
 
128
129
136
141
127
Export KIS
 
 
 
 
 
122
122
129
134
122
Pulp
51
50
50
50
50
 
 
 
 
 
Note: Actual prices will vary according to regional supply/demand balances, varying cost structures and grade variation. These prices should be used as a guide only..
A longer series of these prices is available here.
---
This article is reproduced from PF Olsen's Wood Matters, with permission.