Reserve Bank confirms it has been talking to ANZ about David Hisco misrepresenting his expenditure since the end of May; Finance Minister maintains the matter doesn't necessarily reflect a systemic issue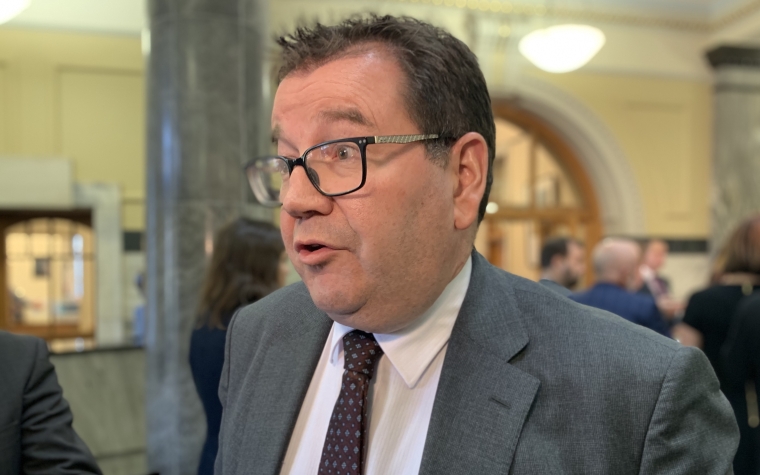 The Reserve Bank (RBNZ) confirms it became aware David Hisco was leaving his role as ANZ New Zealand CEO two weeks ago.
A spokeswoman for the prudential regulator told interest.co.nz ANZ New Zealand Chairman John Key informed it of issues with Hisco's expenses on May 29, before the RBNZ became aware of his departure on June 5.
She said Key kept the RBNZ "closely informed" over this time, and the RBNZ was still discussing the matter with ANZ.
Key on Monday publicly announced Hisco's departure was made by "mutual agreement" after it came to light he hadn't properly disclosed the fact he'd spent tens of thousands of dollars over nine years expensing the bank for private chauffeurs and wine storage. 
He said ANZ found potential discrepancies with Hisco's expenses about three months ago.
An ANZ spokesman on Tuesday confirmed to interest.co.nz that while ANZ formally notified the RBNZ and Australian Prudential Regulation Authority of the matter on May 29, it gave the RBNZ a "brief heads up" about two weeks earlier that it was looking at a potential issue that might require regulators' attention.
Asked by interest.co.nz whether ANZ was obliged to inform the RBNZ of problems with Hisco's expenses and then his departure, the RBNZ spokeswoman said that as a general rule "employment matters weren't prudential matters".
However in the event of a bank CEO leaving, the RBNZ would need to be involved in the appointment of a new CEO.
A matter of confidence 
The RBNZ spokeswoman highlighted the importance of banks exercising "self-discipline and governance-based supervision" when asked how the public could have confidence ANZ's systems were robust when it turned out its CEO was misspending and the bank was using a non-RBNZ approved capital model for five years.
Asked a similar question earlier in the day, Finance Minister Grant Robertson pointed to the discussions underway between ANZ and the RBNZ. 
"There are some questions still to answer, particularly around the disclosure of when this occurred, and making sure that the ANZ did fulfil their requirements there," he said. 
"Ultimately ANZ is a listed company and shareholders will make their own judgement on the performance of the board…
"I'm sure there will be ANZ shareholders and staff members who are very disappointed at what they've seen here.
"But I don't think that necessarily means there's a systemic issue."
Junior staffer comment 'unacceptable'
Robertson stressed the significance of the RBNZ censuring ANZ over it using a non-RBNZ approved capital model.
"That is about a relationship of trust between the RBNZ and a bank like ANZ. I am extremely disappointed that the ANZ did not meet the arrangements they had."
Key, at a media briefing on Monday, blamed this very significant capital failure on a "junior staffer".
Robertson responded: "That's simply not an acceptable response. It is the responsibility of the board and I'm sure Mr Key knows that."
On this capital issue, the RBNZ spokeswoman reiterated: "The Reserve Bank's supervisory approach places an emphasis on bank directors attesting to their bank's compliance with regulatory requirements in their disclosure statements. We expect bank directors to take compliance with our rules seriously.
"The Reserve Bank's role is to review and approve internal models, not to audit them on an ongoing basis. The onus is therefore on bank directors to attest in their regular disclosure statements that their bank is compliant with their conditions of registration."
'Case studies' to feed into RBNZ Act review
Overall, Robertson said the Government was taking matters raised by ANZ very seriously.
Specifically, the second phase of the RBNZ Act review underway relooks at the tools the RBNZ has as the prudential supervisor.
Asked whether the situation with Hisco will affect the nature of this review, Robertson said he'd asked for the review to include "case studies".
Asked whether the RBNZ's hands-off approach was proving to be problematic, he said this was the sort of issue that would be addressed as a part of the review. 
"Overall the New Zealand banking system is sound and something kiwis can have confidence in."
Robertson also pointed to the conduct and culture review the RBNZ and Financial Markets Authority undertook in the wake of Australia's financial services royal commission.
Key 'an exceptional leader'
National's Finance Spokesperson Amy Adams said it was timely to question, via the RBNZ Act review, the RBNZ's role as a prudential regulator.
Asked about Key's leadership style, likened to a "smiling assassin", Adams said she didn't want to be drawn into an "employment matter" for ANZ.
She did however stand by her former boss, saying Key was an "exceptional leader" who was "clear with his expectations".
She said he was "strong when he needed to be strong" and "supportive when he needed to be supportive".