We look at who cut what home loan rates in 2019 and whether our main banks passed on the lower OCR benefits to borrowers. And did those cuts help or hurt first home buyers?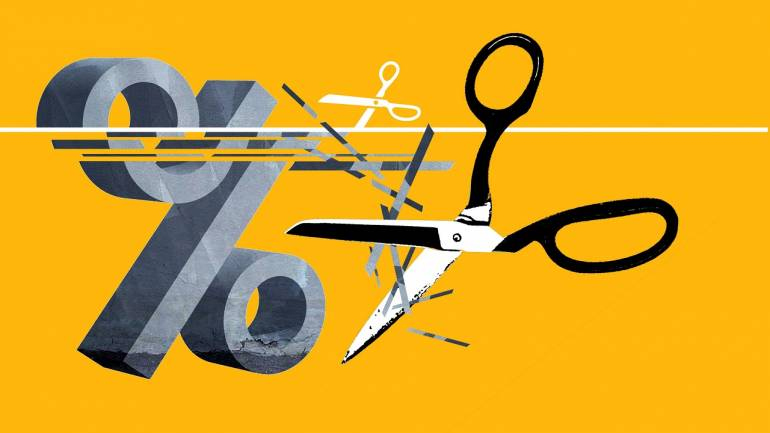 2019 has been a year of unprecedentedly low mortgage rates.
They started the year historically low, and went down from there.
Not only did market rates fall based on an international drift, they were given a strong helping hand by a suddenly dovish Reserve Bank.
In fact, it was the RBNZ that triggered the key big moves lower in 2019.
And while that saved existing borrowers heaps in mortgage interest payments, it did reignite housing prices, so first home buyers are now coping with rising prices again.
On balance, these rising prices are costing new entrants more than the lower interest cost savings.
This article will look at how much interest an existing 2018 borrower saved in 2019, and we will look at which bank was the most competitive in a followup article.
First up, lets look at the interest savings. If you bought a median priced house in September 2018 (an arbitrary selection) with a 20% deposit, you would have had a $448,000 mortgage at the start of 2019 (or if you are in Auckland, a $680,000 mortgage).
At the start of the year, one year carded fixed interest rates averaged 4.08%. Two year carded fixed rates averaged 4.29%. And three year rates averaged 4.51% on the same basis for the main five big banks..
By the end of 2019, they had fallen to 3.42% for the one year, 3.55% for the two year, and 3.93% for the three year rates for these main banks.
This represents a fall of -0.66%, -0.74% and -0.58% respectively. Over the three terms, that is an average drop of -0.66% pa.
For a mortgage of $448,000, that would be saving you an average of $2016 per year in interest (assuming you kept your repayments unchanged). For the Auckland borrower, the average annual savings are $3060.
But a lot depends on the bank and the fixed rate term you chose.
At the same time, a 20% deposit on a median priced house rose from $112,000 at the start of the year to $126,000 at the end. For a lower quartile priced house, the 20% deposit rise was from $76,000 to $90,000. These increases dwarf the interest rate savings. (And in Auckland, the deposit for a lower quartile house rose from $131,000 to $139,000, also more than the interest rate savings.)
If you had a one year fixed contract with one of the main mortgage banks, the largest interest rate move from January to December would have been at Westpac, the smallest at Kiwibank.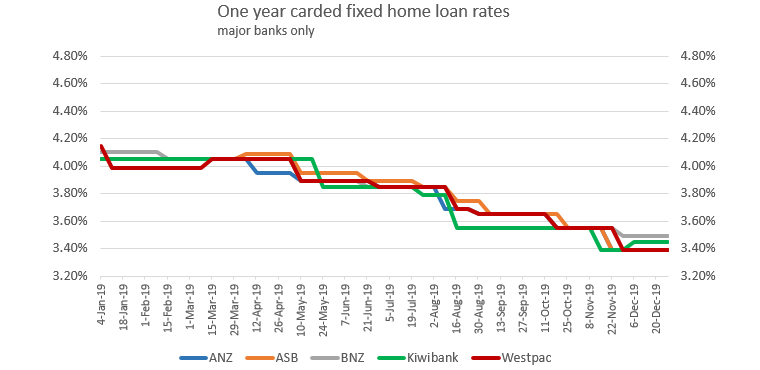 For a two year fixed contract, the story is different. All banks started the year on the same rate, and all finished the year at the same rate. The two year fixed category is the dominant one and where the most intense competition occurs. And all banks ended the year by raising their carded rate, perhaps to prepare for the major real estate season that usually runs from February to Anzac Day, by adding to their campaign 'powder'.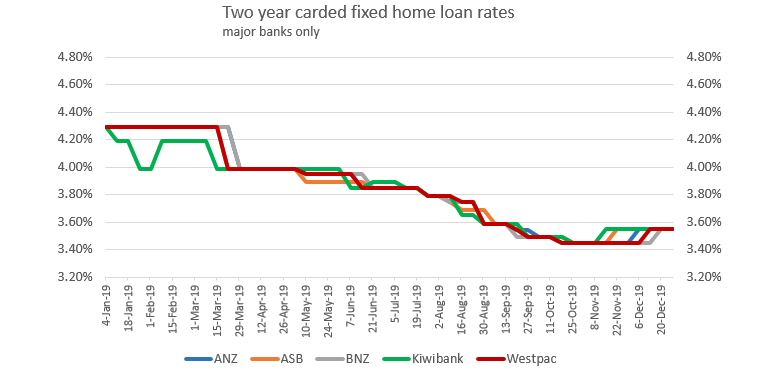 But 2019 was notable because for the first time, the three year fixed contract offer became 'a thing'. It was a move started by BNZ but in the second half of the year, ASB in particular competed hard to win customers for this term. The competition resulted in rates below 4% for a large part of the year and attracting many new borrowers.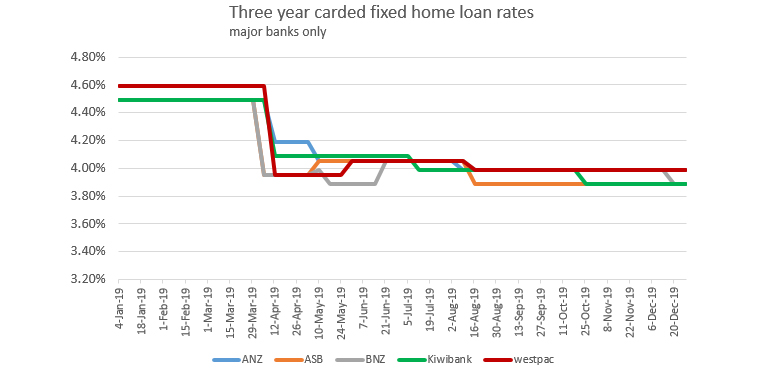 Lower rates are one thing, but did borrowers win their share of the benefits? Remember, the OCR fell from 1.75% to 1.00% in the year, a -75 bps fall. And wholesale swap rates fell -74 bps, -72 bps and -73 bps in each of the one, two and three year tenors. But regular readers will recall that wholesale funding makes up only about 25% of major bank's funding although it varies widely between banks, as this table shows.
| | | |
| --- | --- | --- |
|   | Retail funding | Wholesale funding |
| SOURCE: RBNZ DASHBOARD | % | % |
|   |   |   |
| ANZ | 78.4 | 21.6 |
| ASB | 70.4 | 29.6 |
| BNZ | 69.8 | 30.2 |
| Kiwibank | 88.2 | 11.8 |
| Westpac | 74.8 | 25.2 |
|   | --------------- | --------------- |
| Big bank average | 74.6 | 25.4 |
And retail interest rates paid to depositors did not fall by quite as much as the wholesale funding costs. Banks are restrained from going all-in for wholesale funding by the RBNZ's Core Funding regulations. But they did fall by about -67 bps over the year. The weighted average fall between the retail and wholesale funding costs by the big banks was -68.5 bps. So it is fair to conclude that the big banks passed on more than 90% of the big OCR policy cuts to borrowers in the key fixed rates.
So far, our analysis has just been between the beginning and ending points in 2019.
In the second part of this analysis, we will look at which banks had the lowest offers in the two key mortgage and real estate seasonal rollover and selling periods - February to Anzac Day, and the Spring (September to early December) seasons. And from that we will be able declare which bank was the most competitive on home loan interest rates in 2019.