Rabobank says it remains committed to NZ & doesn't expect any significant changes to its services as RBNZ finalises new policy for banks operating in NZ as branches of overseas banks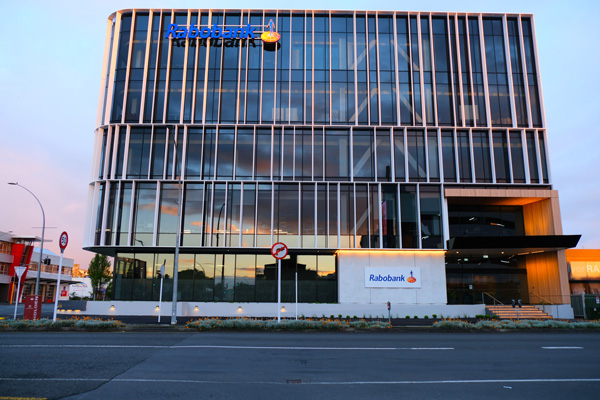 Rabobank says it remains committed to growing its New Zealand banking business after the Reserve Bank (RBNZ) on Tuesday confirmed it will restrict banks operating in NZ as branches of overseas banks to wholesale business.
Rabobank also says it doesn't expect there to be any significant changes to the services it offers.
When the RBNZ released proposals in the review of its policy for branches of overseas banks last year Rabobank said it would need to assess any changes to see whether they materially impact "the economic and/or strategic viability of Rabobank's operating model in New Zealand."
"Rabobank remains committed to growing our food and agribusiness banking business in New Zealand," a Rabobank spokesman told interest.co.nz on Wednesday morning.
"We have been expecting the Reserve Bank's consultation paper and we are working through the details and its implications. However, it appears that much of the information is in line with the original proposal."
"We are committed to working with the Reserve Bank on any next steps required of us and, at this stage, we do not anticipate any significant changes to the services we offer in New Zealand," the Rabobank spokesman said.
Cooperative Rabobank UA, NZ branch of the Dutch group trading as Rabobank Nederland, undertakes wholesale funding and lending and provides liquidity support to Rabobank New Zealand Ltd, registered in NZ as a subsidiary, and other related parties. The branch is also allowed to take an unlimited amount of retail deposits and although it doesn't currently do so, wants to retain the ability to take deposits.
Rabobank Group is NZ's third biggest rural lender, after ANZ and BNZ, with total loans of $12.9 billion as of June 30. As of the same date it also had $6.3 billion of deposits.
The RBNZ on Tuesday confirmed plans to push ahead with proposals it floated in 2021, and further detailed in August last year. They are:
restricting all branches in New Zealand to engaging in wholesale business (that is with corporates, institutions and other wholesale investors), meaning they could not take retail deposits or offer products or services to retail customers;
limiting the maximum size of a branch to NZ$15 billion in total assets; and
continuing to allow the dual registration of branches, provided:

the relevant subsidiary and branch are sufficiently separate, and any identified risks are mitigated by specific conditions; and
dual-registered branches only conduct business with large wholesale customers.
The RBNZ is proposing a large wholesale customer is defined as having either consolidated annual turnover of more than $50 million, or net assets of more than $50 million. 
As of June 30, Rabobank Nederland had total assets of $19.4 billion.
Subsidiaries, branches & dual registration
Overseas banks wanting to operate as a NZ bank can apply to the RBNZ to register as either a locally-incorporated subsidiary, or as a branch of the overseas bank. Albeit in some cases an overseas bank is allowed to register both a subsidiary and a branch, which is referred to as dual registration.
As the RBNZ puts it, the key difference between a locally-incorporated subsidiary and a branch is that the branch is part of a legal entity incorporated overseas. The branch operates its banking business in NZ, which is the host jurisdiction, but the legal entity of which it is part is incorporated in another country, which is its home jurisdiction.
"As a result, branches cannot be made subject to many of the requirements we impose on banks incorporated in New Zealand. We rely on a branch's compliance with regulation and supervision in its home jurisdiction," the RBNZ said.
In a submission to the RBNZ last year Rabobank said any proposed changes to the RBNZ's branch policy will need to be assessed "to determine whether the change materially impacts, by way of implementation costs or otherwise, the economic and/or strategic viability of Rabobank's operating model in New Zealand." 
"If the status quo cannot be maintained, Rabobank would consider supporting the Reserve Bank's current approach to those dual-registered branches permitted to take retail deposits up to $200 million, with retail deposits in excess of $200 million being subject to appropriate risk mitigants such as ring fencing of assets in New Zealand equal to the value of the branch's retail deposit liabilities."
"Rabobank submits that the status quo, as it applies to the Branch, should be maintained. However, Rabobank acknowledges that the Branch's ability to take an unlimited amount of retail deposits is an outlier to the Reserve Bank's general approach to not allow deposit taking by dual registered branches," Rabobank said last year.
In its submission Rabobank acknowledged it hadn't considered the implications of losing its dual-registration status in detail. Nonetheless it suggested the impact would be significant in terms of additional capital and liquidity requirements, and potential outsourcing considerations, which could "call into question the economic and strategic viability of Rabobank's operating model in New Zealand."
The bank's NZ operating model relies on shared service arrangements between Rabobank NZ, its NZ branch, and other Rabobank entities, allowing it to continue investing in NZ, Rabobank's submission said.
"The Reserve Bank would need to carefully consider the ability of locally incorporated banks to absorb the lending assets of branches that could potentially withdraw from New Zealand if dual-registration were to be removed."
HSBC's retail exit
A key retail bank that would have been impacted by the new RBNZ policy for branches of overseas banks is HSBC NZ. HSBC warned last year the RBNZ's proposals "may need [HSBC] to substantially change strategy in response to such a significant change in the regulatory environment." HSBC subsequently announced in June this year the winding down of its NZ wealth and personal banking business over several years, as it stopped accepting new NZ retail customers with immediate effect. HSBC then sold its NZ mortgage portfolio to Australian non-bank lender Pepper Money.
An HSBC NZ spokesman told interest.co.nz in June the decision to exit NZ retail banking wasn't prompted by the RBNZ's proposed rule changes for banks operating in NZ as branches of overseas banks. An HSBC Group review explored a variety of options and the ultimate decision wasn't just about NZ with the HSBC Group having been reviewing various businesses around the world, the spokesman said.
HSBC established a branch in NZ in 1987 becoming the first overseas bank branch to be registered here. HSBC operates in NZ as a branch of the Hong Kong-based Hongkong and Shanghai Banking Corporation Ltd, with its ultimate non-bank holding company being HSBC Holdings PLC of the United Kingdom.
On Tuesday the RBNZ said it's now nearing completion of its branch policy review and is seeking views on implementation considerations in a third consultation paper. It says branches of overseas banks can be an important link between NZ's economy and global financial markets, with the objective of its review being to create a simple, coherent and transparent policy framework for branches that protects and promotes financial stability.
*This article was first published in our email for paying subscribers. See here for more details and how to subscribe.