Governor Adrian Orr says the RBNZ's proposals to increase banks' capital come from the perspective of society's risk appetite, not banks' risk appetite
By Gareth Vaughan
Banks' financial rewards have been greater than the risks they've taken, and the Reserve Bank's proposals for banks to hold more capital would bring the reward down to something that better justifies their risk, Reserve Bank Governor Adrian Orr says.
"For every risk there should be a reward and when you look at the banking system globally that reward has been greater than the risk taken. And that happens because banks can take the returns, they don't have to wear all of the losses because the losses are socialised through bank bailouts and failure management and all of the things that we're still struggling to recover from in the GFC [Global Financial Crisis] globally," Orr told interest.co.nz in a Double Shot interview. (The video above is part one of a two part interview).
"So that reward has been in excess of the risk. We're saying 'let's better balance that.' Let's bring the reward back down to something where that better justifies the risk. So we're doing two things at once, we're lowering the risk through more capital, and if investors are struggling to say 'while there's a lower risk,' they should expect to get lower return."
"When I was running the NZ Super Fund we wanted to be rewarded for the risk taken. If we could find excess reward that was fantastic, let's go there. But for the banking system as a whole it's too critical. The fear of failure would create failure so we're saying 'let's reduce the risk,' and hence expected returns on equity would probably decline."
Society's risk appetite
In terms of what's being proposed by the Reserve Bank, Orr says the central bank and prudential regulator is working from the perspective of society's risk appetite, not any particular bank's risk appetite.
"We're trying to calibrate it to society's risk appetite rather than the risk appetite of a particular financial institution," says Orr.
"We know that society's risk appetite is less than a bank's risk appetite because banks get to privatise their earnings but get to socialise their losses. If they fail it's us, it's taxpayers, current and all future citizens, who have to pay for that bank failure. So we're trying to get a better balance. More capital means a safer bank. It means a lower risk bank, which means that they will have a better credit rating themselves, and it means that society is in a better, safer and more efficient position."
Asked about criticism of a lack of cost-benefit analysis in the Reserve Bank consultation paper Capital Review Paper 4: How much capital is enough?, Orr said the fact the Reserve Bank has talked about potential for higher mortgage rates, lower deposit rates, credit rationing by banks and an impact on Gross Domestic Product shows it is thinking about the benefit-cost analysis. 
"What we're saying is that we believe more capital, and better quality capital, could cost a bank something. And we're not hiding from that. We think around 20 to 40 basis points additional premium between the costs at which they borrow and lend will be passed on because of them having to raise equity rather than just leveraging debt. So we're not hiding from that," Orr says.
"But the wider benefit is that their total risk is lower, their ability to attract equity will be cheaper because the investors will have a lower expected rate of return because they are a safer institution, and then beyond that the cost to the economy because we have more capital, safer institutions, our whole credit rating will be better."
"Our interest is the total cost not the [lending] margin. So yes, it may come at some impost to banks, but that is part of the game," Orr adds.
'We set the level of interest rates, banks set the margin and their profitability'
He also reiterates a point made in last week's Monetary Policy Statement about potentially using monetary policy to stimulate the economy during the proposed five-year transition period banks would have to phase in higher capital levels. 
"If we see interest rates being too high for our purpose, i.e. some unexpected event happened, we can lower interest rates. Likewise we can raise interest rates. We set the level of interest rates, they [banks] set the margin and their profitability. So that has to be remembered across the country. They talk about their margin, we talk about interest rates as a whole," Orr says.
"Banks can retain more earnings, we estimated 70% of retained earnings over the next five years would get to the capital requirement. They can issue more equity, or they can start pulling their business back. And if they start pulling their business back there are other businesses who may fill those gaps. There's no shortage of people wanting to grow their balance sheets. Likewise the bigger end of town could issue their own debt. It doesn't always have to go through the banking system. So there are so many other things that could happen. It's not a 'hold everything else this will happen'."
"Also we've said we don't want you to get there tomorrow. If we agree that that's where we're going, we are saying 'at least over the next five years and we will talk with each of you individually because some banks have more work to do than others.' A lot of banks are already there, some are north of the number in terms of total capital," says Orr.
Five years for the phase-in period was a timeframe "plucked out of the air" and some banks could potentially have more time, he says.
"We want to all agree where we want to get to and then we can talk about what makes sense getting there. The interesting thing of course is that markets are forward looking ...we want to work with you, we want a sound and efficient and profitable financial system just as you do. Let's work through this properly. The current situation is sub-optimal, let's get to an optimal situation in a way that doesn't kill us on the way there."
For full details on just what the Reserve Bank is proposing for bank capital, see interest.co.nz's three-part series here, here, and here.
The chart below, from the Reserve Bank's Dashboard, shows banks' return on equity for the September quarter.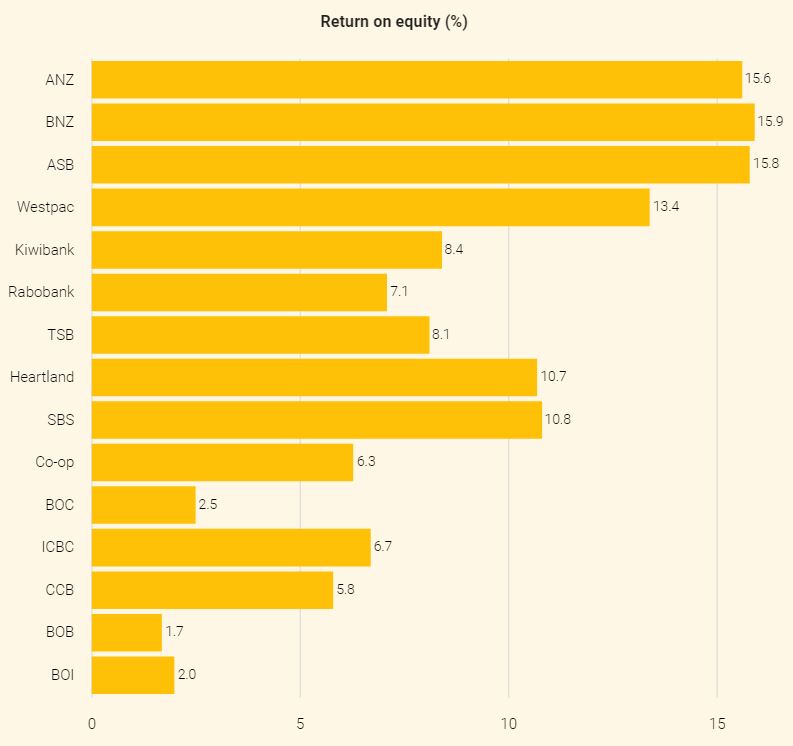 The Reserve Bank is seeking feedback, or submissions, on its bank capital proposals by Friday, May 3. It then aims to publish final decisions in the third quarter of 2019. 
*This article was first published in our email for paying subscribers early on Monday morning. See here for more details and how to subscribe.