Against the backdrop of the RBNZ's review of bank capital requirements, Gareth Vaughan details the nitty-gritty of the RBNZ proposals & what they might mean for bank customers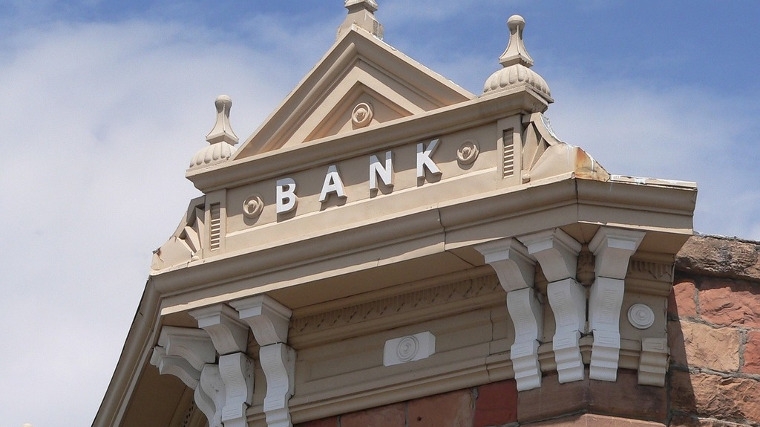 By Gareth Vaughan
In a rare move last week investment bank UBS provided one of its research reports to New Zealand media on an unsolicited basis. The report was on the Reserve Bank's proposed increase to NZ banks' regulatory capital requirements.
UBS, whose analysts generally serve professional rather than retail investors, is typically media shy. However, on this occasion the investment bank was keen to share research from its Australian-based banking analysts. It's message? The Reserve Bank's plan to increase banks' capital requirements is going to hit NZ borrowers in the pocket as the major banks look to recoup the cost of having to hold more capital.
Of course passing increasing costs on to customers is always an option for a business. But there are also other ways to help skin a cat, so to speak.
What's being proposed
Let's now recap just what the Reserve Bank is proposing and why.
The Reserve Bank's proposals would see banks' capital levels increase materially, with them almost doubling the required minimum amount of "high quality" capital they have to hold. However, the actual increases individual banks will need to make depends on their existing capital levels, how much extra they choose to hold above the required minimum, and whether they are a big or small bank. In general the Reserve Bank estimates it will be an increase of between 20% and 60%, which represents about 70% of the banking sector's expected profits over a five-year transition period.
Let's take a look at the financial performance of the four Aussie owned banks, ANZ NZ, ASB, BNZ and Westpac NZ, which control 88% of NZ banking system assets.
For many years the Bank for International Settlements (BIS), the central banks' bank, measured the profitability of major banks in a range of countries across a series of measures. For six consecutive years until 2017 interest.co.nz crunched the numbers for NZ's big four banks and added NZ to the BIS bank profitability benchmarking table. (We weren't able to do this in 2018 as the BIS annual report didn't include the bank profitability benchmarking table).
This exercise consistently showed the NZ banks near the top of the pack when compared to their counterparts from both advanced economies and major emerging economies, and ahead of their Aussie parents. Our articles on this can be found here.
However, bank profitability detail that's easier for a layman to follow includes profit and dividends paid to shareholders. Thus the table below shows a decade's worth of profits and dividends at the big four NZ banks. Cutting dividend payments appears an obvious way to help fund an increase in regulatory capital.
| | | |
| --- | --- | --- |
|  Bank |  Net profit after tax 2009-2018 |  Dividends paid 2009-2018 |
|  ANZ NZ |  $13.573 billion |  $14.638 billion |
|  ASB |  $7.443 billion |  $4.050 billion |
|  BNZ |  $7.134 billion |  $4.935 billion |
|  Westpac NZ |  $6.842 billion |  $4.978 billion |
|  Total |  $34.992 billion |  $28.601 billion* |
*Note the dividend figures above are inflated by 2018, which include ANZ, BNZ and Westpac simultaneously matching some dividend payments with share issues of the same, or similar, value to their parents. The biggest example of this was ANZ's $4.6 billion 2018 dividends. ANZ issued $3 billion worth of shares to immediate shareholder ANZ Holdings (New Zealand) Limited, and paid $3 billion worth of dividends to the same entity. ANZ NZ said this was done to pass retained earnings to the bank's parent, without impacting total equity, with no tax benefits generated. Thus ANZ effectively paid $1.6 billion in 2018 dividends rather than the $4.6 billion recorded in its financial statements.
Shareholders asked to cough up more of their own money
So far ANZ and BNZ have provided individual estimates of how much new capital they believe they would need to meet the Reserve Bank proposals, as has Heartland Bank.
For its part the Reserve Bank points out banks currently get the vast bulk of their money by borrowing it, usually over 90%, with the rest coming from owners, usually less than 10%.
"The Reserve Bank is proposing to change this balance by requiring banks to use more of their own money," the Reserve Bank says.
"The Reserve Bank is proposing this change to reduce the chances of banks failing in New Zealand. If banks in New Zealand fail, some of us might lose money and some of us might lose jobs. However, there would also be indirect costs on all of society [for example, potentially through taxpayer-funded bailouts] that may be harder to see that would negatively impact the well-being of all New Zealanders. In the end, we would all bear the cost of bank failures, in one way or another. This is why we want to make the chances of this happening very small – so small that a banking crisis in New Zealand shouldn't happen more than once every two hundred years." 
Going-concern & gone-concern capital
Bank capital is funding provided to a bank by its shareholders and other investors. As figure 2 from the Reserve Bank below shows, it's the first type of funding to absorb losses for the bank, if a bank is incurring losses. The Reserve Bank likes to distinguish between "going-concern" capital and "gone-concern" capital.
Going-concern capital is comprised of ordinary shares, retained earnings and some reserves. It may also include perpetual subordinated debt and preference shares. The Reserve Bank notes that, if a bank makes a loss, depositors and other senior creditors, such as bond holders, can continue to be paid if the bank has sufficient going-concern capital available to it.
"When the loss occurs, the value of the bank's going-concern capital absorbs the loss and falls in value. When a bank makes a profit, the value of the bank's going-concern capital increases, unless all of that year's profits are paid out as dividends. Over time, accumulated losses may be so high as to erode all of a bank's capital. In this case, the bank has become insolvent as it has insufficient funds to pay senior creditors and depositors," the Reserve Bank notes.
"The more going-concern capital a bank has, the less likely it is to reach insolvency. Another name for 'going-concern' capital is 'Tier 1'. 'Common Equity Tier 1 capital' or 'CET1' is a subset of Tier 1 capital and consists of ordinary shares, retained earnings and some reserves."
Another type of bank capital is labelled "gone concern" capital, by the Reserve Bank, or "Tier 2 capital." This Tier 2 capital mainly consists of long-dated subordinated debt.
"Unlike going-concern capital, the value of gone-concern will typically only absorb losses once the bank is close to insolvency, i.e. there is no value in Tier 1 capital left to absorb losses, and is being resolved. Hence gone-concern capital only absorbs losses and thus protects senior creditors and depositors once the bank has become a gone concern," the Reserve Bank says.
The Reserve Bank is proposing to retain the current Tier 2 capital requirement of 2% of RWA, but says it'll probe whether Tier 2 capital should remain in the capital framework.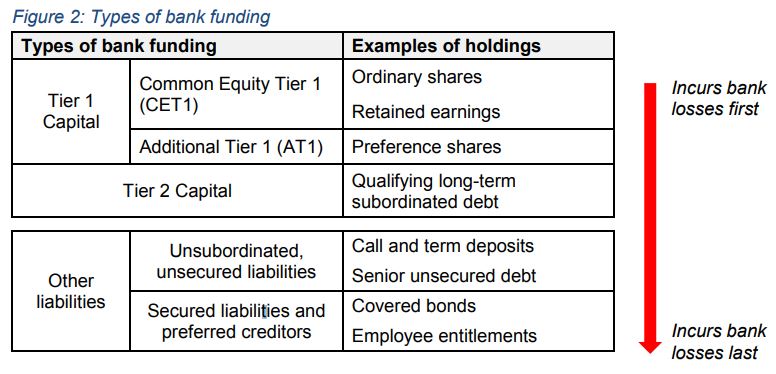 The Reserve Bank Dashboard chart below shows banks' Tier 1 capital ratios at September 30 last year. The Reserve Bank proposals would mean a minimum of 16% excluding Tier 2 capital, as a percentage of RWA, for the big four banks and 15% for the other banks. Currently all banks require a minimum Tier 1 capital ratio of 10.5%.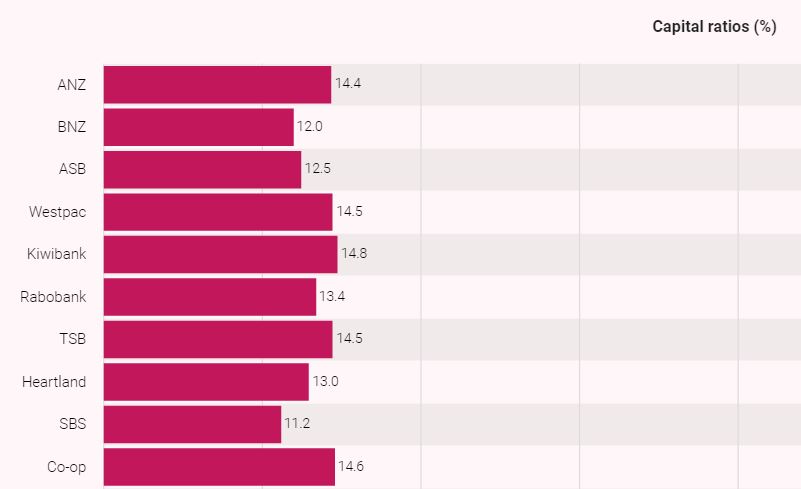 All banks combined will need $20 bln more capital than they had in March last year
The Reserve Bank's consultation paper suggests the proposed increase to banks' regulatory capital requirements means NZ banks collectively would need $13.7 billion more Tier 1 capital than they held at March 31 last year. They'll also need to replace $6.3 billion of what's known as Additional Tier 1 capital, which the Reserve Bank says will be non-compliant. Additional Tier 1 capital is capital instruments such as preferred shares that are continuous given there's no fixed maturity date.
Figure 1 below shows the extent of the increases the Reserve Bank is proposing. The major increase is to the size of the so-called conservation buffer. There's also a 1% addition proposed for domestic systemically important banks (D-SIB), whose failure could be expected to shake the banking system to the core. These include  ANZ, ASB, BNZ and Westpac.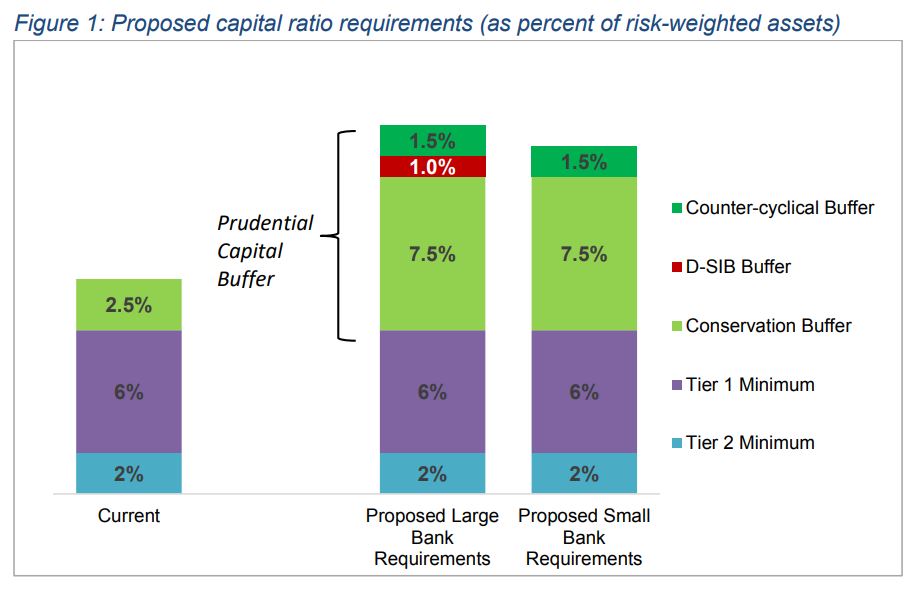 To meet the Reserve Bank proposals, UBS estimates NZ's four Aussie owned banks will require a minimum Common Equity Tier 1 capital ratio of 14.5%. Their Australian parent banking groups have an Australian Prudential Regulation Authority (APRA) enforced minimum of 10.5%, being APRA's "unquestionably strong" benchmark.
The table below shows the Reserve Bank's expectations of the impact of its proposals on both internal models and standardised banks. Remember RWA stands for risk-weighted assets.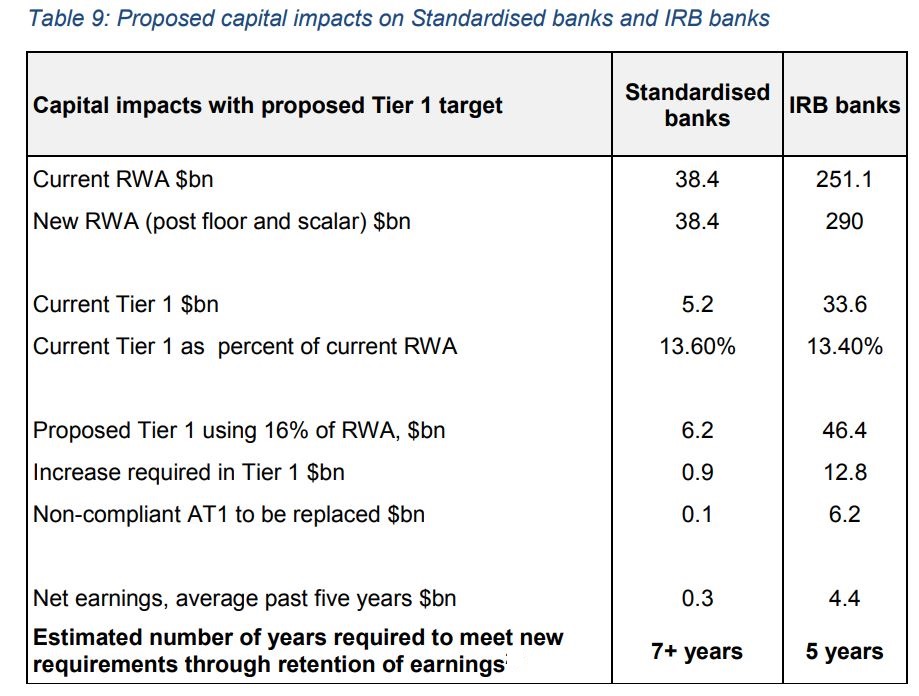 The highest bank capital requirements in the developed world
UBS estimates the RBNZ proposals would see NZ overtake Norway to have the highest bank capital requirements in the developed world. Norweigian banks using the internal models approach have RWA set at 80% of the standardised approach versus the 90% proposed by the Reserve Bank, and a 15% Common Equity Tier 1 capital ratio.
The Reserve Bank argues that higher bank capital levels mean banks will be more resilient to economic shocks and downturns, thus strengthening NZ's banking system and economy. The regulator believes NZ needs a conservative bank capital regime because of the country's risk profile.
This risk profile includes that NZ exports are concentrated in a small number of commodity-based sectors, such as dairy, which can be subject to considerable price volatility. Thus bank exposure to commodity export industries, especially dairy which accounts for about 10% of NZ bank lending, are a key risk in the domestic banking system. As we saw in Part 1 of this series, housing loans are a major source of potential risk given our banks' large exposure there. Additionally NZ is a net debtor country, having run current account deficits continuously for some 40 years with about half the country's gross external debt issued by banks who then on-lend to businesses and households.
And, as already noted, NZ's banking system is dominated by four Australian - foreign - owned banks. Thus credit rating agency risk assessments of major NZ banks are strongly influenced by expectations of support from the Australian parent banks. This implicit support of the Aussie parent banks both has value and is a vulnerability. 
Under S&P Global Ratings criteria, for example, the Aussie link lifts the credit ratings of the big four NZ banks by an average of four notches to AA- from BBB+, equalised with their Aussie parents. Thus the Kiwi subsidiaries can borrow at lower interest rates than they would probably otherwise be able to.
"While the implicit support of the parent banks is valuable for the New Zealand system, it is also a vulnerability. For example, in recent times the Australian parent banks have been on negative [credit rating] outlook and, separately, APRA has placed restrictions on the ability of the parent banks to give credit support to their international subsidiaries. Should implicit parental support be eroded, it is important that our banks be seen as strong on a standalone basis in order to maintain their international standing," the Reserve Bank says.
Fitch Ratings has said the Reserve Bank capital proposals would "result in significantly stronger buffers to withstand stress in adverse operating environments, which would be positive for banks' credit profiles."
How might mortgage & deposit rates be impacted?
So what's the downside from banks having to hold more capital? The Reserve Bank acknowledges it could lead to mortgage rates increasing and deposit rates decreasing as banks look to recoup the cost. The Reserve Bank suggests there'll only be a "minor impact" on customers' borrowing and bank shareholders may earn a lower return on their investment, but this will be "more than offset" by having a safer banking system for all New Zealanders.
UBS, in contrast, argues New Zealanders could end up paying between $1.9 billion and $2.7 billion more on their home loans annually to fund the proposed capital requirements. UBS' analysts suggest the big four banks would need to increase their mortgage rates by 125 basis points to maintain their current return on equity of about 14.4%.
"Equity is expensive, with a cost of capital of [about] 11% and we think shareholders will demand at least this return," the UBS analysts say.
They go on to say that evidence from Australia suggests the banks will reprice their NZ mortgage books substantially to generate a return above their cost-of-capital should they ultimately be required to raise this fresh equity. Their evidence includes this 2015 move by the Westpac Banking Corporation, Westpac NZ's parent, to increase mortgage rates in response to increased regulatory capital requirements.
Nonetheless UBS also notes there's potential for regulatory and political pressure on banks not to increase mortgage rates as they accumulate the capital needed to meet Reserve Bank requirements. It notes "the major banks in New Zealand are the most profitable organisations in the country and there is a perception that this profit is being shipped overseas to Australia."
"That said, if the banks are unable to reprice their mortgage books due to either political or regulatory pressure, we believe they would look to ration credit. This would reduce the flow of capital to New Zealand and have a materially adverse impact on the economy," UBS says.
Other factors that should be considered include how will the housing market be faring during the proposed five year transition period granted to banks to bolster their capital, and will bank profits continue rising? Past performance is not necessarily an indication of what will happen in the future.
In terms of the housing market, the latest Real Estate Institute of New Zealand monthly figures show nationwide December sales volumes sank to their lowest level in seven years, dropping 13%, with Auckland sales volumes down 24% to their lowest level in 10 years. Hiking mortgage rates in this housing market would not be a recipe for banks to increase, or even maintain, their business volumes.
The public relations war has begun
UBS also poses the question of whether the Aussie banks might consider selling down or out of their lucrative NZ subsidiaries. It argues if the Aussie banking groups were forced to raise material amounts of capital and were unable to generate an adequate return on this investment, they might look to exit NZ.
"We believe that this could potentially be done through an initial public offering/demerger structure similar to [BNZ's parent] National Australia Bank's exit from Clydesdale Bank in the UK," the UBS analysts say.
The Reserve Bank is calling for submissions on its consultation paper by March 29. Expect intense lobbying from, and on behalf of, the banks via the media and of NZ politicians. The threat of Aussie banks quitting NZ is something to watch for. Indeed, interest.co.nz understands that when the Reserve Bank increased bank capital requirements for farm loans in 2011 rural lenders suggested they might quit the sector. Ultimately this didn't happen.
The chart below covers key NZ retail banks as of September 30 last year.
| | | |
| --- | --- | --- |
|  Bank |  Total capital |  Gross loans |
|  ANZ |  $11.858 billion |  $127.058 billion |
|  ASB |  $7.882 billion |  $83.983 billion |
|  BNZ |  $8.763 billion |  $83.682 billion |
|  Co-operative Bank |  $216 million |  $2.386 billion |
|  Heartland Bank |  $570 million |  $4.148 billion |
|  Kiwibank |  $1.680 billion |  $18.789 billion |
|  Rabobank |  $1.545 billion |  $10.387 billion |
|  SBS Bank |  $341 million |  $3.876 billion |
|  TSB Bank |  $626 million |  $5.558 billion |
|  Westpac |  $8.925 billion |  $80.515 billion |
You can read Part 1 in this series here.
You can read Part 2 in this series here.
*This article was first published in our email for paying subscribers early on Wednesday morning. See here for more details and how to subscribe.