RBNZ's new farm lending criteria means the big four banks require almost double regulatory capital on loans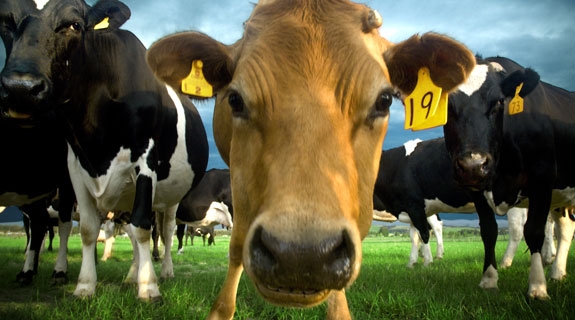 By Gareth Vaughan
The Reserve Bank will tighten the screws on the big four banks' farm lending from the end of June.
A central bank spokeswoman confirmed to interest.co.nz that changes to farm lending criteria, outlined in the Reserve Bank's May Financial Stability Report, will take effect in full from June 30. That's despite a plea from David Hisco, the CEO of the country's biggest rural lender ANZ NZ, for the Reserve Bank to phase the changes in over a period of time.
Hisco told interest.co.nz last month that "obviously" ANZ would have to pass on higher costs to its customers and explaining this to them wouldn't be "a pleasant task."
The Reserve Bank spokeswoman said the changes will result in an increase in regulatory capital each of the four major banks - ANZ, ASB, BNZ and Westpac - must hold for farm loans, but not farm servicing or support industry loans.
"The precise impact on each bank will vary depending on the nature of their rural portfolio," the spokeswoman said.
"The banks' initial positions were risk weights of around 50% - but taking into account changes in the banks' own view of risk and our new requirements, we expect the system average risk weight to be around 80-90%. This compares to the 100% requirement that applied to these banks prior to 2008 when the Basel II regime took effect."
The new requirements will apply to banks that have been accredited as advanced banks under Basel II, and use their own internal models to calculate capital requirements, she added. This is just the big four. But other rural lenders such as Rabobank operate on what's known as the standardised approach, she said, which applies a risk weight of 100% to all farm loans.
'Well signaled'
Asked whether the Reserve Bank expected banks to pass on any increased costs directly to their farmer customers or take reduced margins themselves, the spokeswoman said the new rules have been well signaled by the Reserve Bank and largely anticipated by the banks themselves.
"The (Reserve) Bank plans to publish more information in this area around the end of the month," she added.
The tightening of the screws on farm loans comes at a time of continuing farmer deleveraging. The latest monthly Reserve Bank sector credit data, for April, shows bank lending to farmers has fallen by NZ$1.013 billion from its peak in September last year.
The data shows agriculture lending falling to NZ$47.249 billion in April from NZ$47.480 billion in March and from a peak of NZ$48.262 billion last September. Year-on-year it's down 0.1% marking the first ever annualised drop in farm lending since the Reserve Bank series began in December 1990 when farm debt was NZ$5.07 billion.
The Reserve Bank says the new farm lending requirements for the big four banks will better take into account the possibility of large falls in farm land prices and the homogeneity of farm lending exposures. 
Reserve Bank Governor Alan Bollard recently told a parliamentary select committee that banks had been very lucky dairy prices had rebounded. Bollard said that as the global financial crisis kicked into gear, with dairy prices going up, farmers rushed out to borrow and consolidate and banks "rushed out to lend."
"It's pretty clear to us and it should be to them as well, that they over-stretched themselves," Bollard told the select committee. "Actually some of them have been very lucky that dairy prices have picked up again."
Fonterra recently announced an unchanged cash payout forecast for the 2010-11 season at up to a record NZ$7.80 per kilogram of milk solids, meaning the cooperative's payout to farmers is likely to be around NZ$10.4 billion. This is up around NZ$2.2 billion from the previous year and is due in part to a 4% increase in production to 1.37 billion kgs of milk solids and higher commodity prices.
Feds not worried
Philip York, Federated Farmers' national board member with responsibility for economics and commerce, said the organisation wasn't especially concerned that the Reserve Bank move might lead to higher borrowing costs for farmers.
"Most banks have indicated they have got their capital requirements in the position they should be anyway," York said. "They've certainly had a lot of time to adjust and from what we can make out it's not going to make any difference."
The changes have been a long time in the pipeline. The Reserve Bank delayed initial plans for a tightening of the capital rules after protests from farmers and bankers that such a tightening would add 30-50 basis points to farm borrowing costs. See our April 2010 article here.
And auditing firm KPMG warned in its recent annual Financial Institutions Performance Survey that increased capital requirements on farm loans could act as a brake on growth in the rural economy and increase borrowing costs to the productive sector, possibly hampering an export-led recovery.
But York said both lenders and borrowers would have to pay greater attention to lending risks than they perhaps had three or four years ago.
"In effect a lot of the money that was lent by the banks, willy nilly at one stage, was done without too much risk analysis," York said.
"We think people borrowing money should be put in a position where they can not get into difficulty and where they can pay it back. If that means requiring a higher deposit or such, I don't have too many problems with it."
In the Financial Stability Report the Reserve Bank notes ANZ, ASB, BNZ and Westpac were accredited to operate as 'internal models' (IM) banks under the Basel II capital framework that took effect from 2008. Under Basel II they were allowed to use their own models as a basis for determining their minimum capital requirements, subject to their models being accredited by the Reserve Bank.
"At the time they were accredited, the Reserve Bank advised IM banks that the models they applied to New Zealand farm exposures were inadequate and would be further reviewed post-accreditation. In cases where models were insufficiently conservative, it was necessary to require banks to hold additional capital pending this further work."
No chart with that title exists.
This article was first published in our email for paid subscribers this morning. See here for more details and to subscribe.