Amid ongoing activity around the FMA-Reserve Bank review of banks' conduct and culture, a Consumer NZ survey finds one in five bank customers being offered products they didn't request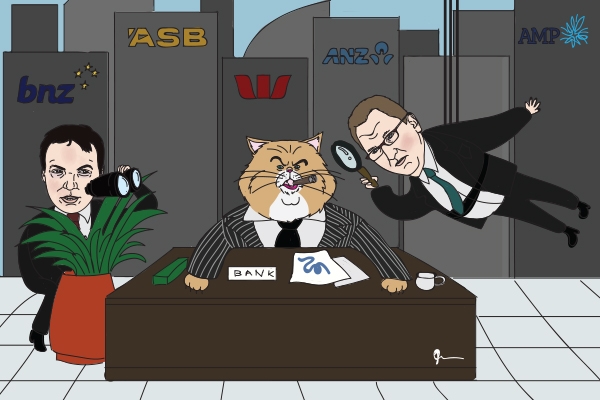 A banking survey conducted by Consumer NZ has found one in five customers were pushed financial products by their banks that they hadn't requested.
Credit cards, increases in credit card limits, life insurance and personal loans were the most common products promoted to customers.  Consumer NZ head of research Jessica Wilson said the majority of people who got these offers didn't think the product was a good option or suited their needs.
"Seven out of 10 consumers who were offered a new credit card or an increase in their card limit didn't think it was a good choice for them," she said. 
The findings in what is an annual survey (this one conducted in February) are of particular relevance this year as they come amid the ongoing activity around a Financial Markets Authority-Reserve Bank review of banks' conduct and culture.
"Banks have attracted a lot of bad press in the past 12 months for their selling practices and we would have expected to see a change in behaviour. However, our survey results don't give us any confidence that's happening," Wilson said. 
The FMA-RBNZ review, released in November, was conducted following the Royal Commission in Australia, which revealed a number of issues around banking conduct and culture across the Tasman. 
The New Zealand review didn't find the same extent of issues in this country, but individual banks received specific detailed responses, and were requested to develop a plan to address the feedback, and report their progress to the regulators by the end of March. The Reserve Bank (RBNZ) and Financial Markets Authority (FMA)  report concluded bank conduct and culture problems were not widespread in New Zealand, but it did highlight a culture of banks acting in their own, not customers', interests. Banks have also been asked to remove pay incentives linked to sales. 
The RBNZ and the FMA confirmed earlier this month that all 11 banks involved had provided their responses to individual feedback letters and the regulators were working through them and will be making a further statement once the process has been completed.
Given the results in the latest Consumer survey, it will be interesting to see what comes out. 
The survey was a "nationally representative" on of 2118 New Zealanders, aged 18 and over, carried out in February 2019. Satisfaction ratings showed the proportion of respondents who scored their bank 8, 9 or 10 on a scale from 0 (very dissatisfied) to 10 (very satisfied). Ratings were for banks that had 30 or more responses.
The survey found 16% of customers had felt pressured by bank staff into buying a financial product they didn't need. 
Wilson said pressure selling by banks was a major concern, given it could lead to consumers unnecessarily going into debt or being sold a poor-value product. 
The survey also found just 47% of consumers thought banks could be trusted while 68% felt profits in the industry showed banks were charging too much. 
Customer satisfaction remained unchanged. 
"Overall, 60% were happy with the service they were getting from their bank, on par with our 2018 survey," Wilson said. 
The Co-operative Bank and TSB Bank rated above average with scores of 87% and 83% respectively. Both were Consumer NZ's "People's Choice" winners in this year's survey. 
In comparison, ASB (55%) and ANZ (54%) rated below average for customer satisfaction as well as for their product advice, fees and value for money.
Satisfaction scores 
The Co-operative Bank: 87%
TSB Bank: 83%
Kiwibank: 66%
BNZ: 63%
Westpac: 60%
ASB: 55%
ANZ: 54%