A closer look at the 'regret analysis' and view that low interest rates are the new norm that underpinned the Reserve Bank's decision to cut the OCR to 1%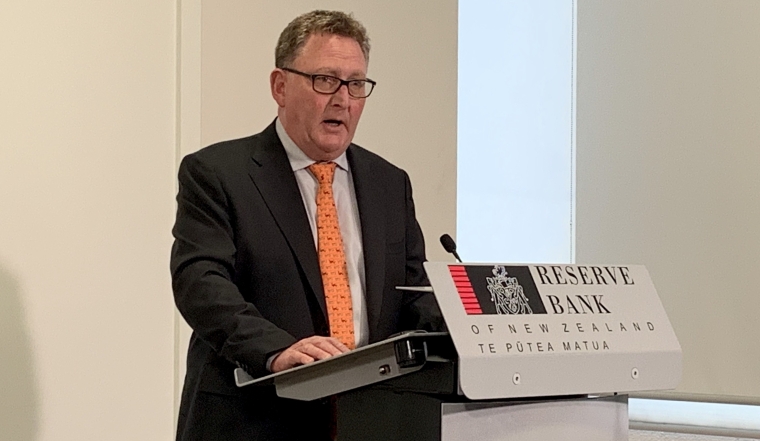 Reserve Bank (RBNZ) Governor Adrian Orr says the Monetary Policy Committee (MPC) was mindful of "regret analysis" as it made its shock decision to cut interest rates by 50 basis points.
The New Zealand dollar plummeted on Wednesday on news the Committee cut the Official Cash Rate (OCR) to a new record low of 1%.
Speaking at a press conference, Orr said the MPC members "tossed and turned" but decided it was best to get ahead of the curve - make it much cheaper for households, businesses and the government to "wake up and go and spend" to prevent the economy nose-diving.
"Over recent days the Committee became increasingly convinced that more [monetary policy stimulus] sooner is a safer strategy to achieve our targets than slower for longer," Orr said.  
"And in a sense, it's around the regret analysis. In a year's time I would far prefer to be sitting here… thinking, 'Wow, inflation expectations might be getting away on us'…
"That's a much nicer challenge to have in monetary policy than doing too little, too late."
While Orr admitted the final OCR decision was made on Wednesday, he said there wasn't a particular event that tipped the MPC in favour of making such a drastic move.
Low interest rates were clearly needed, and for the MPC it was "simply more of a strategic discussion around regret analysis".
"Holding an interest rate [cut] back in case you need it to add more in the future just makes no sense whatsoever, so we're comfortable with it," Orr said.
Monetary policy still effective
Having previously disregarded the argument of diminishing returns, or the view that you get less bang for your buck with each cut, the lower the OCR is, Orr said: "Monetary policy is still just as effective at lower rates. It just means that you are operating around a lower neutral interest rate."
Orr was firmly of the view that low rates were the new norm and the RBNZ needed to keep abreast with what its counterparts around the world were doing.
"We're sitting in our waka here as Aotearoa-New Zealand, but we are on a global ocean and that tide has gone out in terms of the nominal interest rate levels.
"Monetary policy is as effective, but it's still relative to some sense of a global neutral interest rate, and that has certainly declined. When you look at the long-end of the US 10-year bond yield significantly below 2%, these are really, really interesting times."
Zero in the realms of possibility
"It's easily within the realms of possibility that we might have to use negative interest rates," Orr said.  
"The important thing to remember today is that by doing more sooner, probably reduces the probability (I don't know by how much) of having to do that."
He said the RBNZ was looking at how to use its "full tool suite" should the OCR keep falling.
While the RBNZ was working with local and international experts, as well as talking to Treasury, Orr said details were confidential due to being market sensitive.  
Asked whether there was a role for broader consultation with the public and government on the matter, Orr said: "No, but we would certainly operate with no surprises…
"If you chose negative interest rates, it's business as usual - you've just got a negative in front of the number.
"Quantitative easing - it's about shortening the duration of a government yield curve.
"All of these things would have to be done with the full understanding of the whole of government, but it remains within the remit of monetary policy to do whatever it takes to meet our mandate with our toolset."
Medium-term outlook key
Coming back to Wednesday's Monetary Policy Statement, it noted the US-China trade war, slowing growth in New Zealand's export markets, and dampened business investment off the back of low confidence were among the headwinds facing the economy.
RBNZ Chief Economist Yuong Ha couldn't pinpoint how much weight the Committee put on the domestic versus the international landscape in its decision-making.
"There's no clear dividing line. We are part of the global economy," he explained.
The RBNZ revised down its gross domestic product (GDP) forecasts from its May Monetary Policy Statement. It cut these for the June, September and December 2019 quarters from 0.7%, 0.9% and 0.8% respectively, to 0.5%, 0.6%, 0.7%.
Its GDP growth forecast for the first three quarters of 2020 remained at 0.8%.
While the MPC kept a watching brief on movements in the economy right up until it had to make an OCR decision on Wednesday, Assistant Governor Christian Hawkesby effectively assured its decision to cut by 50 basis points wasn't a knee-jerk reaction to a particular event, like global equity markets tumbling and China interfering in its currency.
Commenting on the economic data out this week, Hawkesby said: "We are conscious that we need to be disciplined and we need to take a medium-term view. We are conscious that some of this data is volatile.
"It's unlikely that we'll ever be tilted by one particular outturn."
All eyes on the banks to ensure they pass on the cut 
Orr wasn't concerned about the effect low interest rates would have on banks' largest source of funding - deposits.
Nor did he see lower interest rates sending house prices through the roof.
He said the lending restrictions imposed on banks via limits to high loan-to-value ratio residential mortgage lending make him "much less nervous" about the "extreme levels of debt" previously taken on by "small pockets" of households.
Orr didn't see lower income for savers curtailing their spending more than lower rates for borrowers would prompt more spending.
He said he'd be watching banks to ensure they passed on the OCR cut to borrowers, including riskier ones like farmers and small business owners.  
"I know a lot of banks were wanting to effectively hide behind our possible changes to the capital ratios as their excuse to exit farming. But we've made it very clear that it's their issue that they've built, that they need to work through with their customers."
Orr also noted how a low OCR, feeding through to a weaker dollar, would benefit exporters including farmers.
Ha added: "The exchange rate has always played a useful shock absorber role for New Zealand. Independent of what might be going on internationally, we still think that's an important channel for a country."
Yet Orr cautioned: "Exchange rates are a zero-sum game. It's always relative to some other country and many other countries are wanting to use that channel."
He didn't believe it was viable for the RBNZ to manipulate the New Zealand dollar.