In a sign of these COVID times, the government's bond issuance has ramped up dramatically but the interest to be paid on the borrowing hasn't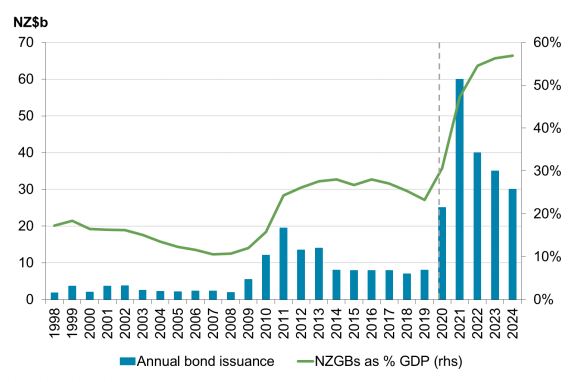 In a dramatic sign of the COVID times, the government's interest bill for new debt issued so far this year is almost $21 million less than it was for all of 2018. And that's even though it has borrowed almost four times as much money so far in 2020 as it did in all of 2018.
The government has borrowed $32.6 billion though 75 bond tenders and bond syndications in 2020 to date. It is paying an average interest rate on that borrowing of 0.745% with total interest costs of about $242.841 million.
In all of 2018 the government borrowed $8.65 billion through 41 bond tenders and syndications. The average interest rate on the 2018 borrowing was 3.048%, with a full-year interest bill of about $263.687 million. Last year the government borrowed $9.7 billion via 45 bond tenders and syndications, paying just over $156 million of interest at an average interest rate of 1.609%.
Like many governments around the world, the New Zealand government has ramped up borrowing this year as it strives to cushion the fallout from the COVID-19 pandemic. By September 4, for example, $13.9 billion had been paid out on the Wage Subsidy Scheme which at its height in May was supporting about 1.65 million jobs. This is happening in an environment of super low interest rates, meaning the cost of servicing debt is also low.
The major player in the government debt market at the moment is the Reserve Bank, even though it's not buying bonds directly off Treasury's New Zealand Debt Management unit.
Through its Large Scale Asset Programme Programme (LSAP), or quantitative easing, the Reserve Bank is buying nominal New Zealand government bonds (NZGB), Local Government Funding Agency Bonds, and New Zealand Government Inflation-Indexed Bonds from market participants in the secondary market. It's currently planning to buy up to a maximum of $100 billion worth by June 2022, and could own around 60% of the outstanding New Zealand Government Bonds on issue.
At the time of August's Monetary Policy Statement the Reserve Bank had bought about $23 billion worth, equivalent to about 23% of outstanding supply at that point. The total has since risen to almost $31 billion. Alongside an Official Cash Rate of just 0.25%, the Reserve Bank says the LSAP has contributed to lower interest rates across the economy.
"The LSAP programme works primarily by reducing government bond yields, which are key benchmark interest rates that influence broader financial conditions in New Zealand," the Reserve Bank says.
"We estimate that NZGB yields are at least 50 basis points lower, and potentially more than 100 basis points lower, than they would have been without the LSAP programme...Government bond rates have increased by around 15 basis points since May, but are still around 95 basis points lower than they were at the start of the year."
"Overall, we estimate that banks' new funding costs have fallen by around 80 basis points in 2020. Mortgage rates and deposit rates have declined since the May [Monetary Policy] Statement, with mortgage rates now 75-110 basis points lower than in January. Lower interest rates have also contributed to the New Zealand dollar exchange rate being lower than otherwise, supporting export earnings," the Reserve Bank said in August.
Meanwhile the Crown Settlement Account, an account provided by the Reserve Bank for the government to use to deposit surplus funds into, rose to $23.8 billion at the end of August. That's a fresh high, topping the $19.9 billion it reached in July.
*The annual interest bill figures assume 1.5% inflation for the inflation indexed bonds.
*This article was first published in our email for paying subscribers early on Tuesday morning. See here for more details and how to subscribe.