Treasury expected to issue less debt than planned, as NZ weathers the COVID-19 storm better than expected and the Government doesn't spend all it borrows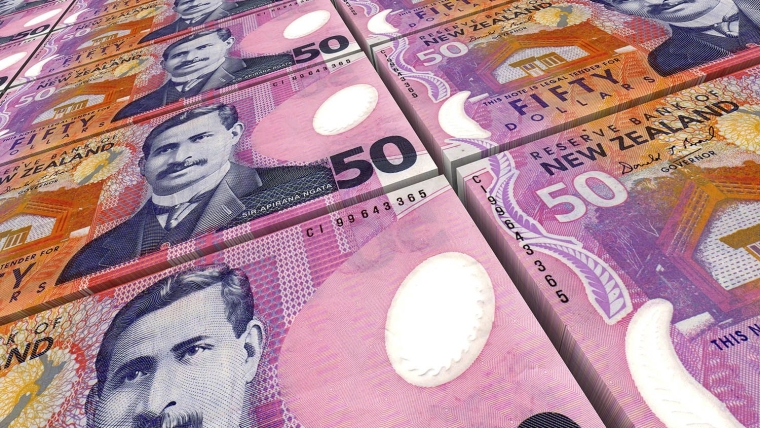 Finance Minister Grant Robertson is preparing this year's Budget with a war chest at his disposal.
The Government had $42 billion of cash effectively sitting in its bank account with the Reserve Bank (RBNZ) as at March, according to the latest available data. 
The Crown Settlement Account is flush with cash because the Government has been borrowing more than it has been spending on the COVID-19 recovery. 
This is partly due to the New Zealand economy doing better than expected, and partly due to it taking time to get the money out the door for the likes of infrastructure projects.
The Crown Settlement Account, provided by the RBNZ for the Government, via Treasury, to use to deposit surplus funds into, is at a record high.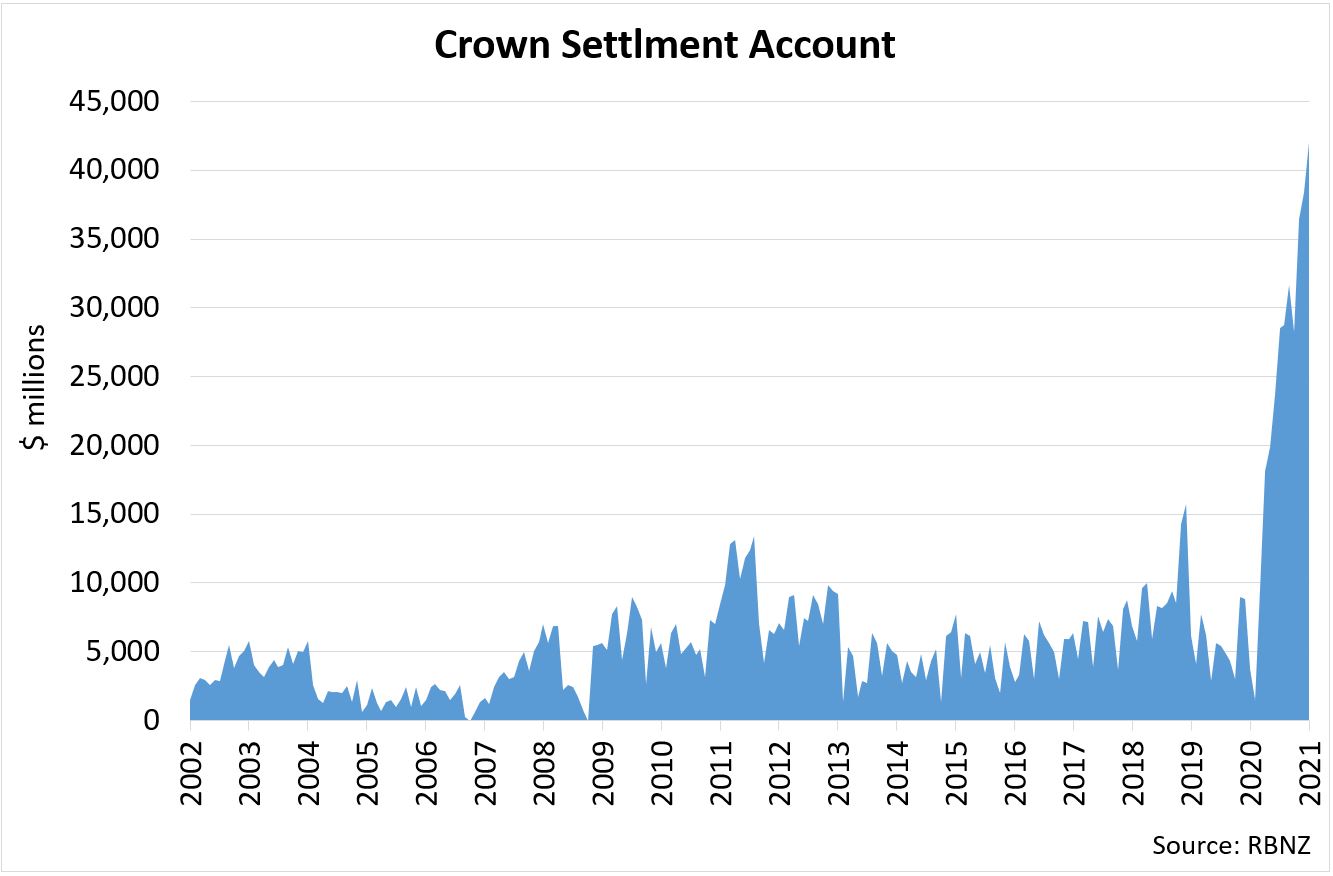 The Government having $42 billion sitting in its account with the RBNZ does not mean its books are in surplus. 
BNZ senior strategist, Nick Smyth, and ANZ senior strategist, David Croy, believe the Government will issue less debt over the next few years than previously expected.
When Treasury published its last bond issuance programme in December, it forecast issuing $30 billion of New Zealand Government Bonds (NZGBs) in the year to June 30, 2022.
Smyth and Croy believe it will cut this figure when it publishes its next forecast with the Budget on May 20.
But rather than Treasury wind its bond issuance right back in 2022, so the Government can eat into its cash first, Smyth and Croy expect it to spread the reduction across a few years. This way Treasury can avoid surprising and upsetting financial markets.
As for the current year, Treasury is on track to issue $45 billion of NZGBs by June 30, as forecast in December.
At last year's Budget, when the outlook looked very grim, it forecast issuing $60 billion of NZGBs.
At the time, the Government ring-fenced $62 billion for the COVID-19 recovery. 
However, Treasury can't say how much of the $52 billion of this that has been allocated, has actually been spent. It doesn't track this.
Rather, it says both it and the Auditor General have "reinforced" to government agencies they have to provide updates on COVID-19 funding in their annual reports.
Monetary and fiscal policy need to work together
Coming back to Treasury reducing its bond issuance forecast, the complicating factor is that this affects the RBNZ's Large-Scale Asset Purchase (LSAP) programme.
The RBNZ has said it could buy up to $100 billion of NZGBs from the secondary market (IE from retail banks and other investors) by June 2022.
While this commitment helped the bond market function smoothly at a time it was flooded with NZGBs, it also helped reduced interest rates. The RBNZ wants interest rates to remain low to boost inflation and employment.
A sudden halt or wind-back in government bond issuance would hamper the RBNZ's ability to keep using its LSAP programme to put downward pressure on interest rates.
To date, it has bought $50 billion of NZGBs and nearly $2 billion of Local Government Funding Agency Bonds. 
The rate at which the RBNZ has been buying bonds has largely mirrored the rate at which Treasury has been issuing them, as per this BNZ graph: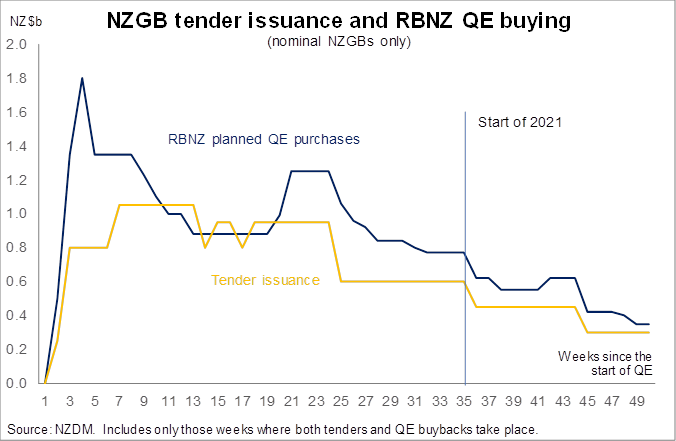 Should the RBNZ keep buying $350 million of bonds a week, as it currently is, Smyth's modelling suggests it would end up buying less than $100 billion of NZGBs by June 2022.
And should Treasury revise its bond issuance programme down to $20 billion (from $30 billion) for the year to June 2022, the RBNZ wouldn't hit the cap of its LSAP programme, which restricts it from buying more than 60% of NZGBs on issue.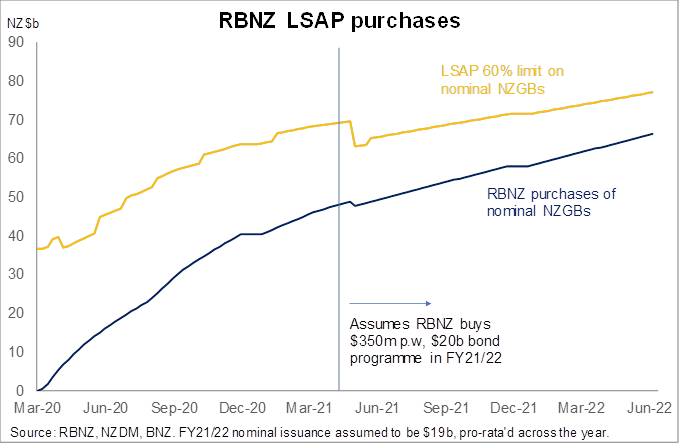 Should the RBNZ decide it needs to do more to meet its inflation and employment targets, it could lower the Official Cash Rate (OCR), which is currently at 0.25%.
Economists believe this won't be necessary.
What's more, one might question why the RBNZ would seek to do more to stimulate the economy by lowering interest rates, if the Government is sitting on cash it could release into the economy to provide this stimulus.