Friday breakfast briefing: Stagflation fears dominate financial markets, Bank of England hikes, modest oil supply increase from OPEC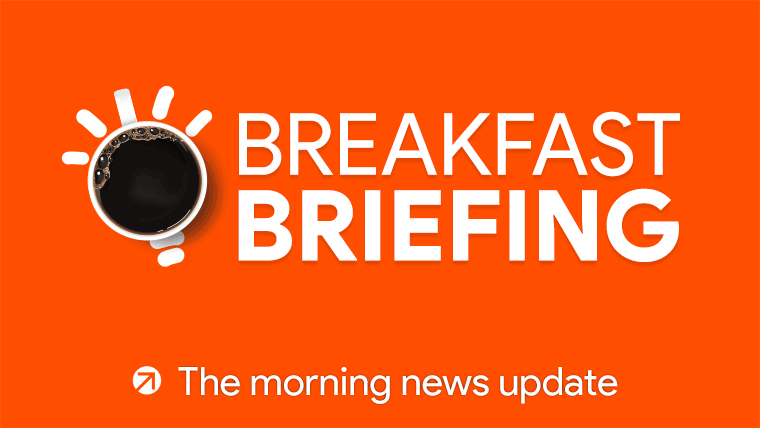 Summary
• Risk assets crumble as stagflation concerns return to the fore
• US rates surge higher, with US 10-year breaking decisively above 3% and nearing its 2018 cycle highs
• Little fresh news driving markets. Instead, investors appear to have concluded the Fed was hawkish after all.
• S&P500 off by more than 4%, NASDAQ down almost 6%
• USD much stronger across the board on mounting global growth concerns and rising risk aversion
• NZD and AUD both more than 2% lower; NZD takes a peek below 0.64
• BoE hikes cash rate 25bps but sounds more cautious about the need for further tightening - GBP thumped more than 2%
• NZ rates continue to experience very high volatility; likely to open much higher this morning
• Nonfarm payrolls tonight and multiple Fed officials on the speaker circuit
Good Morning
The post-FOMC rally in risk assets and bonds didn't even last 24 hours, with markets seeing a massive reversal overnight as stagflationary fears dominate.  The US 10-year rate has made a new cycle high of 3.11% and is currently 12bps higher on the day, while the USD has hit a fresh 20-year high.  Equities have crumbled as rates have taken off, with the NASDAQ currently down over 5% and the S&P500 more than 4% lower.  The NZD and AUD are down by more than 2% amidst a broad-based risk-off move, the NZD currently trading just above 0.64. The GBP is another key underperformer overnight, down by 2.2%, after the BoE painted a grim picture of the UK economic outlook and sounded cautious about the need for future policy tightening.  
After falling sharply after Powell appeared to pour cold water on the idea of a 75bps rate hike yesterday, US rates have surged to fresh highs overnight.  The US 10-year rate has decisively broken through the 3% mark, on next to no fresh news, rising a whopping 12bps to 3.06% (an intraday high of 3.11%). The US 10-year rate is now nearing its 2018 cycle high of 3.26%. The yield curve has 'bear steepened', with shorter-term rates increasing by less than longer-term rates (2-year +7bps).  The renewed sell-off in US bonds extends by far the biggest drawdown in US Treasury total returns since at least the early 1970s (~13% and counting).   
The sharp rise in US rates likely reflects the market reappraising Powell's press conference performance.  The initial market reaction was that Powell was less hawkish than expected because he appeared to hose down expectations of a 75bps hike.  But now investors have had time to digest things, including Powell's clear message that 50bps hikes would be on the table in the coming meetings, the market appears to have concluded that it was very hawkish after all.  The market is still ascribing around a 15% chance to a 75bps Fed hike next month.  Inflation concerns among investors remain heightened.  
Equities have given back all their post-FOMC rally, and then some, with massive falls seen across all the major US benchmarks.  The S&P500 is currently down more than 4%, with all sectors in the red, while the NASDAQ is off a huge 5.5%, taking it further into bear market territory.  The highly volatile moves in equity markets, in both directions, are customary during bear markets.  Market sentiment remains extremely pessimistic, with the AAII investor survey reporting investors are near their most bearish on equities since 2009.  
The synchronised sell-off in both bonds and stocks is an unusual experience for the past 30 years but would be more familiar to those who have studied the 1970s.  The market appears to be moving towards pricing a stagflationary scenario in which central banks need to aggressively tighten to contain inflation with the risk of a global recession rising by the day.  Besides the prospect of the most rapid Fed tightening cycle since at least 1994, markets remain concerned about the ongoing war in Ukraine, and the associated energy price shock in Europe, and the lockdowns in China, which have no end in sight.  The fallout from the Ukraine war and the lockdowns in China are both negative supply shocks and hence stagflationary forces for the global economy. 
In line with market expectations, the Bank of England raised its cash rate by 25bps overnight, to 1%, with three of the nine committee members voting for a larger 50bps hike.  The BoE painted a bleak outlook with inflation now seen peaking just above 10% later this year on the back of higher energy prices while Governor Bailey warned the economy was expected to experience "a very sharp slowdown", with recession a serious risk - a classic stagflationary scenario.  However, conditional on market pricing, inflation is then forecast to settle below target in three years' time, at 1.3%.  This was a clear sign from the BoE that it thinks market pricing of rate hikes is overdone.  
Markets have reacted to the BoE's more cautious guidance around the policy outlook, with "most" MPC members agreeing that "some degree of further tightening in monetary policy may still be appropriate in the coming months " (our emphasis).  The UK 2-year rate has fallen almost 10bps on the day, despite the big increases seen in other markets, while the GBP is off by more than 2%, matching the weakness in the NZD and AUD (see below).  Meanwhile, as previously flagged, the BoE said it would get staff to work out a strategy for actively selling down its UK government bonds from its large QE portfolio, with the MPC set to consider this at the August MPC meeting. The BoE will start selling down its corporate bond holdings from September.  
Not helping the mood among investors, the Chinese Caixin Services PMI index collapsed to 36.2 in April from 42 the previous month, its lowest reading since February 2020, during the initial stages of lockdown.  The parallels to early 2020 are clear, with Shanghai in lockdown and Beijing at risk of joining it in the coming weeks, crippling the services industry.  
The upwards trend in the USD has reasserted itself overnight with the DXY hitting a fresh 20-year high.  After falling 0.9% in the wake of the FOMC meeting, the DXY index is up by 1.2% overnight, to around 103.80.  The USD typically benefits during periods of heightened risk aversion and during major global growth slowdowns.  Among the majors, the EUR is back to around 1.05 while USD/JPY is back above the 130 mark amidst the sharp increase in US Treasury rates. 
Commodity currencies have been pummelled overnight amidst rising global growth fears and escalating risk aversion.  Also not helping matters, the CNY has resumed it weakening trend, with USD/CNH approaching its recent 18-month highs, just below 6.70.  The NZD and AUD are both more than 2% lower than 9am yesterday and the NOK off by a massive 2.7%.  The NZD briefly traded below 0.64 a few hours ago, down from a high of almost 0.6570 yesterday morning.  It is currently hovering just above 0.64, a 22-month low.  The NZD/JPY and NZD/EUR crosses have both fallen more than 1%.   
OPEC+ agreed to lift oil supply by a modest 432k barrels from next month, continuing its policy of gradually reversing its cuts during the pandemic.  Analysts remain concerned that supply won't match OPEC+ forecasts because of a Western buyer strike on Russian crude, in turn keeping prices elevated.  OPEC+ output was only 10,000 barrels per day higher in April, despite the same commitment to increase production.  
NZ rates experienced big falls yesterday on the back of the post-FOMC rally in global bonds although those moves are likely to reverse today given the sharp reversal in US Treasury yields overnight.  After almost touching 4% the day before, the 2-year swap rate tumbled 11bps, to 3.89%.  Even after the pullback yesterday, the market still sees a 50bps OCR hike next month as a done deal with a high chance of follow-up 50bps hikes at the subsequent two meetings.  Volatility remains exceptionally high in the domestic rates market and liquidity remains patchy.  
Tonight sees the nonfarm payrolls release, where the market is looking for a 380k increase in jobs and a 0.1% fall in the unemployment rate, which would match its pre-Covid lows of 3.5%.  The market will also be attuned to comments from a long list of Fed officials speaking tonight including, among others, NY Fed President Williams, outspoken hawk Bullard, and Fed Governor Waller.  Bullard, for one, is known to be more open to the idea of 75bps hikes.  
Elsewhere, Canada's unemployment rate is expected to fall to a new record (post-1975) low of 5.2% while BoE Chief Economist Pill and MPC member Mann are also speaking.  In the session ahead, the RBA releases its Statement of Monetary Policy (SoMP) which will lay out more detailed forecasts behind the RBA's rate hike and revised policy outlook from earlier this week.  
Events Round-Up
CH: Caixin Services PMI, Apr: 36.2 vs. 40 exp.
GE: Factory orders (m/m%), May: vs. -1.1 exp.
NO: Norges Bank deposit rate (%), May: 0.75 vs. 0.75 exp.
UK: Bank of England cash rate (%), May: 1 vs. 1 exp.
US: Initial jobless claims (k), 30-Apr: 200 vs. 180 exp.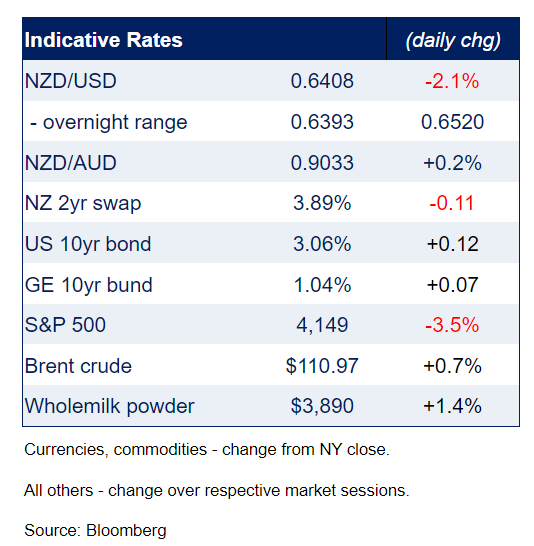 ---
*Nick Smyth is Senior Interest Rate Strategist at BNZ Markets. BNZ's full Markets Today report is here.
David Chaston is away on holiday.