Reserve Bank's move to make the big four banks hold more capital against housing loans adds up to NZ$125 mln on average for each of them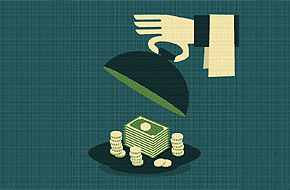 By Gareth Vaughan
The Reserve Bank's move to force the big four banks to hold an average of 12% more capital against their housing loans adds up to about NZ$500 million between them, or the equivalent of NZ$125 million each.
At the release of its Financial Stability Report yesterday the Reserve Bank said the big four banks - ANZ NZ, ASB, BNZ and Westpac - must hold more capital against residential mortgages with loan to value ratios (LVRs) above 80% from September 30. It expects the changes to start affecting bank behaviour in the mortgage market immediately.
The move will increase the average risk weight on big bank housing loans to 33% from between 25% and 31%, and is still lower than the average of about 38% at other banks including Kiwibank. Risk weights on housing loans will also remain lower than the 50% they were for all home loans up until 2008. However, the Reserve Bank changes mean on high LVR loans at the big four banks they'll rise to 73% from 54%.
Based on their most recent General Disclosure Statements, the big four banks need a minimum combined NZ$3.96 billion of capital against about NZ$148 billion worth of home loans. ANZ, ASB and Westpac each need just over NZ$1 billion and BNZ, which has the smallest mortgage book of the four, NZ$795 million. Based on those figures, an additional 12% would amount to NZ$475 million, combined, which averages out at just under NZ$119 million per bank. However, the Reserve Bank estimates that, based on current regulatory capital requirements, they'll require NZ$500 million, or an average of NZ$125 million each.
In a consultation paper issued in March - (see my story on this here) - the Reserve Bank gave two options, which pointed to increases in capital held against housing loans of between 14% and 23%.
"The (Reserve) Bank decided on the first option, - the one we initially estimated would increase capital for housing by 14%," a Reserve Bank spokeswoman told interest.co.nz yesterday. "Based on capital impact information received from banks through the consultation process, the Reserve Bank revised the estimated impact of that option down to 12%."
Analysis by interest.co.nz shows the country's big five banks, combined, grew residential mortgages where the borrower has less than 20% equity by NZ$3.3 billion, or 10%, during 2012. Across the big five, which includes Kiwibank, home loans with LVRs above 80% were NZ$4 billion, or 12.5%, higher at NZ$36 billion at the end of 2012 than they were in 2008 when the Reserve Bank first mandated the banks break down their home loan books by LVRs.
Meanwhile, the Reserve Bank says increasing the amount of capital the country's big four banks must set aside to cover potential losses from high LVR home loans is the first step in a broader housing capital review. The spokeswoman said stage two of the review will include "consideration of the overall calibration of banks' capital for housing loans", and the relativity between the capital requirements for "standardised" and "internal model" banks.
The big four banks use the internal model, which means they build their own models to calculate their regulatory capital requirements and must then get them approved by the Reserve Bank. All other banks run what's known as the standardised approach where the Reserve Bank prescribes their risk weights.
The Reserve Bank spokeswoman said a consultation paper is likely to be issued on stage two of its review in the third quarter of the 2013.
Reserve Bank Deputy Governor Grant Spencer yesterday said the increase in the risk weights, applying to all current and new high LVR loans for the big four banks, will take effect from September 30. This would result in a fall in the regulatory Tier 1 capital ratio, which represents shareholders' funds in the banks expressed as a percentage of total risk weighted exposures, for the big four of about 40 basis points on average, although over the medium-term they're expected to raise fresh capital to maintain existing capital ratios. ANZ's economists pointed out the four's current tier I capital ratio of 11.5% is comfortably above the minimum requirement of 6%.
The Reserve Bank also suggested there could be a small short-term increase in mortgage rates for some borrowers if banks aim to pass their increased funding costs onto customers and maintain their existing returns on equity.  It suggested increases of 4 to 6 basis points across a bank's entire housing loan portfolio, or if the additional cost is allocated just to high LVR loans, 20-30 basis points. However, competition should limit the extent to which any increased funding costs are passed on to customers.
This article was first published in our email for paid subscribers. See here for more details and to subscribe.