ANZ economists lay out the reasons why not all of an expected cut in interest rates by the RBNZ next week will be passed on to borrowers and depositors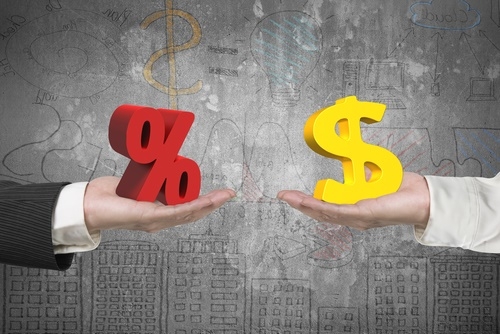 Economists at the country's largest bank see it as unlikely that all of an expected quarter of a percentage point cut in interest rates next week will be passed on to customers.
The Reserve Bank has broadly signposted that it will be cutting the Official Cash Rate on August 11, with the assumption being that this will take the OCR to 2% from the current 2.25% record low.
In their weekly Market Focus publication, ANZ economists say while the OCR is set to be cut again, "we're also not convinced actual domestic deposit and borrowing rates will move down by the same amount".
"In March, the RBNZ wanted the full pass through from its cut in the OCR into retail interest rates. It might now be hoping financial institutions hold some of the easing back, given the potential for this to just pour more fuel on the property fire. The RBNZ certainly doesn't need more house price inflation!"
When the Reserve Bank cut the OCR by 25 basis points in March ANZ only passed 10 basis points to floating rate mortgage customers. (Here's the detail of the savings rate cuts banks, including ANZ, made after the March OCR cut).
The ANZ economists say offshore funding markets are more expensive than they were in 2015.
"New Zealanders don't save enough, so offshore markets need to fund the shortfall. Funding costs are therefore trending higher offshore and locally (figure 1)."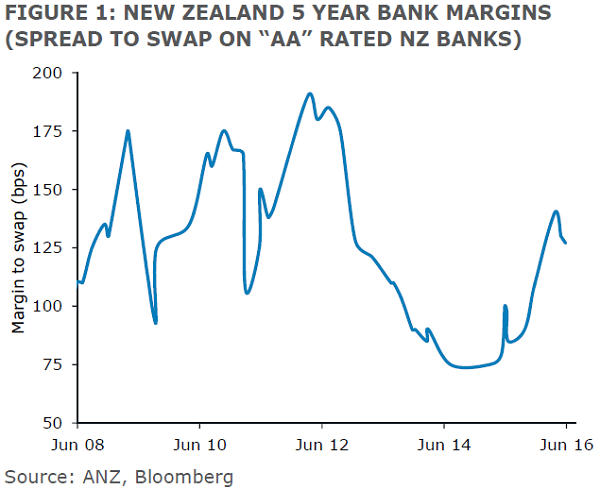 The economists say credit growth continues to outstrip deposit growth.
"For money to go out the door, money also needs to be coming in the door. Banks were basically self-funding post-GFC as deposits grew in line with credit growth (figure 2)," they said.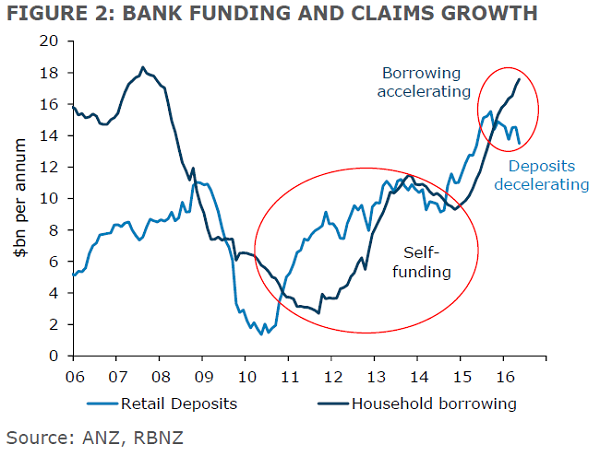 "That's changed. There is now more going out (credit), but less coming in (deposits). This gap can be filled by looking offshore (refer point above), but as noted, it's more expensive and arguably not in New Zealand's long-term interests to become more dependent on offshore funding markets. Offshore issuance needs to be hedged in the basis swap market (where spreads are widening too). That not only comes at a cost but it chews up capital and credit lines."
ANZ Bank New Zealand CEO David Hisco commented in a recent interview with interest.co.nz's Gareth Vaughan that the bank does try to limit what it borrows offshore.
The ANZ economists say each marginal nudge lower in the OCR puts more pressure on deposits to slow and credit growth to rise.
"There is a limit or a level that if deposit rates fall to, people just won't want to put money in the bank. Readers simply need to ask themselves how low rates would need to go before they'd revisit what they do with their own cash. It is notable that carded term deposit rates already sit well above the OCR."
Therefore, something has to give, the economists say.
"You can't logically expect the OCR to fall and for it to be fully passed on to lower deposit rates and borrowing rates in a savings-deficit nation, particularly in one where the central bank is barracking about the increased riskiness of a major component of lending – housing.
"It seems inevitable we are going to see more of a scramble for local deposits in the coming year, unless credit growth collapses (unlikely) or banks simply keep tapping offshore markets. The latter can be done – in practical terms, there is no shortage of cash around – but from a financial stability point of view it doesn't make sense. What's more, if you have to pay up to get offshore money why wouldn't you price more aggressively to attract local deposits?"
Therefore, the ANZ economists say it seems likely the OCR will fall but borrowers won't get the benefit of the full 25bps.
"There will be angst and complaints. Ironically, not much mention is made of the other side of the equation. Each nudge lower in the OCR penalises savers (depositors), if deposit rates follow."
The economists say deposit rates cannot be taken continuously lower, which means the same for borrowing rates. A wedge between wholesale and retail rates will help the RBNZ as it tackles competing housing and currency tensions.
"That is precisely what the RBNZ needs to see as it tackles competing tensions. The NZD needs a lower OCR and lower wholesale rates, while the housing market clearly does not need lower rates at all (arguably higher ones are required). In response to these tensions, a larger wedge between wholesale and retail rates needs to open up, and we suspect it will."
*This article first appeared in our email for paying subscribers. See here for more details and how to subscribe.