What will the RBNZ do and say in Governor Graeme Wheeler's swansong OCR review and Monetary Policy Statement?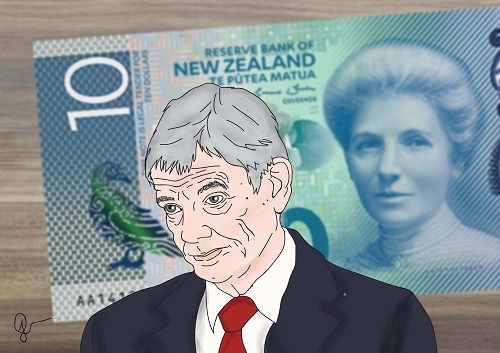 The Reserve Bank (RBNZ) reviews the Official Cash Rate (OCR) and issues a Monetary Policy Statement (MPS) on Thursday for the last time during Governor Graeme Wheeler's tenure.
The OCR is expected to be left at its record low of 1.75%, so what the RBNZ says, including about the likely potential future direction of the OCR, will be key.
Below is what some of the bank economists are saying ahead of Thursday.
ANZ economists Cameron Bagrie and Phil Borkin. (Here's their full preview).
We expect the RBNZ to maintain the OCR at 1.75% on Thursday and stick to a neutral bias, in what will be Graeme Wheeler's final OCR decision as RBNZ Governor. We doubt he'll rattle the cage, with the tone of the accompanying statement, projections and press confidence to reinforce the RBNZ's cautious, watchful and neutral stance. 

► A case could be made for moving to an easing bias. Core inflation has softened, activity growth is sub-trend, housing market momentum has slowed a lot, a turn in the credit cycle has tightened financial conditions, the NZD has strengthened, and global inflation has rolled over. Local inflation expectation measures will likely be next to soften, driven by falls in headline inflation itself (which to be fair makes somewhat of a mockery of surveyed inflation expectation measures!). Additionally, the RBNZ looks set to lower its near-term growth and inflation forecasts. There is a decent chance that headline inflation will be projected to drop back below 1% again. 

► However, medium-term inflation signals are still positive. The terms of trade have surged, forward-looking indicators such as business and consumer confidence point to growth lifting back above trend, the labour market is tightening, and fiscal policy is set to put more money in people's pockets. While global inflation is rolling over again, global growth nuances have been more positive, with upside surprises of late in China and Europe. Central banks are becoming more attuned to the risks associated with extraordinarily stimulatory policy, despite inflation targets being missed. 

► So an easing bias is a leap too far and we think the RBNZ will rely on the flexibility it has within its framework to ebb and flow with recent developments. With each passing day, the impact of secular inflation suppressants is becoming more evident; this is not the time to be a strict inflation targeter. Whether inflation is 1.5% or 2% is a moot point; it's still low. Rather, the RBNZ simply deserves plenty of credit for the fact that developments have justified the "aggressively neutral" stance it took back in May.

► Overall, it looks like it will be business as usual, with another ultraneutral 'steady as she goes' outlook. 

► The market's focus will be on the tone. While we don't see an outright easing stance, we expect something on the dovish side of neutral – and more dovish than in May. Language regarding NZD strength could be a little more explicit and the implied hikes within the OCR projections should be removed. To be fair, the May forecasts only had one hike at the end of 2019, but removing it would send a clear signal to a market that still has a full hike priced in by roughly August next year. 

► On the RBNZ's broader projections, we suspect there will be an element of 'looking through the noise'. We doubt the RBNZ has changed its views that the "growth outlook remains positive". So despite the lower starting point, GDP growth will still be projected to lift towards 3½%. Likewise with inflation. The starting point will be lower, and the RBNZ will need to factor in recent NZD strength and oil price weakness, which will delay the return of headline inflation to the target mid-point. However, the forecasts will still show domestic inflation rising gradually in time.
ASB chief economist Nick Tuffley. (Here's his full preview).
We expect the RBNZ to sound a more cautionary tone in the August Monetary Policy Statement. The balance of events since the June OCR decision point to less inflation pressure. 

As a result, the RBNZ's OCR forecast track is likely to show rate increases will occur in early 2020, 3-6 months later than in its May MPS forecasts. We also don't completely rule out the RBNZ lowering its 2017/18 OCR forecasts slightly if it wanted to signal that there is a higher risk that it cuts the OCR over the next year. 

Reflecting the shift in risks, we have also nudged out our own view of when the RBNZ will first lift the OCR, to February 2019 (previously November 2018).

In a speech last week the RBNZ indicated it has revised down its average estimate of the neutral OCR (the goldilocks level that is not too high and not too low) to 3.5%. That figure is slightly lower than the 3.6-3.7% published in a Bulletin article just back in June, although that estimate looked like it hadn't been updated for a number of months. The implications are that the low OCR is not quite as stimulatory as the RBNZ had been assuming. The shift isn't much, but it is yet another reason for the RBNZ to reassess whether the OCR needs to remain on hold for longer. Over a period of time, the RBNZ's estimate of neutral interest rates has fallen steadily, having been above 4% as recently as a couple of years ago.

To give some context to 3.5% as a neutral rate, the OCR has averaged 3.38% over the past 10 years – including nearly a year of sitting at 8.25%. Since the end of the Global Financial Crisis the OCR has spent less than a year at 3.5%. 
Westpac chief economist Dominick Stephens. (Here's his full preview).
The Reserve Bank has been studiously neutral about the interest rate outlook in recent months. Its written commentary has given little away, other than to state that
the OCR is expected to remain low for a long while yet, and that there are numerous uncertainties which policy may need to adjust to. In a May media interview, Assistant Governor John McDermott was blunter – he said there is an even chance of a rate hike or a cut in the future.

All this is a far cry from financial market pricing, which suggests that the RBNZ is going to start increasing the OCR from mid-2018. The markets' logic is that the RBNZ will eventually be forced to swim with a tide of rising interest rates, led by the US Federal Reserve.

At next week's Monetary Policy Statement (MPS), we suspect the Reserve Bank will reveal that its thinking has shifted even further from financial market pricing. The RBNZ probably doesn't intend making a big splash at this point, but we still expect that the tone of the MPS will surprise markets, and could cause a drop in swap rates and the New Zealand dollar on the day.

In addition, the Reserve Bank may be conservative ahead of its own leadership handover. The current Governor will leave in September, to be replaced by a caretaker Governor on a six-month term. The process of finding a new permanent Governor will begin after the September election.

The one area where we do think the RBNZ will want to be more forthright is the exchange rate. The recent rise to 74 cents against the USD seems out of proportion with New Zealand's economic conditions, and the RBNZ will not be shy of saying so. The RBNZ could even go so far as to say that if the exchange rate remains too high, monetary policy would have to be more accommodative than otherwise – terminology that it has used in the past.
Last week BNZ head of research Stephen Toplis suggested there's a case for the RBNZ to cut the OCR from 1.75%. This, Toplis said, is based on weaker than expected inflation, a strong New Zealand dollar, and a housing market that's softer than the Reserve Bank expected.
"A purely mechanistic approach to monetary policy would now argue for a cut in New Zealand's cash rate," said Toplis.
Wheeler's last day in the job is September 26, three days after the election. Deputy Governor Grant Spencer will then be Acting Governor until March 26, when the new Governor is due to start. The next OCR review is on September 28.
The latest official inflation figures showed a quarterly seasonally adjusted Consumer Price Index (CPI) reading of negative 0.1% and an unadjusted reading of 0.0%. This brought annual inflation for the year to June to 1.7%, down from 2.2% in the March year. The RBNZ's own forecast of 0.3% quarterly inflation came in its May MPS.
Below is the RBNZ June 22 OCR review statement.
Statement by Reserve Bank Governor Graeme Wheeler:

The Reserve Bank today left the Official Cash Rate (OCR) unchanged at 1.75 percent. 

Global economic growth has increased and become more broad-based. However, major challenges remain with on-going surplus capacity and extensive political uncertainty. 

Headline inflation has increased over the past year in several countries, but moderated recently with the fall in energy prices. Core inflation and long-term bond yields remain low. Monetary policy is expected to remain stimulatory in the advanced economies, but less so going forward. 

The trade-weighted exchange rate has increased by around 3 percent since May, partly in response to higher export prices. A lower New Zealand dollar would help rebalance the growth outlook towards the tradables sector.

GDP growth in the March quarter was lower than expected, with weaker export volumes and residential construction partially offset by stronger consumption. Nevertheless, the growth outlook remains positive, supported by accommodative monetary policy, strong population growth, and high terms of trade. Recent changes announced in Budget 2017 should support the outlook for growth. 

House price inflation has moderated further, especially in Auckland. The slowdown in house price inflation partly reflects loan-to-value ratio restrictions, and tighter lending conditions. This moderation is projected to continue, although there is a risk of resurgence given the on-going imbalance between supply and demand. 

The increase in headline inflation in the March quarter was mainly due to higher tradables inflation, particularly petrol and food prices. These effects are temporary and may lead to some variability in headline inflation. Non-tradables and wage inflation remain moderate but are expected to increase gradually. This will bring future headline inflation to the midpoint of the target band over the medium term. Longer-term inflation expectations remain well-anchored at around 2 percent. 

Monetary policy will remain accommodative for a considerable period. Numerous uncertainties remain and policy may need to adjust accordingly.
And below are the key forecast variables from May's MPS.