ANZ economists see trouble ahead for the economy from the declining rate in growth of bank deposits at a time of strong demand for credit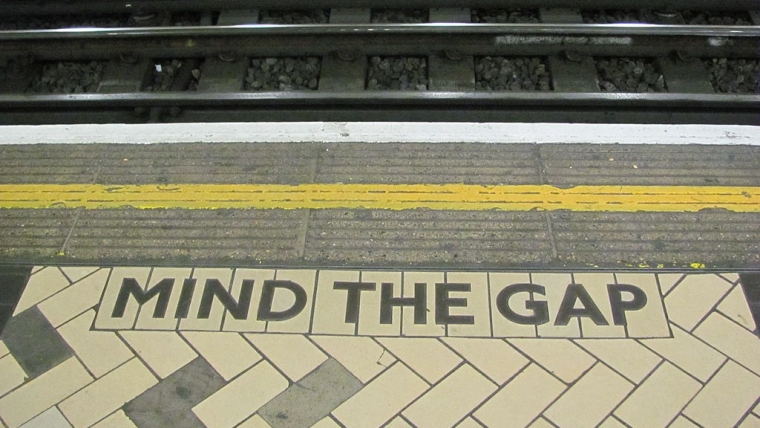 Economists at the country's biggest bank are warning that "a significant economic headwind" could be in the pipeline as the growth in bank deposits slows at a time of strong credit demand.
And they warn that bank lending may be necessarily 'reined in'.
Recent Reserve Bank data showed that household bank deposits grew at the slowest rate last year for nine years, while housing loan growth hit its highest level since mid-2017.
The banks refer to such a divergence between credit demand and deposit growth as a 'funding gap'. 
In their Weekly Focus publication, ANZ NZ's economists say the slowdown in deposit growth "matters".
"New Zealand banks need deposits to fund their lending, so the recent widening in the bank 'funding gap' is something we are watching closely.
"In the current environment, generating deposit growth may be difficult – although banks can tap non-deposit funding, this has its limits. Closing the gap is likely to result in a tightening in credit conditions, at least to some degree, at a time when credit demand is strong. A significant economic headwind could be in the pipeline," the economists say. 
They say the explanation for the slowdown in deposits is "not as obvious as you might think". 
"Overall, we think movement away from foreign ownership of New Zealand housing, the rise of popularity of managed funds and the like in response to lower interest rates, and greater use of cash as a store of value could all be contributing to the recent divergence between credit and deposit growth. However, ascertaining the contributions of these factors is difficult and would require quite a bit more digging." 
But they say whatever the reasons for the slowdown in deposits, closing the bank funding gap could be a significant headwind for economic activity going forward, as was seen in 2017 when a similar gap developed.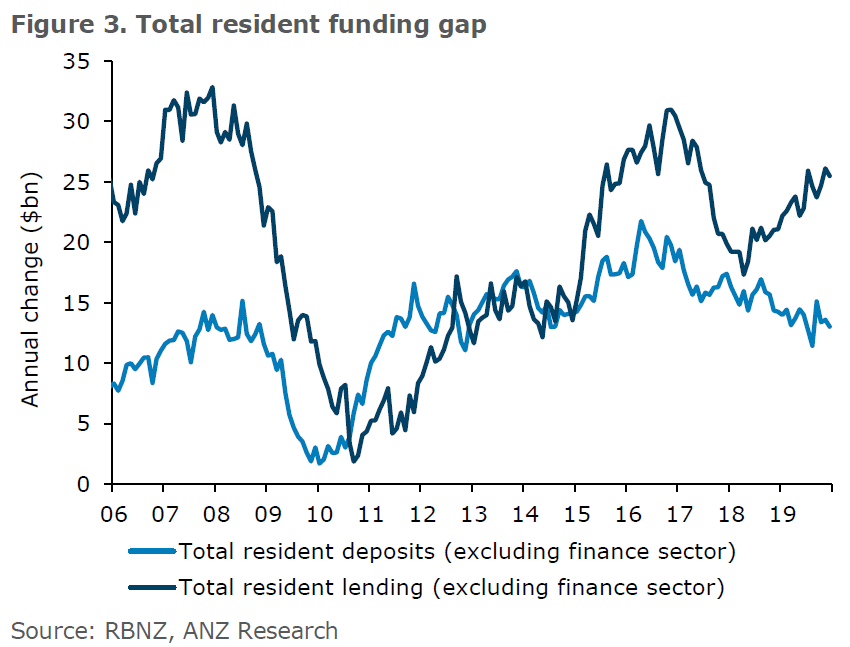 "It's possible that banks could tap wholesale funding markets to bridge the gap, but there are limitations to this strategy. That's not only because of Reserve Bank rules. The ratio of loans to deposits is also a key metric used by investors and in ratings assessments to assess a bank's liquidity. This means that increased funding via wholesale markets (even at a long duration) can weigh on perceptions of risk and thereby increase funding costs."
It is possible that banks could lift deposit growth to fund the gap, but scope to do this through higher interest rates is limited, the economists say.
"This would also increase funding costs and squeeze margins.
"Alternatively, banks can bridge the gap by rationing lending, either by increasing its price (higher lending rates) or directly reducing its availability.
"Either way, given the extent of the gap, we expect that lending will need to be reined in to some degree."
The economists say the tightening in financial conditions due to the funding gap doesn't bode well for economic activity, "and indeed it already looks to be putting a dampener on things".
"Survey data of both businesses and banks show that credit has become harder to get. And while not all of this is owing to slowing deposits growth (eg recent changes to bank capital requirements and re-pricing of risk are also factors), there's little to suggest conditions are about to improve. 
"The potential economic implications of closing the funding gap are significant. Both the availability of credit and its cost could become less favourable for households and businesses. In addition to households and businesses facing higher-than-otherwise debt servicing costs, credit could become more difficult to obtain (as banks attempt to align the pace of credit growth with resident deposits)."
The economists say that because banks need to strike a balance between deposits and lending, should the Official Cash Rate go lower, the 'pass-through' to deposit rates (and therefore lending rates) is "likely to diminish".
"But that's assuming households' appetite to put their money on deposit in the bank is unchanged. A change in sentiment could make bank deposits, which are at the less risky end of the spectrum, more attractive. And if the Reserve Bank is cutting the OCR, it won't be because things are going swimmingly."
It's an unfortunate time for credit availability to be squeezed, the economists say.
"The bulk of current credit growth is because people are wanting to take on debt to buy and build houses, invest in commercial property, expand capacity and the like. But parts of the economy are also being hit by massive disruption in the form of the tragic COVID-19 outbreak. Global shipping routes are seriously disrupted. Farmers can't send their cull stock to the works because China's cool chain is congested, and feed in some areas is running very short. Retailers are struggling to get hold of consumer goods to sell. Producers are worried about supply of intermediate goods (building materials, steel, plastics… you name it) and what that might mean down the line. Tourist operators are looking at significant cancellations.
"It is unclear how long these disruptions will last. Let's hope it's brief. But many businesses will be needing credit to tide them over. Not a good time for the system to run short."