Statistics New Zealand says retail sales values had the largest September quarter rise since the series began in 1995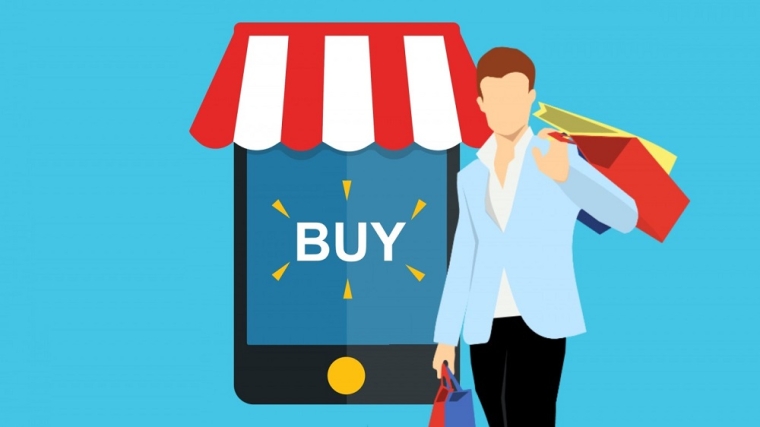 September quarter retail sales bounced back from the affect of the lockdown, with retail sales values recording the largest September quarter rise since the series began in 1995, Statistics New Zealand said on Monday.
Economists said the bounce back in retail trade in the quarter was much stronger than they expected.
Stats NZ said spending on major household items, vehicles, and groceries contributed to the 7.4% ($1.8 billion) rise in total retail sales compared with the September 2019 quarter.
All the figures being reported at the moment are actual - rather than seasonally adjusted ones - due to the volatility that has been caused by the lockdown measures. 
This quarter's rise indicates a recovery for retail businesses, but it does not make up for the historic fall of 15% ($3.6 billion) in the Covid-19-affected June 2020 quarter, Stats NZ's retail statistics manager Sue Chapman said.
Total retail sales for the 12-month period from October 2019 to September 2020 were $97.6 billion, down 0.2% ($172 million).
In terms of volumes of sales, Stats NZ said 12 of the 15 industries had higher sales volumes in the September 2020 quarter compared with the September 2019 quarter.
By industry, the main movements were:
electrical and electronic goods retailing, up 28%
motor vehicle and parts retailing, up 14%
hardware, building, and garden supplies, up 14%
supermarket and grocery stores, up 4.7%
department stores, up 12%
recreational goods retailing, up 17%.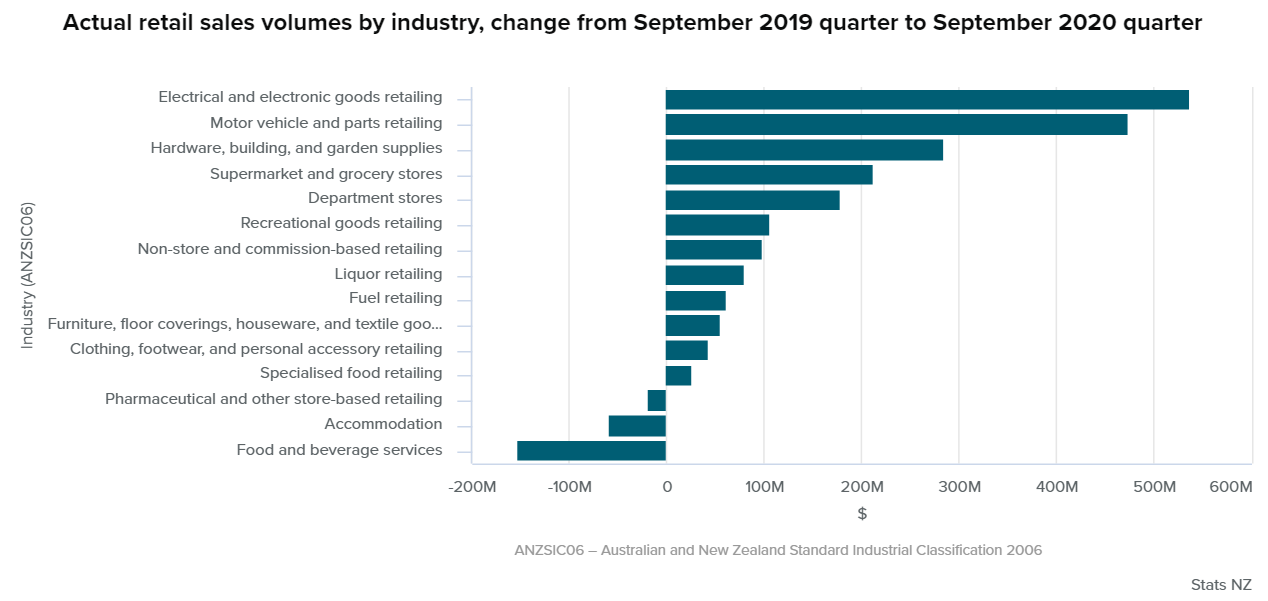 ASB senior economist Mark Smith said retail trade spending volumes bounced 28.1% in the September (with core industries +24.1% qoq), "which was considerably stronger than market expectations (19% qoq) and our +20% qoq Q3 pick". 
"This was by far the largest quarterly increase for both total and core volumes, pushing both higher than year ago levels (8.3% yoy and 7.7% yoy respectively) and taking the level of total and core volumes to a record high."
Smith said Looking through the quarterly volatility suggests that Covid-19 and adjustments that households had to make could have triggered a more fundamental shifts in retail patterns. 
"Durable spending types remain at (or close to record highs for most store-types, with electric and electronic goods retail volumes a whopping 28% higher than this time last year. Many NZ households may have also done their dash on durable spending for a while.  Food & beverage services and accommodation retail remain well below pre-Covid-19 levels and may take some time to recover given the weak outlook for household incomes."
Westpac senior economist Satish Ranchhod said the latest retail quarterly result "adds to the upside risks to our forecasts for a rebound in September quarter GDP (we're currently forecasting a 12% rise)".
"However, the lift in spending was accompanied by a rundown in stocks, consistent with anecdotes of shortages in many areas. That moderates some of the upside risk to our overall GDP forecast."
Ranchhod said with large increases in spending on durable items in recent months, it wouldn't be surprising to see some easing in the pace of spending over the coming months.
"Nevertheless, we expect spending levels will remain firm through the holiday shopping season, supported by continued low interest rates and the related strength of the housing market. The labour market has also been more resilient than expected.
"Shortages of some goods (such as household furnishings) could restrain spending levels, or mean that the usual holiday price discounts are more moderate than usual."