Despite our export values in May exceeding the value of imports, the running annual deficit hit a new all-time high of over $17.1 billion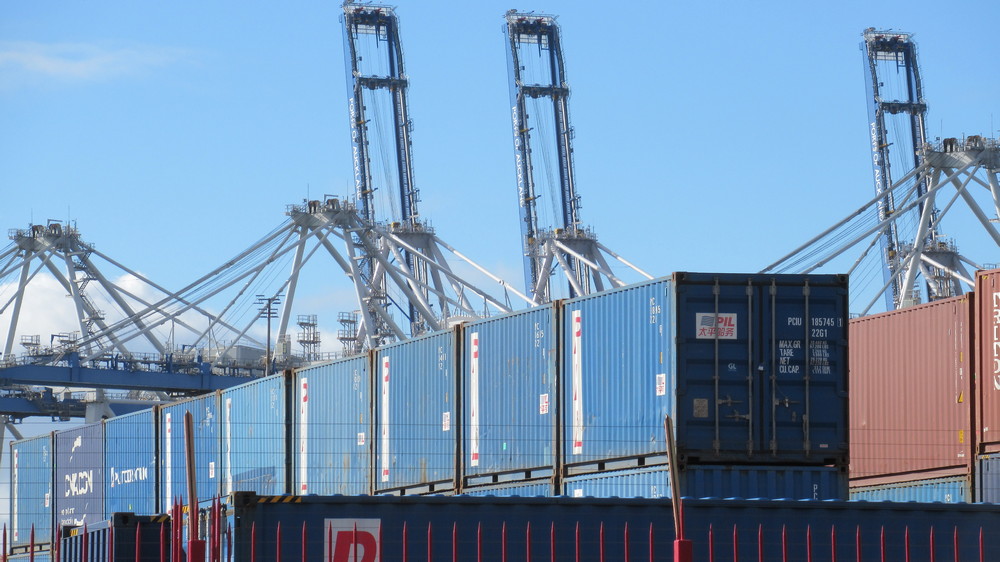 The value of the country's trade exports exceeded imports for the second month in a row in May.
But that didn't stop the running 12-month deficit between exports and imports hitting a new all-time high of $17.1 billion.
Stats NZ said that in May we had a trade surplus of $46 million, following on from a surplus of $236 million in April. These past two months have seen the first monthly surpluses in a year. However, both April and May last year were in surplus and recent history shows those two months usually do record a surplus.
And the reality is that the May 2023 trade surplus was down from one of $148 million in May 2022.
However, the latest month was affected by a bumper $317 million worth of the very volatile aircraft and parts imports. This figure was up $279 million (748%) compared with the same month a year ago.
Stats NZ describes the overseas merchandise trade statistics as providing information on imports and exports of merchandise goods between New Zealand and other countries, while the balance of payments figures (including the current account) record the total value of all the country's transactions with the rest of the world. 
Figures released last week showed that our current account deficit  dropped in March to $33 billion, which meant that it was now 8.5% of GDP, down from 9% in December. That's still very high and will be being watched by the international credit rating agencies.
But back to the latest merchandise trade figures, Stats NZ said that in May goods exports were $7.0 billion, which compared with May 2022 was up $189 million (2.8%). Goods imports rose $292 million (4.4%), to $6.9 billion. The figures are rounded.
Below are the highlights of the latest month's figures: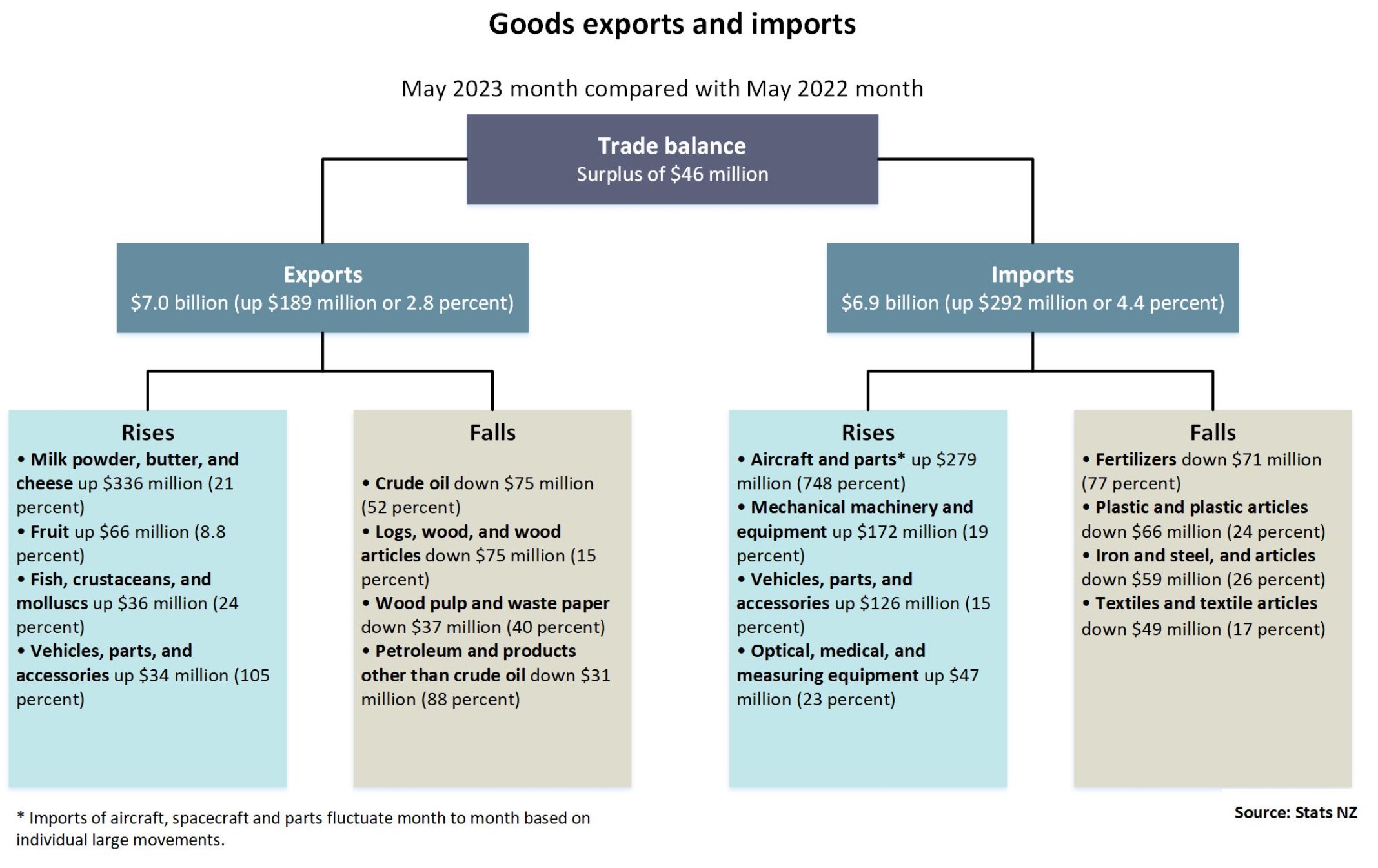 In terms of the annual figures to May and compared with the year to May 2022,  annual goods exports were $72.8 billion, up $5.5 billion from the previous year. Annual goods imports were $89.9 billion, up $13.2 billion from the previous year. The annual trade balance was a deficit of $17.1 billion. In the year ended May 2022 there was a deficit of $9.4 billion.
During the early stages of the pandemic we were running monthly trade surpluses. In fact, as recently as April 2021 the rolling annual trade balance was in surplus.

Moody's Analytics senior economist Katrina Ell said it was impossible to do New Zealand's foreign trade figures justice without exploring the important dairy export category.
"As a reminder, the dairy industry directly contributes about 3% to New Zealand's GDP and 23% to merchandise exports.
"Headline dairy exports were up by an impressive 21% y/y [year-on-year] in May. Of that, the largest milk powder category grew an impressive 18%, primarily on higher quantities as unit prices were down by 21%.
"Dairy trade is relatively less sensitive than hard commodity prices to the unrelenting softer global growth picture and recent weakening in dairy prices is primarily on the back of improved supplies in the Northern Hemisphere. We expect relatively ample supplies will keep downward pressure on dairy prices in coming months."
Looking ahead, Ell said that consumer-sensitive imports will struggle "as earlier aggressive monetary tightening increasingly filters through to weaker retail trade".
"New Zealand entered a technical recession in the March quarter and domestic demand is not expected to get sustained relief as the Reserve Bank of New Zealand keeps its laser focus on ensuring inflation remains on an entrenched down trend.
"In the June quarter we're likely to see only a temporary bounce in activity from reconstruction efforts following the cyclone and flooding events that plagued the country from late January through to February."