The NZ registered financial service provider that tells potential clients of NZ bankrupts 'who still live in mansions & drive Ferraris owned by their trusts'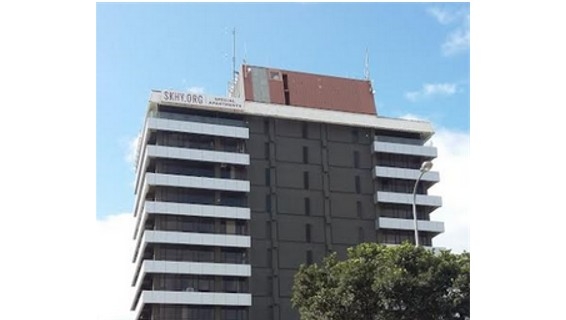 By Gareth Vaughan
A small office shared with three other companies deep in the bowels of the Outsource IT Tower on Auckland's Khyber Pass Road opposite a reservoir, isn't necessarily where you'd expect to find the global headquarters of a financial service provider that claims to be following in the footsteps of three outstanding men from the Dutch golden age.
But this is where you will find what, according to its website, is Breder Suasso's head office. When interest.co.nz visited recently the office was unattended.
The sign outside the basic second floor office at 44 Khyber Pass Road (pictured below) suggests the premises are shared with three other entities, all of whom, like Breder Suasso, are registered on the New Zealand Financial Service Providers Register (FSPR).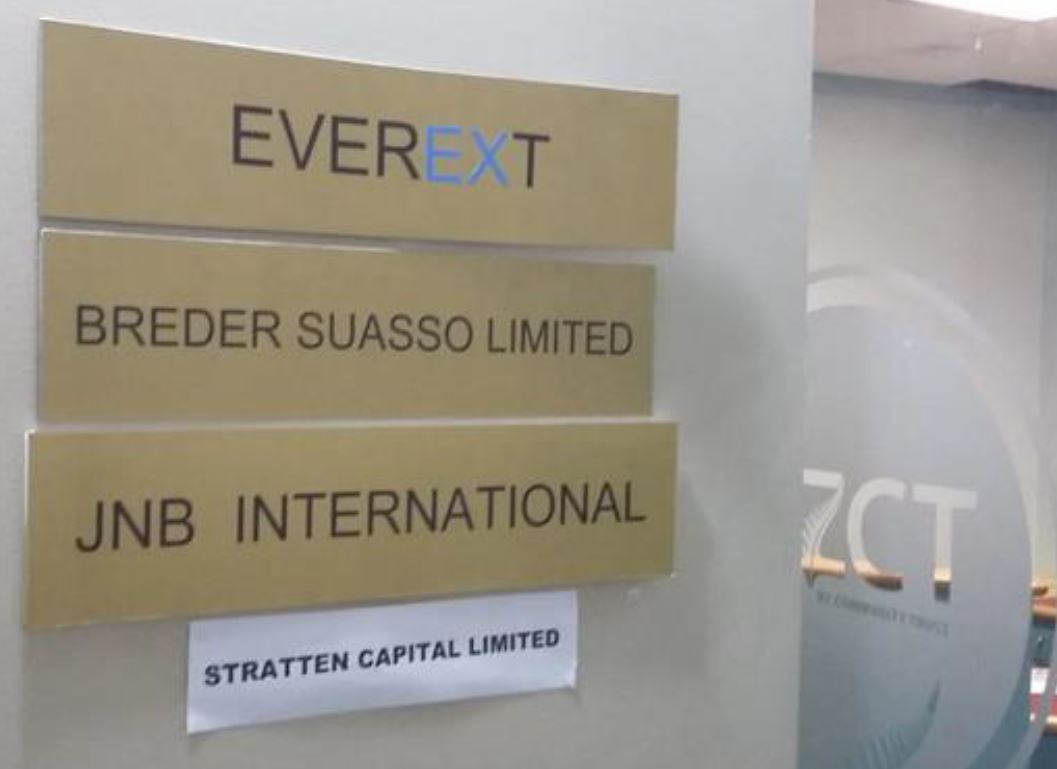 'Swift and secure cross border transactions' 
So what do we know about Breder Suasso? The company's website says; "We leverage our expertise and insight to make your money easily available for transfer around the world and in multiple currencies. Our world class solutions enable our clients to conduct swift and secure cross border transactions." 
Breder Suasso also says its philosophy is based on the Lopes Suasso family, "an inspiring trilogy (detailed here) of legendary reliable and gifted financiers" who "left their mark on the financial world during the Dutch golden age." Services listed include private accounts, corporate accounts, payment cards and advisory, although the advisory section appears to have been removed from the company's website over recent days. 
Breder Suasso says it has a relationship with Poland's mBank, formerly Bre Bank, although an mBank spokesman wouldn't comment, citing "banking law and banking secrecy." 
Breder Suasso's website says it doesn't provide services to NZ or US residents, with the latter now having to comply with the intrusive Foreign Account Tax Compliance Act, or FATCA. Breder Suasso previously made the news in August last year when The Sunday Star-Times reported on concerns raised by Transparency NZ's Grace Haden that the company's website was creating a misleading impression about its Auckland presence. According to The Sunday-Star Times article, the Financial Markets Authority (FMA) was "looking into the company (Breder Suasso) to clarify what services they provide and where."
Asked again about Breder Suasso a year later, an FMA spokesman told interest.co.nz; "We don't comment on any entities that may or may not be part of our ongoing review. We are able to disclose companies' names once any review is complete and an entity has been removed from the (Financial Service Providers) Register by the Registrar (of Companies)." 
Meanwhile, a Reserve Bank of New Zealand spokesman said; "The Reserve Bank contacted Breder Suasso in 2014. We note that since then Breder Suasso has put a disclaimer on its website stating that it does not offer its services to New Zealand residents and is not offering services as a registered bank or as a licensed non-bank deposit taker."
Off the shelf 
Documents taken from Breder Suasso's website detail offers to set up NZ look-through companies (LTCs) and trusts for a fee. In a brochure on LTCs, Breder Suasso notes they are "looked-through" for income tax purposes meaning they're not taxed at a company level with income flowing to shareholders. This means non-resident shareholders don't have to pay tax in NZ so long as their income from the LTC is derived offshore. Moreover, there are no restrictions on the business an LTC can undertake. These companies may trade and open bank accounts all over the world, plus there are no limits on the amount of foreign income that can be earned, Breder Suasso says.
"We prefer to offer our clients available shelf companies including nominee directors and shareholders which allow you to start trading immediately," Breder Suasso says...After receiving original of all required documents it takes 1-2 weeks for registration of the company itself, plus 1-2 weeks to get a certificate from the tax authorities." Prices quoted for LTC set up are US$1,250 for shelf companies, with custom incorporation costing US$1,550, and bank account set up US$900.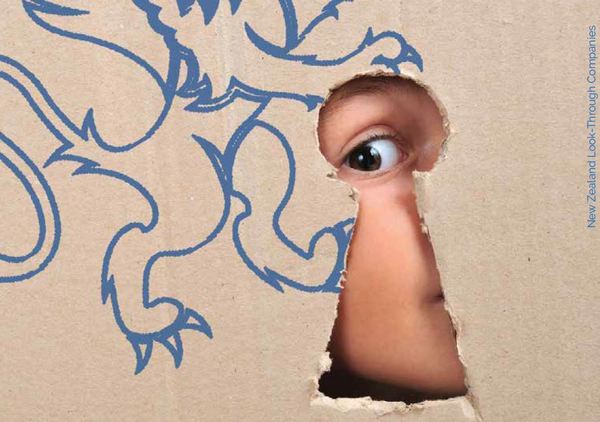 Bankrupts who still live in mansions & drive Ferraris and 'there's nothing anyone including the Government can do about it' 
There's also a Breder Suasso brochure on NZ trusts. Among other things it says; "The New Zealand Foreign Trust regime is considered to be one of the best if not the best offshore trust regimes in the world today." And; "A properly established trust provides virtually 100% protection against creditors." Plus; "In New Zealand there are many cases of personally bankrupt individuals who have been unable to pay their taxes or have failed in business but who still live in mansions and drive Ferraris owned by their trusts and there is nothing anyone including the Government can do about it." 
Other comments in Breder Suasso's NZ trusts brochure focus on property, and obtaining NZ residency. 
"You may not have known that property in New Zealand is not taxed for capital gain and that we can obtain loans of 50% of the value of the property. That means that by establishing a trust and buying New Zealand property you can realise long term gains that are tax free." 
"Buying property in New Zealand can also allow the investors to obtain residency for themselves and their families. Thus the trust can become both an investment, asset protection and migration vehicle rolled into one." How about mortgagee property? 
"We can also assist you in acquiring for sale or mortgagee property in New Zealand, Panama, Las Vegas, as well as opening brokerage, investment, forex accounts or physical precious metal holdings held in the name of your trust."
A Mauritius-based chairman
Companies Office records show Breder Suasso's directors are Teodoro De Regibus of Hertfordshire in England, and Colin Gardner of Auckland. De Regibus is also listed as sole shareholder.
De Regibus appears to also be chairman of the Mauritius-based trust and company service provider Titan Corporate Services. There's an interview with De Regibus here, where he says he was born in Switzerland to Irish-Italian parents, and his LinkedIn profile notes he also chairs Redwood Company Formations. Interest.co.nz emailed De Regibus a series of questions in relation to Breder Suasso twice. He has replied, saying; "You found me. Pleased to meet you. How may I assist you?" But he hasn't answered the questions, including whether he's Breder Suasso's beneficial owner and whether the FMA has concluded its probe. 
Gardner, meanwhile, is owner and principal consultant at CCG Consulting and Accounting, according to his LinkedIn profile. CCG's website says Gardner's also "associated as an advisor" with Equity Trust International Group Ltd, which has offices on the fourth floor of 44 Khyber Pass Road. CCG's website describes a team of advisers, lawyers, accountants and consultants located in NZ with a global network of agents in Belize, Cook Islands, Hong Kong, Jersey, Malta, Nevis, Singapore, and Vanuatu. 
Equity Trust International's website describes Gardner as "consultant on a FSP and tax minimization." Gardner hasn't responded to requests for comment. Other LinkedIn profiles suggest Breder Suasso has an Auckland-based UK representative, a Cyprus-based regional manager for Cyprus and the Middle East, and is apparently seeking an administration assistant and an anti-money laundering compliance specialist, both for its Auckland office. 
Below is a Breder Suasso promotional video for Visa cards.
Companies Office records show Breder Suasso was set up as recently as February 2014 as Sobraine Ltd before changing its name in May 2014. The original director and shareholder was Oleg Khmelev, who provided a residential address in Auckland's Panmure. De Regibus succeeded Khmelev as shareholder in May last year, when he also became a director. Gardner became a director, replacing Khmelev, in April last year. 
Breder Suasso was registered as a financial service provider on May 1 last year.
The roommates 
So what of Breder Suasso's roommates on the second floor of 44 Khyber Pass Road? 
Everext is a trading name for W.E. Limited Partnership. There's a registered New Zealand company named Everext Limited whose shareholder, according to Companies Office records, is the Rarotonga based Delta Enterprise LLC. The director is listed as Khmelev. W.E. Limited Partnership was registered as a financial service provider on Christmas Day 2013, according to the FSPR. 
There's a website for what's purportedly a Dubai, United Arab Emirates financial services company named Everext, and a LinkedIn page, which says; "To organize international over-the-counter trades, the company has developed TS Everext software solution which enables to join together clients and financial institutes around the globe." 
Loughlin, McGuire & Roud Holdings Ltd is listed as a former shareholder of Everext. Director and shareholder Serge Roud, the president of the NZ Russian Speaking Lawyers Association, declined to answer questions on Everext saying to do so would "be a breach of our professional duty." 
JNB International Group Limited's director, and ultimate shareholder, is listed as Eduard Patkevych of Auckland's Mount Albert. There's an Auckland-based personal trainer named Edward Patkevych who interest.co.nz has contacted to ask whether he's also the director and shareholder of JNB International Group. He's yet to respond. JNB International Group registered as a financial service provider on August 15 last year. 
Stratten Capital Limited's director and shareholder is listed as Steven Green of Manurewa. Stratten registered as a financial service provider on August 6, 2014. 
Green also appears as a presenter of documents to the Companies Office on Breder Suasso and JNB International Group. Green's listed as sole director of Equity Trust International Group, and sole shareholder of its parent World Solutions Ltd. Equity Group's office (pictured below) appeared unattended when interest.co.nz visited recently.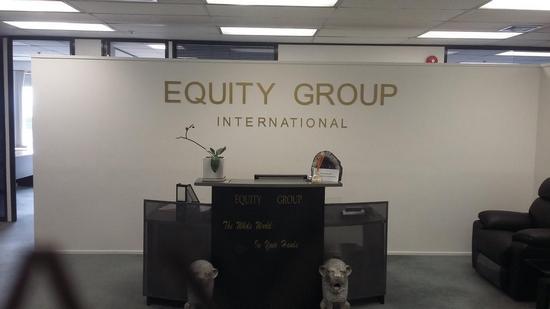 Contacted for comment Green said: "We generally don't respond to journalist's enquiries." 
Equity Trust International's website promotes unique investment opportunities in NZ, Vanuatu and Las Vegas, NZ financial service provider formation, and trust and company formation in Belize. Another related website says it specialises in offshore asset protection and tax minimisation through NZ non-resident trusts, LTCs and other NZ low tax or non-tax structures for non-residents. 
It promotes NZ as; "One of the best and most comprehensive asset protection and offshore tax minimization systems in the world whilst at the same time avoiding any issues of blacklisting as an offshore destination by the OECD countries." 
Equity Trust International was originally established as Star Chamber Ltd in May 2008 with Liliya Soboleva as director and shareholder. Its name was changed in October 2008. Green replaced Soboleva as director in November 2013, after World Solutions Ltd took over as shareholder in May 2013. Colourful lawyer Evgeny Orlov, apparently Soboleva's husband, also had a stint as a director. 
Equity Trust International is just one of many entities helping clients establish NZ financial service providers, companies and trusts. A 2012 Cabinet paper noted the Companies Office monitored 77 such entities, and we looked at several of them in this 2012 story here.
Problems for the authorities 
After utilising NZ's cheap and simple company registration system, which requires at least one NZ or Australian resident director, overseas residents are then able to register their companies on the NZ FSPR after signing up to a dispute resolution scheme if they have retail clients. They're then free to operate overseas as NZ registered, but not regulated, financial service providers.
The Ministry of Business, Innovation and Employment (MBIE) is currently reviewing the FSPR, having noted a large number of offshore financial service providers have misused it. Some, MBIE says, register in NZ in order to give a misleading impression they are regulated here, creating a risk to both NZ's reputation as a well-regulated jurisdiction and to the reputation of legitimate NZ financial service providers. Other similar jurisdictions that licence all their financial service providers don't have problems with their FSPR to the extent NZ does, MBIE says. 
Since last year the FMA has had the power to remove companies from the FSPR, or prevent them from registering on it, via a painstaking natural justice process. Thus far the FMA has removed and prevented about 100 companies from registering. As of May there were 3,472 companies on the FSPR, which includes the likes of registered banks, building societies, financial advisers, insurers, foreign currency exchange dealers, fund managers and some trustees. 
Clarity sought by FMA as Police FIU works to 'disrupt abuse' 
In a recent speech in Brisbane FMA CEO Rob Everett said the regulator was seeing "a sharp uptick" in firms using NZ as a jurisdiction of convenience, offering services offshore or locally, and using the FSPR to give the impression the FMA regulates them, when, in many cases it doesn't. 
"The Financial Services Providers Register, known in New Zealand as the FSPR, is the subject of a periodic review that's just getting underway. We are hoping for clarity from the review on the purpose of the register, and what firms can claim about their status on it," Everett said. 
Andrew Hill, manager at the Financial Intelligence Unit (FIU) of the NZ Police told interest.co.nz in July, abuse of legal entities, including financial service providers, is identified internationally as a "significant enabler of money laundering and predicate offending."
"Recognising the risks to New Zealand in this regard, the New Zealand Police FIU works with domestic authorities as well as overseas FIUs, law enforcement and regulatory agencies to disrupt abuse," Hill said. 
---------------------------------
*(Since this article was written Breder Suasso has posted on its website that it's to move "offices headquarters" to 300 "Queen Road," Auckland, New Zealand. Elsewhere on the website Breder Suasso says it's moving to level 11, 300 Queen Street on September 25. This building was once the headquarters of ASB. Here's a list of all the companies currently based at 300 Queen Street).