BNZ interim net profit drops 10% as provisions for bad dairy debts rise against backdrop of grim dairy outlook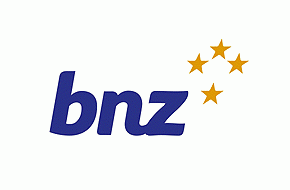 By Gareth Vaughan
BNZ's half-year profit fell 10% as loan impairments for bad dairy debts rose, income fell and operating expenses increased.
The bank's net profit after tax for the six months to March 31 dropped $51 million, or 10.2%, to $451 million from $502 million in the same period of the previous year. The fall came as BNZ's impairment losses on credit exposures jumped $32 million, or 68%, to $79 million. 
CEO Anthony Healy said BNZ had doubled its collective provision for dairy loans reflecting a "lower for longer" view of dairy prices. Dairy farmers are facing three consecutive seasons of dairy payouts below breakeven levels.
BNZ's total operating income fell 2.9% to $1.131 billion as gains less losses on financial instruments such as wholesale funding, plunged $78 million to $55 million. Operating expenses were up 3.3% to $434 million as the bank hired 50 new small business bankers with 20 each in Auckland and Hamilton and 10 in Christchurch. Net interest income rose 3.8% to $882 million.
Surge in impaired assets
Parent National Australia Bank (NAB) put BNZ's gross impaired assets at $807 million at March 31, including $579 million of dairy exposures currently assessed as no loss based on security held. The $807 million figure was up up almost fourfold from just $216 million at September 30 last year, and up from $308 million a year earlier. The rise helped push assets at least 90 days past due plus impaired assets, as a percentage of gross loans, to 1.43% from 0.61% at September last year.
"While there's no question that it is a difficult time for many dairy farmers and their families, BNZ is well placed to continue supporting our farming customers with thoughtful advice and financial support," BNZ CEO Anthony Healy said.
"Our approach is a prudent one. BNZ's agri book is diversified, and asset quality remains sound. We commenced reviewing our dairy portfolio 18 months ago, working with customers as we took a 'lower for longer' view of the sector. We have also doubled our collective provision for dairy to reflect this."
"We have been working with our customers to plan for a range of scenarios and the majority of our farmers are enacting those plans now. From a financial management perspective, they're adjusting well, removing costs and, if they have to, selling non‐core assets," Healy added. 
"We recently announced an investment in cloud‐based farm accounting software provider Figured Limited, making it easier for farmers to work with their accountants, farm consultants, and rural bankers."
'Proactive' IFRS 9 approach
NAB CEO Andrew Thorburn said the group had taken a "proactive approach to provisioning for future dairy impairments." NAB put its NZ dairy lending exposure at NZ$8.4 billion giving it 22.6% market share. NAB said 62% of this dairy lending is fully secured, 38% partially secured, and 0.3% unsecured.
Adrienne Duarte, BNZ's chief financial officer, told interest.co.nz that as an early adopter of the IFRS 9 accounting standard, the bank must be "pro-cyclical." BNZ's the only NZ bank to have adopted IFRS 9 thus far, but all banks must do so by 2018. This was a key factor in why bad and doubtful dairy loans were a bigger factor in BNZ's interim results than they were in ANZ and Westpac's earlier this week, she said.
"You take provisions faster and sooner than you would under the old accounting standard. All banks have to adopt that (IFRS 9) accounting standard by 2018. It will mean you take provisions sooner in the cycle," Duarte said.
BNZ's collective provision for doubtful dairy debts rose to $147 million at March 31, up from just $59 million a year earlier. The bank's total collective provision for doubtful debts stood at $386 million at March 31, up $55 million over the half-year. Its specific provision for doubtful debts was up $9 million to $101 million.
The charts below come from NAB. DPD stands for debts past due, GIA is gross impaired assets, and EAD stands for exposures at default.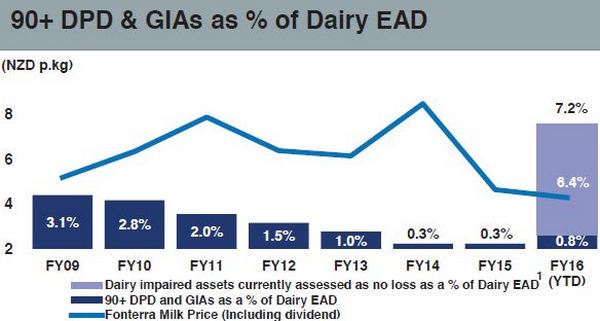 Mortgage market share flat
Market share in the residential mortgage market was unchanged over the six months to March at 15.5%, with Healy saying BNZ had "arrested" its declining market share having re-entered the mortgage broker market last year after a gap of 12 years. The bank's now working with 230 brokers through Mortgage Express and New Zealand Financial Services Group.
Meanwhile, gross loans and acceptances reported for NAB's NZ banking operations grew $2.7 billion, or 4%, in the six months from September 30 last year to March 31 this year, reaching $69.4 billion.  Customer deposits increased $2.5 billion, or 5.6%, to $47.5 billion. Total assets gained $3 billion, or 4.3%, to $72.5 billion. "BNZ banking group" total assets rose 3.8% over the March half to $90 billion.
BNZ's half-year net interest margin was down 9 basis points over the half, and 8 basis points year-on-year, to 2.23%. Its cost to income ratio was up 330 basis points half-on-half, and up 230 basis points year-on-year, at 38.4%.
BNZ market share movements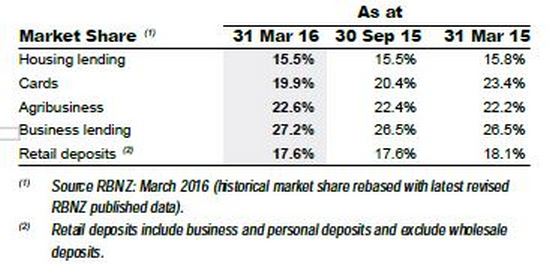 Here's BNZ's release, here's NAB's results release, and here's NAB's investor presentation.