Westpac annual cash profit falls as expenses rise faster than income, net interest margin falls 12 basis points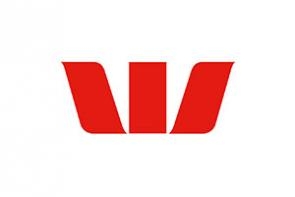 Westpac New Zealand's annual cash earnings fell 4% as expenses grew faster than income and loan impairment charges rose. The bank's net interest margin dropped 12 basis points year-on-year.
Westpac NZ's cash earnings for the year to September 30 fell $33 million to $872 million from $905 million the previous year.
Net operating income was up just 1% to $2.188 billion, and operating expenses increased 5% to $919 million. Impairment charges rose $12 million, or 26%, to $59 million.
CEO David McLean said investment in service transformation at Westpac NZ saw more than 200 initiatives implemented, with the cost impacting core earnings by 2%. (See more detail on this below).
Westpac NZ's net interest income rose $36 million, or 2%, to $1.706 billion. However, non-interest income dropped $12 million, or 2%, to $482 million.
Total deposits were up 11% to $57.5 billion, outpacing net lending growth in percentage terms, which rose 9% to $75.1 billion. The bank said deposits funded 92% of lending growth.
| | | |
| --- | --- | --- |
|  Westpac NZ |  2016 |  2015 |
|  Net interest margin |  2.13% |  2.25% |
|  Expense to income ratio |  42.0% |  40.3% |
|  Deposit to loan ratio |  76.6% |  75.2% |
'Return prioritised over growth' in home loans
Westpac NZ said business and institutional lending grew 12% year-on-year to $28.4 billion, with rural lending up 13%. Residential mortgage lending grew 7% to $45.1 billion, with the growth rate below system, or overall market, growth. In home loans the bank said it had "prioritised return over growth." The 12 basis points drop in net interest margin was attributed to historic low interest rates, intense competition and customer preference for fixed-term mortgages, which tend to earn banks lower margins than floating mortgages.
Meanwhile, Westpac NZ experienced a rise in stressed loans. Total stressed assets to total committed lending exposure rose 94 basis points year-on-year to 2.54%, attributed to a rise in stressed dairy loans, and a lower level of write-backs and recoveries than last year. 
A quarter, or $1.475 bln, of dairy loan portfolio stressed
The bank said a review of its dairy portfolio, using a milk price of $4.25, saw more customers classified as "watchlist" and "substandard." However, the dairy portfolio will benefit from the recent milk price rise, which has boosted confidence and lifted forecast payouts, Westpac NZ said.
Last week's GlobalDairyTrade auction saw overall prices jump 11.4%, with Whole Milk Powder up 19.8% to an average US$3,317 per metric tonne, the highest price since July 2014. Economists now see a milk price for farmers of in excess of $6 per kilogram of milk solids this season as possible. Fonterra's forecast milk price payout for the current dairy season is $5.25, or $5.75 to $5.85 when the dividend is included. (Last season's Fonterra milk price was $3.90, with a dividend of 40c giving a total payout of $4.30).
McLean told interest.co.nz Westpac NZ was "very pleased" with price rises in recent GlobalDairyTrade auctions. He noted the 25% stress level was based on individual file reviews, going through each customer's budgets, "hundreds and hundreds of them."
"That was done at a time where we used a milk price forecast of $4.25. The forecast now has gone up quite a lot and we're increasingly comfortable. We think our provisions are very adequate and we think the outlook's very positive. But the only caveat I'd say is there is a lot of milk to flow under the bridge before that payout comes through so farmers still have to get through another year of very tight cash flows before we start to see the benefits of that increased payout coming through, and that assumes the current forecast is correct," McLean said.
The chart below, from Australian parent Westpac Banking Corporation, shows a quarter of Westpac NZ's dairy lending was "stressed' as of September 30.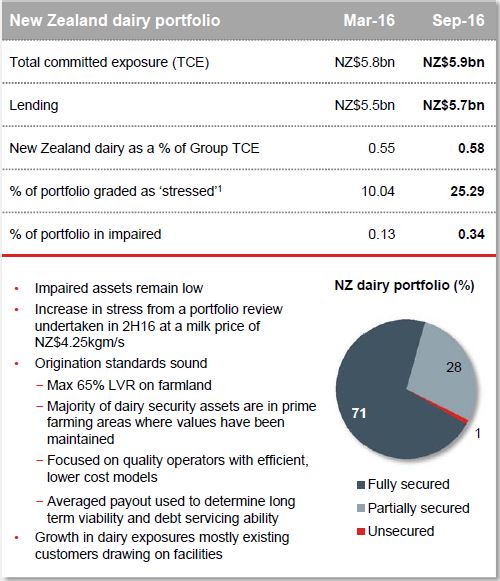 *1) Includes impaired exposures.
New service strategy
McLean said Westpac NZ early last year began working on a new service strategy with staff suggesting more than 1000 ideas to deliver faster and easier service. These were tested with independent service experts and a transformation office was formed within the bank to deliver key priorities by 2019.
"Change is the new normal for any customer service business and we aspire to be one of the world's great customer service companies. This is an exciting time for the business and we have established a good rhythm around the implementation of the service strategy," McLean said. 
Westpac NZ said some of the changes made in its 2016 financial year included: 
Customer benefits 
* Customer capability to sign, scan and send personal loan documentation. This not only saves the customer a visit to a branch but also 1000 hours every six months for our people
* Password reset online or by mobile. On average 130,000 customers call the contact centre per year to reset passwords. Being able to self-reset has cut those calls by 50% per year
* Posting a reminder to customers through Westpac One on missed payments saw 1000 payments made in 10 days saving late payment fees if paid during the grace period
* Giving customers the ability to identify themselves when they call the contact centre before a staff member answers has saved 50 seconds per call. 

Internal 
* Introducing Agile work methods in Technology has increased efficiency from 28% to 50% and has slashed the time to market of new products and services
* Providing new tools to frontline bankers has enabled them to deliver customers faster decisions on loan applications.
RBNZ should 'carefully consider' DTI impact on 1st home buyers
McLean said economic conditions through the September 2017 financial year are expected to be similar to those experienced during the 2016 year. With the Reserve Bank looking at introducing debt-to-income limits on residential mortgage borrowers, the regulator will "no doubt carefully consider" how these may impact first home buyers.
Westpac Banking Corporation posted a slight rise in annual cash earnings to A$7.822 billion from A$7.820 billion last year. The group net interest margin rose five basis points to 2.13%, but return on equity fell 185 basis points to 14%. The final dividend was unchanged at A94 cents per share, giving a full-year dividend of $1.88 per share, being a rise of 1c, and equivalent to 80.3% of annual cash earnings.
Here's Westpac NZ's press release. 
Here's the Westpac Group results release.