Prices of dairy products soar by 11.4%; Whole Milk Powder jumps 19.8% to a 2-year high; ANZ economists see 'upside risks' to milk price forecasts - perhaps to above $6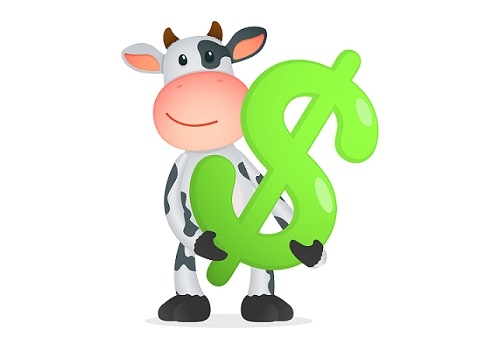 By David Hargreaves
A milk price for farmers of in excess of $6 per kilogram of milk solids this season is now seen as possible after a big leap in global dairy prices overnight.
In the latest GlobalDairyTrade auction, overall prices as measured by the GDT Index surged 11.4%.
However, the key Whole Milk Powder price did even better, rocketing 19.8% to an average US3,317 per metric tonne. That's the highest price since July 2014.
On September 21 Fonterra increased its 2016/17 forecast Farmgate Milk Price by 50 cents to $5.25 per kgMS on the back of the recent global price gains. When combined with the forecast earnings per share range for the 2017 financial year of 50c to 60c, the total payout available to farmers in the current season is forecast to be $5.75 to $5.85 before retentions. See here for the full dairy payout history. 
While a milk price possibly in excess of $6 this year would hardly be a return to the halcyon days of a few years ago for farmers (the price was $8.40 in 2014), it would be a big relief after two poor seasons of payouts - below breakeven for many.
And it is worth considering where we have come from. Fonterra's opening pick for a milk price this year was only $4.25. This was boosted to $4.75 only as fairly recently as August 25 and was then lifted again in September.
ASB economists, who not so long ago were out alone on a very long limb with a prediction of a milk price of $6, now see a "growing risk" that the actual price will surpass "our already bullish forecast" this season.
"At this juncture, we point out that prices have lifted earlier and higher than we anticipated," senior rural economist Nathan Penny said. "As a result, if NZ production is indeed as weak as we now anticipate, then prices are likely to stabilise at current levels, if not lift further. In this respect, we see an increasing probability that this season's milk price lifts above our current $6.00/kg forecast."
BNZ economists have now matched the ASB pick, with their own $6 forecast, up from $5.30.
AgriHQ analysts said dairy markets had "reacted sharply" to tightening milk supply in New Zealand.
Last week Fonterra announced it had reduced its milk production forecast for its NZ collections. It now expects to collect 1,460 million kg of milksolids (MS) in the 2016-17 season - 6.8% below the volume collected last season.
The reduction in milk collections prompted the company to offer less product for sale on the GDT platform. The volume of WMP available was revised down by 4.9% against forecast for the November 1 event. This left 14,600t of WMP available for bidders across the six delivery periods - 18% less than offered at the previous auction and also 18% less than was on offer in early November last year. 
"The lift in dairy commodity prices will be welcomed by NZ farmers who continue to battle with low returns. The cash flow of most NZ farmers will have deteriorated further in recent months as farm expenses typically exceed income levels during the spring period," the analysts said.
"This positive GDT result will put upward pressure on milk price forecasts."
ANZ senior economist Philip Borkin noted that short-dated contract, particularly for WMP,  rose sharply, "so there does appear to be an element of buyers scrambling to meet near-term demand against a backdrop of reduced local supply".
"But even so, forward curves have been marked higher in general too.
"The key question now is whether or not gains can be maintained, especially with the possibility of warmer temperatures seeing improved North Island pasture growth.
"Even so, farmers will no doubt welcome the move and it certainly suggests upside risks to milk price forecasts, perhaps into the low NZ$6 mark (per kg MS)."
Westpac economists raised their forecast milk price to $5.80 from $5.30. Westpac senior economist Anne Boniface said after several auctions when prices remained broadly stable, markets seemed to have reacted strongly to Fonterra's revised production estimates for the 2016/17 season.
"In particular, Chinese bidders were notably more active in the latest auction, crowding out buyers from other regions. This suggests a genuine concern about being left short of stock is helping drive prices higher."