Chinese conglomerate HNA 'will be a good owner' of UDC after the planned $660 million acquisition, ANZ says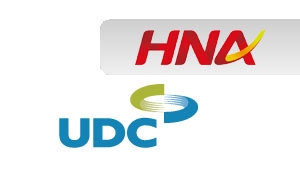 By David Hargreaves
ANZ says it has got no concerns about progress on the proposed $660 million sale of its UDC Finance subsidiary, and says Chinese conglomerate HNA Group "will be a good owner of the business".
When ANZ  announced the UDC sale in January, it said the deal was expected to close sometime late this year.
An ANZ/UDC spokesman, in response to a series of questions from interest.co.nz, said the deal was still progressing as originally envisaged.
"We've signed a sale and purchase agreement with HNA who we believe will be a good owner of the business," the spokesman said.
HNA has sought Overseas Investment Office approval for the deal. It is also going through the process of seeking approval from the Reserve Bank for the change in ownership of UDC.
Fast-growing
Comment was sought from ANZ/UDC after the emergence of questions in Asia about just how HNA has grown so fast.
The privately-owned HNA, evolving from a regional airline founded in 1993, has close ties with the provincial government of Hainan Island, and has gone on a massive acquisition spree.
According to The Beijing News, as of last August HNA had 454 majority-owned and wholly-owned subsidiaries across the world, including 11 enterprises listed on the mainland and in Hong Kong, ranging from airlines, to hotels and financial institutions.
HNA has embarked on its offshore shopping spree despite Beijing's tight control of outbound investment this year, the South China Morning Post reports. The SCMP says HNA has been supported by several of China's major banks, including a 100 billion yuan credit line from the Hainan branch of China Development Bank in 2015, and 75 billion yuan from the Export-Import Bank of China.
But separately the SCMP also reported that one of HNA's publicly-listed arms saw a plunge in its share price earlier this week after a fugitive Chinese tycoon made allegations tying the company's acquisitions to corruption involving Chinese leaders and their family members.
Political attention in NZ
In New Zealand the HNA/UDC deal has attracted political attention, with Winston Peters saying he would block it if he is in Government after this year's election. Last month interest.co.nz's Gareth Vaughan questioned whether HNA would be good for UDC, its staff, borrowers, depositors, and the NZ financial services sector as a whole.
Responding to questions, the ANZ/UDC spokesman said: "UDC is in great shape and we believe it has a bright future."
The spokesman said last month that as part of the sale deal, there will be a meeting of debenture holders, who number about 13,500, to vote on winding up the existing debenture plan. The spokesman said at the time it was hoped to update on the timing of the meeting and next steps, in a couple of months, subject to agreement with the Trustee.
Updating the situation this week, the spokesman said: "It will happen shortly, but we can't give a date at this stage."
UDC put under review
ANZ first indicated it was reviewing ownership of UDC, established in 1938, early last year.
Ratings agency S&P Global Ratings downgraded UDC's ratings in October simply on the prospect of a sale, and again in January after the sale announcement. It recently reiterated its earlier comments that the UDC long term rating may drop as much as four notches to B+ from BBB after the deal goes through. UDC's credit rating has already been cut five notches since October when it was AA-, equalised with its parent. See credit ratings explained here.
In the year to September 2016 UDC reported after-tax profits of $58.54 million versus a profit of $57.05 million a year earlier.
In the September financial year the secured investments on issue dropped by $144 million to $1.59 billion - but then dropped by another $132 million in just the next three months, totaling $1.46 billion by December 31.
The ANZ/UDC spokesman said the current numbers of secured investments were "in line with projections".
*This article was first published in our email for paying subscribers early on Thursday morning. See here for more details and how to subscribe.