The scale of New Zealand's infrastructure deficit is 'massive' and can't be fixed without billions of dollars of private capital – Jason Walls takes a look at how the Government plans to woo investors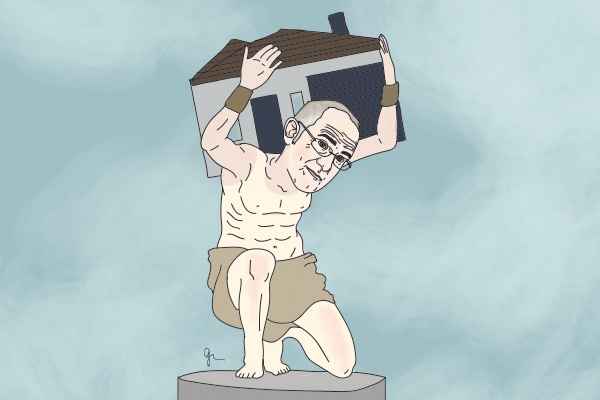 By Jason Walls
"New Zealand is open for business," Infrastructure Minister Shane Jones declared to some of the country's top transport officials last month.
With his trademark swagger and flair for the theatrical, he left the stage after just three minutes.
Jones had done what he needed to do – alert would be investors the Government is looking for infrastructure investment partners.
The message he sent was clear: without private capital and large-scale investment, New Zealand's infrastructure deficit cannot be repaired.
Finance Minister Grant Robertson and Transport and Housing Minister Phil Twyford have both said as much in recent weeks.
Prime Minister Jacinda Ardern highlighted the extent of the problem. It's so bad, she claims, that the Budget's primary focus will be repairing the deficit.
But her comments were not news to Infrastructure New Zealand chief executive Stephen Selwood, who describes the issue as "massive."
"Nationwide we have an enormous challenge in front of us."
Auckland Council's infrastructure deficit, which includes public transport, roading, water and housing, is estimated to be in the tens of billions of dollars. 
"The problem is just getting bigger and bigger. The evidence is clear," Selwood says.
A recent ANZ report found that because of under-investment, "infrastructure spending needs to be urgently undertaken on a range of fronts."
Over the last decade, New Zealand's population has grown by more than half a million people, half of which was during the last three years.
But public and private sector spending on infrastructure was flat between 2015-2017, according to the Ministry of Business, Innovation and Employment.
ANZ's data also shows new capital spending for each 1,000-additional people has fallen from $142 million in 2011/12 to $37 million in 2016/17.
Government and council's hands tied
But borrowing more money to address the deficit is problematic.  
Not only are councils – such as Auckland's, Tauranga's and Queenstown's – up against their debt limits, the Government has committed to getting core Crown debt to 20% of GDP by 2021/22.
Robertson is adamant that commitment won't be broken, so the Government has turned its attention to the private sector for infrastructure investment.
"We need to harness new sources of capital," Twyford says.
"We have to find sources of revenue within the high growth sectors – not just Auckland, but Tauranga and Hamilton as well – that will fund the marginal cost of growth."
One way of doing this is through special purpose vehicles (SPV) – a subsidiary company created for a specific project.
They are used as a way of ring-fencing any liabilities associated with the project, meaning the debt does not sit on the Government or council's balance sheet.
"That partly means the lenders have some assurance that there is an asset there that is not going to leave or won't be transferred out of corporate ownership," says NZIER principal economist Peter Wilson.
SPV's were used by the former Government, which set up Crown Fibre Holdings (CFH) to manage its $1.5 billion ultra-fast broadband roll out.
For that project, the Government partnered with a range of different private and public-sector players, including Chorus and Waikato Networks Limited.
Wilson says that project was a success.
CFH has since been repurposed into Crown Infrastructure Partners and Twyford says the Government will be scaling it up. Last week, he injected an extra $360 million into its war chest.
PPPs, land value capture and infrastructure bonds
Public-private partnerships (PPPs) – where the Government partners with private sector players to invest in infrastructure – will also be a significant tool for the Government.
Last week, $1.8 billion in seed financing arrangement funding was made available so a PPP could be achieved for light rail in Auckland.
"It wouldn't make any sense to pay cash upfront for a project of this scale that would have a lifetime of 100 years or more," Twyford says.
"It makes much more sense to spread the cost over multiple generations, so that's what we will be doing."
He says there will be a lot more PPP announcements in the future.  
Twyford also points to land value capture – the recovery of some of the increased land or property value created as a result of public transport – as an area where the Government "is doing a lot of work."
"Particularly in relation to the investments we're going to be making in the light rail system in Auckland."
He won't put a timeframe on it, only that the process "is underway."
Infrastructure bonds are also on the Government's radar, Twyford says.
A lot of interest
There is a lot of appetite from private sector players and large funds to partner with the Government on these projects, Twyford says.   
"Internationally, pension and wealth funds have built up quite a track record of investment in this kind of infrastructure."
Closer to home, the New Zealand Superannuation Fund has taken an interest in what the Government is proposing.
"The NZ Super Fund is interested in the possibility of providing investment capital and expertise to support the Government's priorities in the infrastructure, housing and forestry sectors, including leveraging our peer and co-investor network to bring in compatible investment partners from overseas," a spokesman says.
But there is still work to do before the Government can completely open New Zealand's infrastructure needs up to investors.
"One of the big issues for the Government is identifying a revenue stream that can be attached to the particular asset that can finance some borrowings," NZIER's Wilson says.
Put simply, investors have to be able to make money from the arrangement.
But who pays?
Twyford says the onus will have to fall on the users.
In the case of infrastructure bonds for new development, that means targeted rates.
"That could replace the current systems of financing infrastructure which is essentially the developer acting as a financing vehicle, supplemented by developer levies that the council charges the developer."
For transport projects, land value capture will be leveraged and for PPP motorway projects, Twyford says tolling will be used.
"That's the essential part of the equation really – putting together revenue streams that can support the debt."
Does this mean a more pay as you go system across New Zealand's cities?
"I think the answer to that, oddly, is yes," Twyford admits.
"We have to be willing to invest in transport infrastructure to lead urban [growth], not follow the growth 20 years later and subject people to decades of misery in the interim."
The next roadblock for the Government to overcome will be attracting the capital and setting up the projects.
That's where Shane Jones comes in.
A new beefed up Treasury unit
During April, Jones was sent to Australia on a fact-finding mission to assess how PPPs and SPVs operate across the Tasman.  
He agrees the infrastructure challenge New Zealand is facing is massive and private sector investment is needed.
To get New Zealand ready for the new wave of investment, Jones is beefing up Treasury's Infrastructure Board and turning it into a "robust infrastructure agency."
At the moment, that board is a "skeletal… small, obscure unit," he says.
"It needs to achieve Charles Atlas-like proportions, with the right sort of financial and policy acumen."
Jones has asked Treasury to prepare a paper, detailing options on what the unit would look like, which will be taken to Cabinet a few weeks after the Budget.
But in a nutshell, Jones says its job will be to provide high-level, top quality advice as well as finding and managing private sector investment into New Zealand's infrastructure projects.
And Jones is expecting a lot of investment interest. If his trip to Australia is anything to go by, he says there will be no shortage of investors lining up to invest their capital in the projects.
"New Zealand," he says "is open for business."