A resurrection; How Etana Custody Ltd, a company whose CEO & major shareholder has never been to New Zealand, got kicked off NZ's financial service providers' register and then got itself back on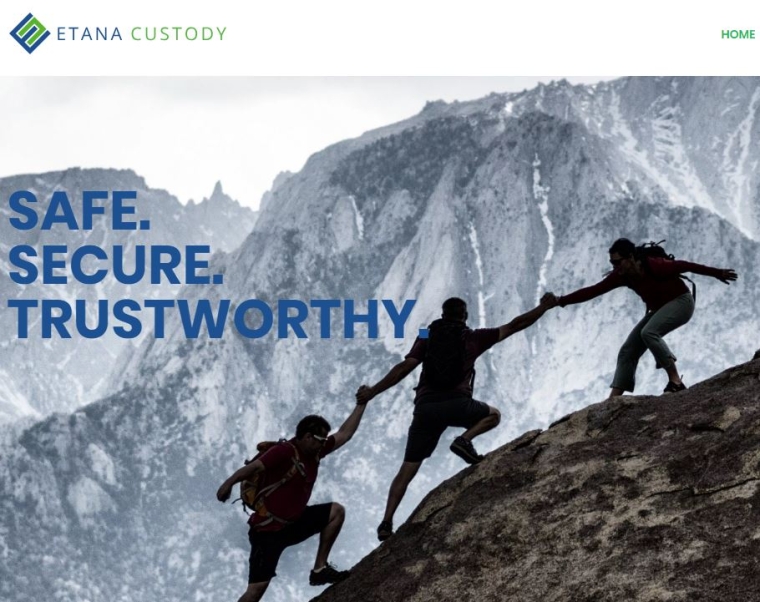 By Gareth Vaughan
A company controlled by someone who has never been to New Zealand giving its address as that of a virtual office provider in downtown Auckland, is removed by NZ authorities from this country's problematic financial service providers' register (FSPR).
That, you might think, is the end of this particular story. But in the case of Etana Custody Limited you'd be wrong. Kicked off the FSPR on July 18, 2017, Etana was able to re-register on June 14 last year.
Now, a New Zealander has contacted interest.co.nz about Etana having had the firm recommended to him by a cryptocurrency exchange he uses and being surprised at what he found.
"What is being allowed to happen here beggars belief. There appears to be a primarily Bulgarian-based online custodial service, controlled by an American-based British sounding individual, through an unlicensed, unregulated non-AML [anti-money laundering] compliant NZ shell company, providing among other things custodial services to clients of one of the most established and trusted cryptocurrency exchanges in the world," the New Zealander, who interest.co.nz has agreed not to name, says.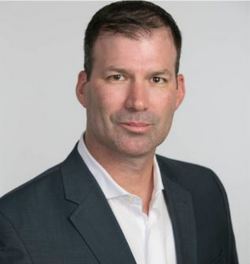 But Brandon Russell (pictured), Etana's Colorado-based CEO, director and 97% shareholder, says; "The business is legitimate, there's no question on that." 
Asked why Etana chose NZ, Russell says it did so for a number of reasons.
"First of all New Zealand is considered a western jurisdiction that is friendly to global markets, there is the ability to employ people at a reasonable rate, [and] the reputation of the country as a whole is good," says Russell.
Links to Ian Taylor
In 2017 Registrar of Financial Service Providers Ross van der Schyff kicked Etana, and three other companies, off the FSPR having found no evidence the four were providing the financial services listed in their registrations on the FSPR. Van der Schyff's action came after interest.co.nz revealed Etana and a series of other NZ registered companies were using ECS Ltd as their registered office and address for service in Companies Office records. ECS Ltd, in turn, gave its address as a Regus Business Centre in downtown Auckland, which provides office space and virtual office services including a business address, mail handling, telephone answering and free business lounge access. 
Following interest.co.nz's story, the Department of Internal Affairs issued a formal warning under the Anti-Money Laundering and Countering Financing of Terrorism Act (AML/CFT Act) to ECS Ltd, whose sole director and shareholder was Denis Petrov.
Petrov is an associate of infamous company incorporator Ian Taylor. Etana had Taya Burnett, Taylor's wife, as a director. Taylor, along with his father Geoffrey, is a notorious company agent. NZ police have received more than 350 criminal investigation enquiries from overseas relating to companies established by the Taylors.
But although Etana was removed from the FSPR, it was able to remain a NZ registered company, which it was incorporated as on May 30, 2014. Shareholder consent forms were in the names of SFX Markets LLC, Russell and Joel Gibson Kinney. All provided US addresses. According to its website, SFX Markets is the trading name of SFX Global Ltd, a St Vincent and the Grenadines foreign exchange trading company.
Director consent forms were filed by Russell and Brian Walter Johnson, an American living in Auckland at the time who was associated with a series of NZ registered, overseas operating unregulated foreign exchange, or forex, companies. These include FX United, the trading name of United Global Holdings Ltd, allegedly behind a Ponzi scheme that fleeced more than 70,000 Malaysian investors out of more than 1 billion ringgit (about NZ$359 million). 
Johnson stepped down as an Etana director in May 2015, with Burnett becoming a director in September 2015. Burnett provides a Gold Coast address. By law all NZ companies must have at least one NZ or Australian based director. In September 2017 Burnett was replaced as an Etana director by Grant Gibson, who was head of finance at Westpac NZ between 2001 and 2006. And in October 2017 Etana's registered office address and address for service was changed to Innov8HQ Ltd, a Dunedin company offering serviced and virtual office services.
'We moved to have Ms Burnett replaced immediately'
Russell says Etana did not work with Taylor and nor did he meet him or have any correspondence with him. The firm's previous registered agent, Johnson, appointed Burnett, he says.
"Upon discovery, which your article highlighted, we moved to have Ms Burnett replaced immediately and sought the appointment of a reputable, local director. Hence Mr Gibson," says Russell. "We terminated our relationship with Brian Johnson around the same time we terminated Ms Burnett."
Etana first registered on the FSPR on June 20, 2014. It was registered to provide a broking service, including a custodial service in both FSPR registrations. According to its website, Etana offers services to brokers, traders, introducing brokers and exchanges. Russell says Etana is not a Bulgarian operation. 
"We have sought and gained a legal opinion from a law firm in NZ [Turner Hopkins] validating our operation and model in addition to satisfying the FSP office."
What the FSPR is & its related problems
The FSPR is like a phone directory for the financial services sector. A company being registered on it doesn't mean it's actually regulated or licensed in NZ.
Anyone providing a financial service such as insurers, banks, fund managers and financial advisers, must be registered on the FSPR, which is operated by the Ministry of Business, Innovation & Employment 's Companies Office. The FSPR records the name, address and financial dispute resolution service membership of the provider, along with the services it's registered to provide and any licences it may have.
Trouble is the FSPR is open to exploitation by overseas based people with nefarious intentions. That's because a company can register on the FSPR if it has a place of business in NZ, regardless of where in the world its financial services are targeted or provided. This means entities can, and have, set up superficial operations in NZ through virtual offices, or by leasing an office and perhaps employing a person to provide back-office services.
These firms typically register to provide financial services that don't require licensing in NZ, such as foreign exchange, or forex, services. There's no pre-vetting by a NZ regulator, and they usually don't tend to offer financial services within NZ. These entities can, however, use their NZ registration overseas to give a false impression that they are actually regulated in NZ and trade off this country's good name.
In 2017 the Financial Markets Authority (FMA) told interest.co.nz it had received enquiries about NZ financial service providers from 83 countries, with 340 misconduct reports received from overseas about companies registered on the FSPR. The FMA now publishes online resources about the FSPR in Chinese, Malay and Arabic as these languages reflect the regions of the world representing the biggest number of complaints received from overseas by the FMA.
The Government is planning reforms to the FSPR through the Financial Services Legislation Amendment Bill currently working its way through Parliament. 
"Some mainly offshore-controlled entities have been 'free-riding' off New Zealand's reputation for sound financial markets regulation by using their registration to imply that they are actively regulated in New Zealand when that is not the case," Commerce and Consumer Affairs Minister Kris Faafoi said when the Government issued a consultation paper in April last year. (My dissection of the Government's plan is here).
'Our business is not going to have a physical footprint'
Russell says Etana is legitimate and it has NZ clients.
"I'm assuming that the reason that you've reached out to us again is because somebody complained or had a suspicion that there was something illegitimate about it. And that specific client is a mutual client of one of our clients that we do custody for. And they were providing them the option of custodian [services for] their assets with us, and using that as a method of distribution for their digital facing business they do," says Russell.
"Clearly we are doing business with New Zealand clients just based on that alone, and we do have other New Zealand clients as well. We are very much a fintech company which is the reason why our licence, or our registration sorry, was reinstated. Because we showed them [the FMA] over a six month period that we had spent over $400,000 on tech development and that the reason we weren't active previously was because we were still in the beta phase. We're no longer in a beta phase, we are actually operational now. We do take on New Zealand clients and we're still heavily fintech driven, which means that our business is not going to have a physical footprint, which is not unusual for technology companies at all," Russell says.
 A broker or custodian offering services to the NZ public does not have to be licensed by the FMA.
'The FMA must have a legal basis for refusing permission to register on the FSPR'
So what do the Companies Office and FMA say about Etana being allowed bank on the FSPR after been removed from it?
A Companies Office spokeswoman says when a new application for registration was received from Etana on February 1 last year, it was assessed with van der Schyff forming the view that it was desirable for the FMA to consider whether Etana should be registered and to thus direct van der Schyff.
This, the spokeswoman says, is the appropriate course for van der Schyff as Registrar to take when he considers the registration of a financial services provider has, will have, or is likely to have the effect of;
(a) creating, or causing the creation of, a false or misleading appearance with respect to the extent to which it;
(i)            provides, or will provide, financial services in New Zealand; or
(ii)           provides, or will provide, financial services from a place of business in New Zealand; or
(iii)          is, or will be, regulated by New Zealand law in relation to a financial service; or
(b) otherwise damaging the integrity or reputation of -
(i)            New Zealand's financial markets; or
(ii)           New Zealand's law or regulatory arrangements for regulating those markets.
"After considering the application the FMA decided to not use their powers to prevent registering the new application of Etana on the FSPR, and the Registrar therefore had no grounds to prevent the financial service provider from registering and the application proceeded to registration on 14 June 2018," the Companies Office spokeswoman says.
"We suggest that any further queries regarding [to] the registration of Etana be referred to the FMA for response."
An FMA spokesman says when an application is referred to the FMA, it engages with applicants extensively, requesting further information to help FMA staff understand the applicant's business and why they should be registered.
"Our FSPR report published in 2017 noted that businesses or individuals are dedicating more resources to the process and seeking more legal advice, providing far more detailed information about their prospective operations and the individuals involved. The process has become more in-depth," the FMA spokesman says.
"The FMA must have a legal basis for refusing permission to register on the FSPR. Where there are no legal grounds for refusal, the FMA cannot prevent registration."
"The FMA continues to aim to prevent businesses and individuals damaging the integrity and reputation of New Zealand's financial markets. Two cases involving the New Zealand based directors of FSPR registered businesses remain before the courts," the FMA spokesman adds.
No oversight under NZ's AML/CFT Act
Asked whether Etana is a reporting entity supervised under the AML/CFT Act or not, the FMA spokesman says; "Currently the AML/CFT supervisors are considering how virtual asset service providers, which may include companies such as Etana, fit within the AML/CFT framework. We are also considering Etana's status, as a reporting entity and who the appropriate supervisor is."
NZ's AML/CFT Act supervisors are the FMA, Department of Internal Affairs and Reserve Bank.
The New Zealander who contacted interest.co.nz about Etana says the firm was recommended to him by the US-based cryptocurrency exchange Kraken as an option for transferring money to NZ after Kraken disabled SWIFT for international clients.
"On the basis of Kraken's recommendation, and my presumptions that Etana had been properly vetted by Kraken, I proceeded to sign up with Etana and went through their KYC [know your customer] and AML process and was verified. But consequent interaction with support staff when setting my bank account details caused me to question the professionalism of the people I was dealing with. Consequently I proceeded to do my own due diligence," the New Zealander says.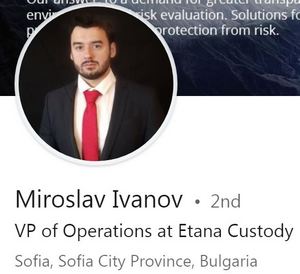 "It became clear that Etana was being run out of their Bulgarian office. I directly asked Etana through their website interface whether Etana was licensed and regulated. I was given a reply by the vice president of operations Miroslav Ivanov [pictured], whose LinkedIn profile indicates that he is based in Bulgaria. His reply [was] that Etana was regulated and licensed. I contacted the FMA who confirmed via email that Etana was not licensed, nor regulated."
Kraken has not responded to requests for comment. Etana is also listed as a strategic partner by Singapore cryptocurrency trading platform COSS.IO.
Outsourcing services to Bulgaria
Russell says Etana has three staff in Denver, Colorado and outsources compliance and account management to Bulgaria, where its technology was initially also provided from. He also says Etana partners with Thomson Reuters to provide AML and KYC services.
"If there's no [regulatory] box for you to fall into what are you meant to do? If I could get guidance from any regulatory body that said 'hey can you register [as a NZ AML/CFT reporting entity] with us right now' I would do it in a heartbeat. I've just not got that," Russell says.
Russell, who says he grew up in Cape Town and has one South African and one British parent, acknowledges he has never been to NZ. However he says he's coming in late March to interview candidates for a sales position, compliance position, a "management type" position as he seeks a director to succeed Gibson. Russell says he'll also be speaking to an auditing company Etana plans to work with, and a local bank it's seeking a relationship with.
How did Westpac's ex-head of finance become involved?
Gibson says he became involved with Etana after being contacted by a close personal friend who had been approached to become a director of Etana himself by a friend from London. 
"He felt my skillset was a better matched than his, being involved in a fast growing tech business, with a SaaS [software as a service] model, and my financial background through working previously with Westpac," says Gibson.
"I agreed to become director after phone meetings with the CEO Brandon Russell and associates, and investigating the business concept and people behind the idea. The model is interesting, and does provide a significant opportunity for growth as the custodian/brokering sector changes as new technology becomes available. I received comfort that there was a real intention of establishing a New Zealand processing, management, customer base as part of the growth phase when the software was developed, and able to be rolled out. I believe this has a big opportunity to be a sizeable successful company."
Gibson says when he became involved, Etana's platform was still being developed, and there were no paying customers or transactions.
"To provide myself a base, Innov8HQ was selected to provide office and meeting facilities. This was close to my current location of home and work.  At present, there are no employees in New Zealand."
Gibson quits
Gibson says Etana was re-registered on the FSPR "after an extensive review of the operations by the authorities." 
"This included full disclosure of the proposed business model, technology and people involved. I am comfortable that the approach taken by the regulators was full and complete, and provided me comfort in my continued relationship with Etana as a company. The disclosure was full and open, and the investigation was thorough," he says.
"As with technology companies, there have been delays and changes with the business model and technology, and Etana is still at the early stages of product release.  However these changes, as it further understands the markets and pivots to make the best opportunity of these, have resulted in changes to the original concept, which is moving further from my expertise.  As a result, I indicated my intention to resign as director to the CEO [Russell] on the 15th of February," says Gibson.
Gibson says he doesn't have any concerns that Etana might be using NZ as a flag of convenience to get a registration, from which it can then piggyback off the country's good reputation overseas where it can operate unregulated.
"What has given me confidence and comfort is the involvement I've had with Brandon all the way through and the technology, understanding where we're heading. The regulator's have spent a lot of time reviewing the business model. Everything has been open and above board. It is a different model than what has traditionally been in the market, but I think it's exciting and the way of the future. And I think there's a good opportunity for New Zealand to be involved in it. And that's the intention, that's why I got involved in it," says Gibson.
Russell says Etana is interviewing three potential candidates to replace Gibson.
Confusion over 'registration' and 'licence'
Despite incorporating as a NZ company as long ago as 2014 Russell still describes the company as a start-up. He says it spent three years building its technology.
"We weren't going to build our business on the assumption that we could get some kind of licencing without actually getting it. We got our licencing first and lay dormant while we built everything out."
Here, as in other responses when speaking to interest.co.nz Russell describes Etana as having a licence or being licensed. This isn't the case. As noted above the company is registered on the FSPR. It doesn't have any NZ licence. Russell acknowledges this, corrects himself on a couple of occasions, and says he does understand the difference between a mere FSPR registration and being licensed and formally regulated.
He says Etana has "applications for other regulatory jurisdictions that are in play at the moment but have not been approved yet." He won't name where these are. Nor will he name what he describes as "tier one banks" Etana works with, saying they don't want to be named.
Ivanov does not appear to understand the difference between being registered on the FSPR and actually being licensed and regulated, based on the exchange below provided by the New Zealander who contacted interest.co.nz about Etana.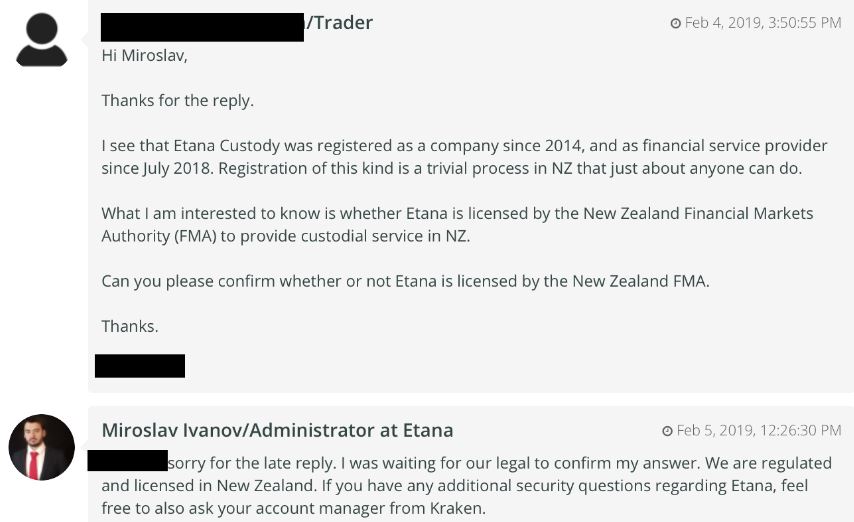 The SFX Markets link
In terms of  SFX Markets, Russell says it was meant to be an early Etana investor.
"But they never put up capital and so they were exited. SFX were the ones who recommended we use Brian Johnson." 
Russell says he is Etana's main beneficial owner and his working background is with FX, or foreign exchange companies. This includes working with retail FX brokers, "bridge companies" providing a link between broker platforms and liquidity providers, and traditional capital market liquidity providers. Many of these were "essentially retail FX brokers" setting up in jurisdictions like NZ, Vanuatu, the Cayman Islands and Panama.
"Basically anywhere that you could set up an FX brokerage, get regulation light and start running an FX business."
*This article was first published in our email for paying subscribers early on Monday morning. See here for more details and how to subscribe.