RBNZ says a digital version of the Kiwi dollar would both support the value-anchor role of central bank money, and support its ability to act as a fair and equal way to pay and save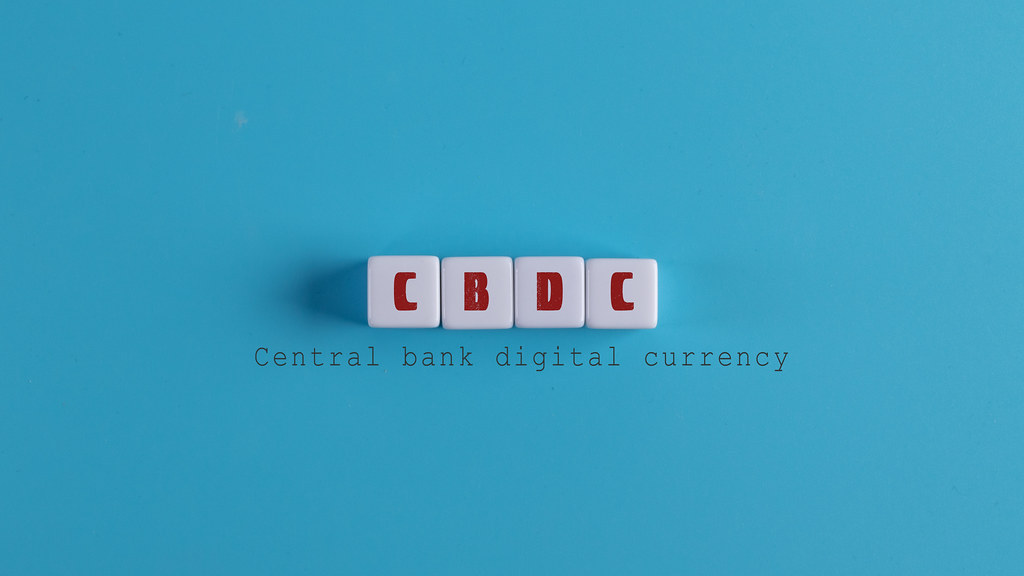 The Reserve Bank's not saying when it will happen - but it looks like it will, although it may be some years away.
Our central bank is seeing a lot of potential in the idea of adding a digital version of our currency, alongside the cash it currently issues.
We already have digital money in this country and we all use it. It's what is in our bank balances - that is digital money. But by definition that's 'privately issued' digital money because its only effectively guaranteed by our bank. Cash is different. It's issued by the Reserve Bank and effectively guaranteed by the Government.
So a digital version of the currency - issued by the RBNZ and available for everybody - would be guaranteed in the same way and might therefore be used for things like making payments. People could convert 'private' digital money in their bank accounts into official RBNZ digital money.
In the issues paper the RBNZ has released on the subject, it says a Central Bank Digital Currency "would be a useful development for central bank money".
"...it would both support the value anchor role of central bank money, and support the ability of central bank money to act as a fair and equal way to pay and save." 
The exact costs and benefits of a CBDC "will depend very much on specific design details that we are not yet at the point of considering".
The RBNZ has come up with these design principles for a CBDC: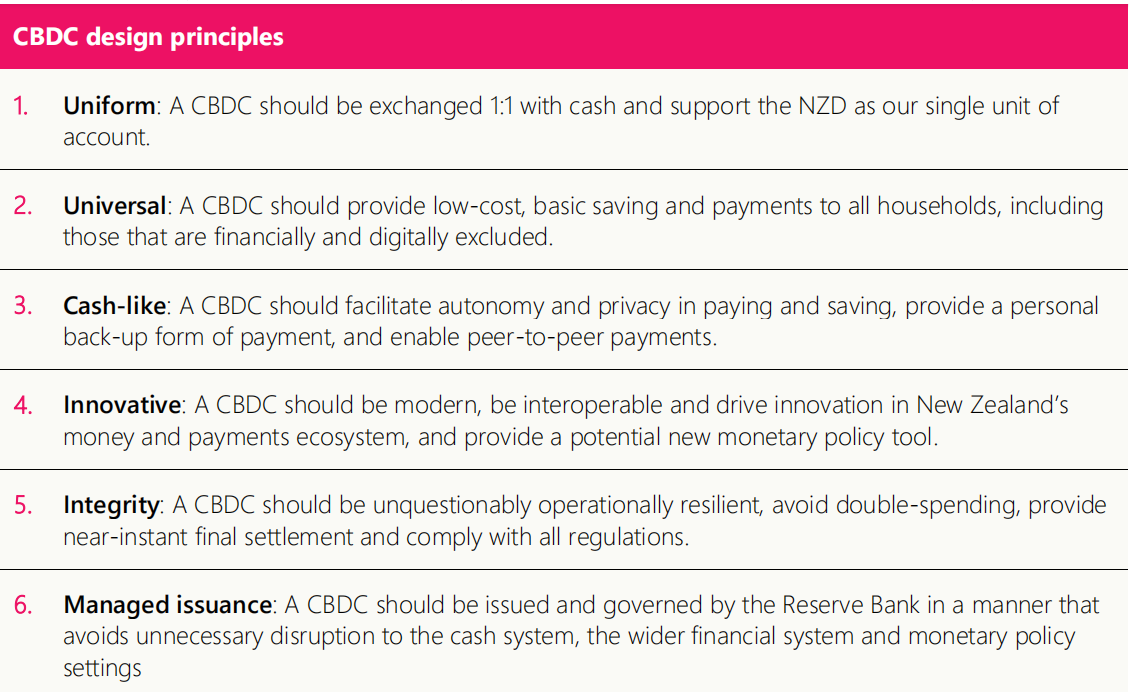 The RBNZ says the issues paper is intended to explain to the public "how we see the abstract advantages and disadvantages, costs and benefits, and risks and opportunities that a CBDC might offer".
It's one of two issues papers the RBNZ has released around the future of money, with public feedback sought by December 6. There'll be a further issues paper - specifically around cash - to be released in November.
The RBNZ says Developing a CBDC would require long lead times "given the inherent complexities, multiple design choices and policy choices to be made".
"This means we will need to take a multi-stage approach to policy development, with this Issues paper being the first of many should we confirm our position on the case for a CBDC."
The RBNZ says a CBDC directly supports the role of central bank money as a value anchor by:
Providing individuals and businesses with the option of converting privately issued money into a digital form of central bank money (ensuring the long-term convertibility of private money into central bank money).
Improving the technological form of central bank money to ensure it remains relevant in a digital future.
Providing an additional monetary policy tool (by it being either issued to provide monetary stimulus, or interest bearing).
There are potential problems though.
The RBNZ says "careful consideration" is required of how a CBDC may affect the banking sector.
And it says as with other forms of digital money, a CBDC must be "operationally resilient to outages and cyber security risks, maintain data privacy, and it would need to comply with all relevant regulation".
And also, while a CBDC has the potential to act as a catalyst for innovation and competition in the wider money and payment ecosystem, "we will have to consider the potential for it to crowd out innovation".
The RBNZ notes that most people in New Zealand prefer to pay and save in digital money rather than physical money. Electronic transaction accounts (which hold digital money issued by commercial banks) make up over 90 percent of outstanding liquid (M1) money balances.
Meanwhile the use of contactless card payments has been increasing.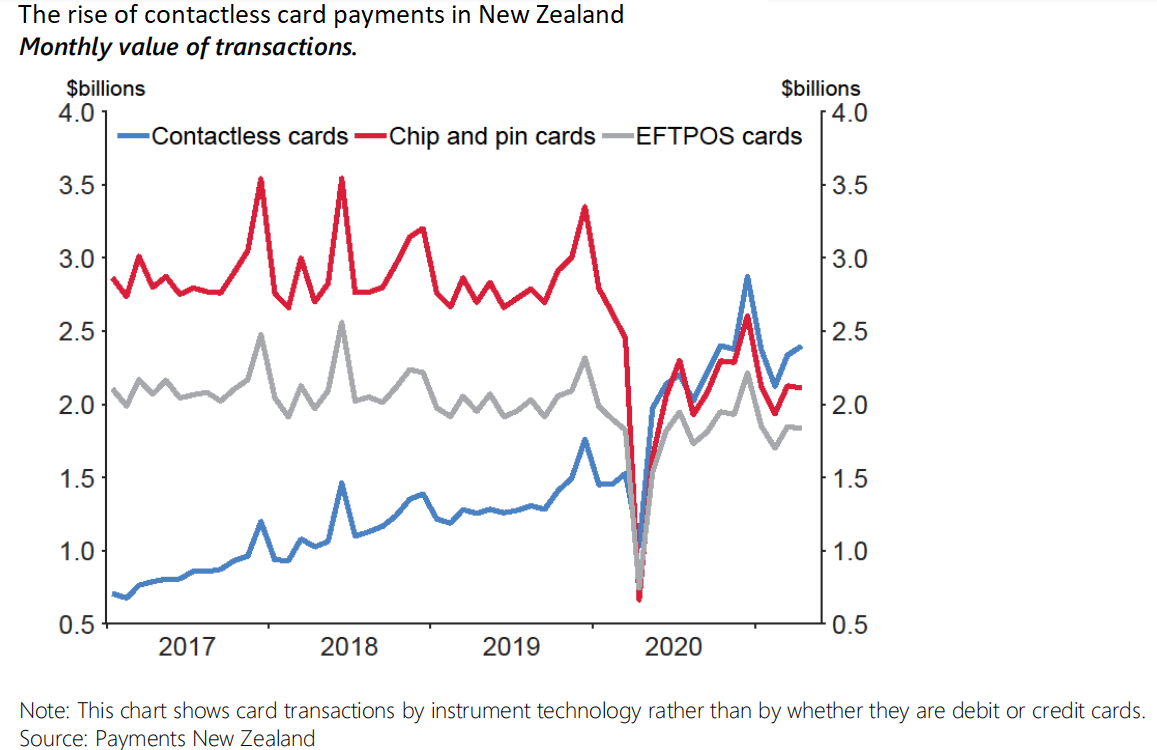 "Our 2020 cash use survey found that contactless card payment was the most preferred payment method (36% of New Zealanders).
"The Covid-19 pandemic accelerated these trends towards digital money and payments, with lockdowns and social distancing requiring a greater use of e-commerce, remote and contactless payments and internet banking."
The RBNZ notes that it is "not alone" in looking at CBDCs, with an increasing number of central banks researching the subject.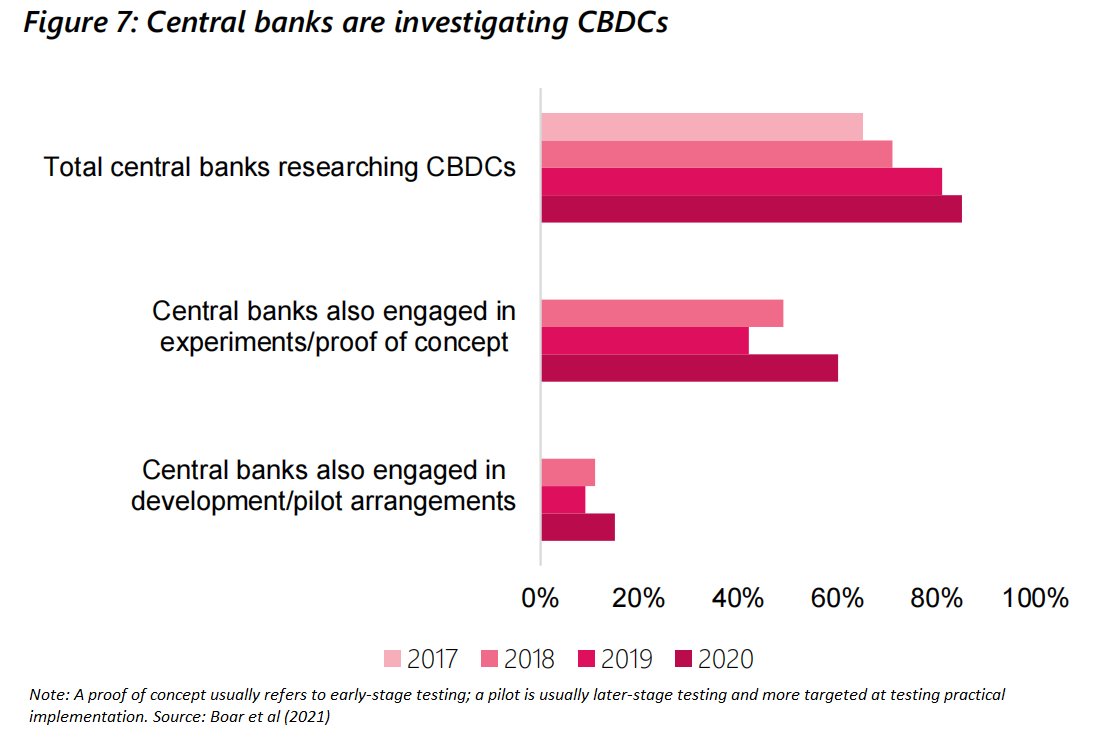 "The specific motivations for this research differ by country," the RBNZ says.
"Broadly, central banks in advanced economies are motivated by monetary sovereignty objectives due to emerging innovations in private digital monies (such as global stablecoins) and declines in the use of cash. They are also motivated by opportunities for increased payment safety and efficiency, including for cross-border payments."
The RBNZ says cash appears to be useful to people as a store of value, particularly in times of uncertainty. Cash in circulation in New Zealand increased by approximately $800 million at the beginning of the pandemic.
"However, in 2020 only 9% of New Zealanders preferred to use cash as their main way of paying (down from 12% in 2019), and its distribution model is becoming more fragmented.
"The important point here is that in order for a value anchor to be effective it has to have transactional relevance.
"As cash becomes harder to obtain and use, its scarcity negatively affects the value anchor aspects of central bank money.
"Secondly, private innovations in new forms of money are emerging globally. Some of these new forms of money might sit outside current financial sector regulations or be denominated in new units of account (i.e. not NZD).
"Notably, large technology companies have proposed issuing global stablecoins. These instruments promise more efficient and innovative means of paying and might obtain rapid global adoption due to the market power of their issuers.
"Central banks and regulators around the world have responded to the prospect of global stablecoins by making clear their potential risks, issuing statements requesting that these risks be managed and investigating the potential for CBDCs as alternatives.
"If a global stablecoin were issued successfully in New Zealand, the Reserve Bank could face a scenario where a potentially large number of transactions and savings would be conducted outside NZD and offshore. This could limit our ability to use monetary policy to influence interest rates and therefore inflation and employment targets, which would mean a loss of monetary sovereignty for New Zealand."
The RBNZ at this stage is talking about a 'general purpose' CBDC that would be available for all.
Benefits would include, for example, that a CBDC could increase the "transactional relevance" of central bank money by providing instant electronic peer-to-peer settlement—a service that is currently not provided by the private sector.
"Instant settlement is both more convenient (it reduces the need to wait for payments to show up) and safer (it reduces the likelihood of payments failing to be settled after they have been instructed). Electronic peer-to-peer settlement would be particularly useful for in-person transactions such as at farmers' markets and in marketplace trades.
"Beyond that, a CBDC could also be designed to capture more advanced technological benefits, such as those being proposed by stablecoin developers. For example, a token-based CBDC could enable the execution of contracts or certain actions to be 'programmed' into the money itself, thereby reducing the need for manual or third-party processing and generating efficiencies."
A CBDC could also be used as an additional monetary policy tool (used to influence interest rates) if the Reserve Bank issued it as an intervention akin to the Large Scale Asset Purchase (LSAP) programme commenced last year, which aims to lower borrowing costs to households and businesses through the Reserve Bank injecting money into the economy by buying government bonds from banks in exchange for electronically created money, or if the Reserve Bank charged or paid interest on CBDC balances.
"Charging or paying interest on household and business CBDC balances would provide a more direct transmission of monetary policy (compared to relying on commercial banks to pass on rate changes) but could be unpopular. It may also be technically challenging to charge interest on a token-based CBDC without New Zealand losing its single unit of account."
The RBNZ would also see a CBDC as improving "financial inclusion".
"A CBDC could directly provide basic saving and payments for those who are unbanked or underserved by the private sector by offering basic services at low or subsidised prices. This would recognise the positive benefits that are generated for all New Zealand when everyone is included in the financial system. Providing CBDC as a public good would set it apart from private digital monies and payment systems."
In terms of risks, the RBNZ says a CBDC, like all electronic payment systems, "would be exposed to cyber security threats, operational outages and data privacy breaches".
"These risks could be elevated if the CBDC were built on a new or untested system, such as a distributed ledger, or if it became a target of cyber criminals. The realisation of any of these risks could have significant impacts on public trust in the CBDC and the Reserve Bank. The Reserve Bank has high requirements for the reliability, scalability, throughput and resilience of its existing systemically important payments and settlement systems, and these would also apply to a CBDC."
And then there's the potential impact on existing banks.
"...If demand for a CBDC were high, banks might face runs on their transaction accounts for CBDC. Due to the low-credit-risk nature of central bank money, the risk of a large-scale run from deposits in transaction accounts to a CBDC might be increased during times of financial uncertainty.
"This risk is not new; bank depositors can already run to cash or safer digital assets. But a CBDC may increase the run risk if it is a) easier and faster to obtain than other safe bonds and assets, and b) there are no costs for, or limits to, holding large sums of CBDC established in the CBDC's design and operational rules."
The RBNZ also notes that transaction accounts represent the lowest cost form of funding available to commercial banks.
"If banks lost a large portion of their funding to a CBDC they would need to increase their funding through more expensive means (such as offshore wholesale markets or by increasing remuneration on transaction accounts).
"As their cost of funding increased, banks could become less profitable. This is less significant for financial instability, as New Zealand banks have robust profit buffers and (incoming) higher capital requirements.
"However, a greater reliance on wholesale funding could result in New Zealand banks being more susceptible to downturns in overseas markets.
"It could also reduce their ability to comply with the Reserve Bank's prudential liquidity policy (BS13). Banks might also respond to lost funding by reducing credit or increasing the price of lending. This could have negative impacts on New Zealand's real economy if it contradicted our monetary policy setting. If households and firms find it very difficult to borrow it could ultimately lead to a credit crunch and a reduction in real economic activity."
The RBNZ says further work is required to understand how large the demand for a CBDC could be, where this demand could come from (i.e. would a CBDC reduce cash holdings or transaction accounts?), how it might change as the financial or economic environment changes (i.e. materially worsens), and what the likely responses might be from the private sector and consequently the likely impacts on credit.
"These relationships would in turn depend on how the CBDC was designed and what limits might have been put in place.
"Given the identified range of risks to the banking system, the Reserve Bank would need to consider how it would manage the issuance of a CBDC and ensure an orderly and non-destabilising introduction."