Reserve Bank says it wants to ensure that our central bank money remains a stable value anchor for the monetary system and available as a fair and equal way to pay and save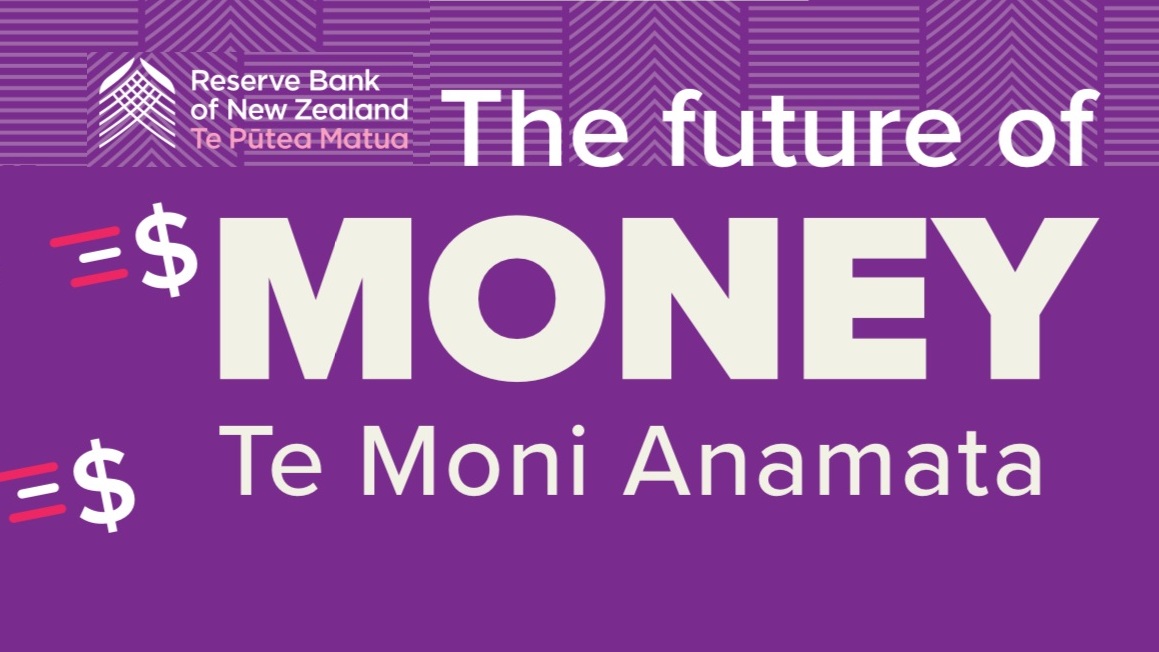 The Reserve Bank wants to know what we think about money. And some pretty big decisions appear to be looming, based on what we say.
Specifically the RBNZ is seeking public views on its newly-acquired role as "steward" of the cash system and also on the possibility - though no timeframes are suggested - of introduction of a digital form of the New Zealand dollar. The bank had earlier indicated it was going to be seeking public views on introducing a digital currency.
It is stressing, however, that it won't be getting rid of cash, as research shows about 6% of the population still depend on cash.
It has issued two "issues papers" for public consultation, with feedback open for 10 weeks, closing at 10am on December 6.
The papers are: The Future of Money – Stewardship and The Future of Money – Central Bank Digital Currency.
In November a third issues paper will be released that will set out the issues facing the cash system and "explore high level options to achieve greater efficiency and resilience".
The RBNZ has now for some time been putting a lot of work into the future of cash, which it is now restyling as the 'future of money'.
Involved in this has been the RBNZ acquiring its 'stewardship' role, which the bank is now elaborating on. 
The Reserve Bank of New Zealand Act 2021, ('the Reserve Bank Act') was passed by Parliament in August. It recognised the Reserve Bank's role as overseeing the end-to-end functioning of the cash system, ensuring that cash in New Zealand meets the needs of the public, and monitoring and assessing the impacts of technological innovation in money and payments on the public's need for cash.
A new department within the RBNZ has been created - the Money and Cash Department – Tari Moni Whai Take – to support the Reserve Bank's enhanced focus on money and cash issues.
RBNZ Assistant Governor Christian Hawkesby says the bank is seeking public input on how it should perform its role as steward of money and cash, and how it should assess whether to offer central bank money in a digital form alongside cash.
"As steward we want to ensure that our central bank money remains a stable value anchor for the monetary system and available as a fair and equal way to pay and save - so ensuring that New Zealanders have access to money in forms that suit them and their changing needs.  These outcomes mean that New Zealand keeps its monetary sovereignty," he says.
On a Central Bank Digital Currency (CBDC), he said this would see the "features and benefits of cash enjoyed in the digital world, working alongside cash and private money held in commercial bank accounts".
"It could make for much more efficient and integrated platforms benefitting individuals and businesses, as well as protecting monetary sovereignty. However, any decision to issue a CBDC would need to carefully consider operational risks, such as cyber security, and impacts on the financial sector," Hawkesby said.
The issues paper on CBDCs seems to clearly favour introduction of an NZ digital currency, but the RBNZ is stressing that work is at a very early stage and much more discussion would be needed. No timeframe has been given - but indications from the language used in the document are that we would be looking at some years ahead.
In the other issues paper, the idea of privately introduced 'stablecoins' is discussed, seemingly with a fairly open mind as to these potentially being useful operating alongside the official currency. The so-called stablecoins are like a type of cryptocurrency, but backed with assets of equal value fiat currency. 
The RBNZ cautions that there are various potential problems with them, however.
It was the Facebook-led proposal for a stablecoin, originally called Libra, now called Diem, that provided an extra catalyst for much of the central bank work going on around the world on digital currencies.
But in the meantime, there will still be cash..
"We want people to know that the case for keeping cash is well understood and accepted by the Reserve Bank.  Cash is here to stay for as long as some of us need it," Hawkesby said.