In a new consultation paper the Reserve Bank says that without a 'policy response' the cash system may be unable to meet its objectives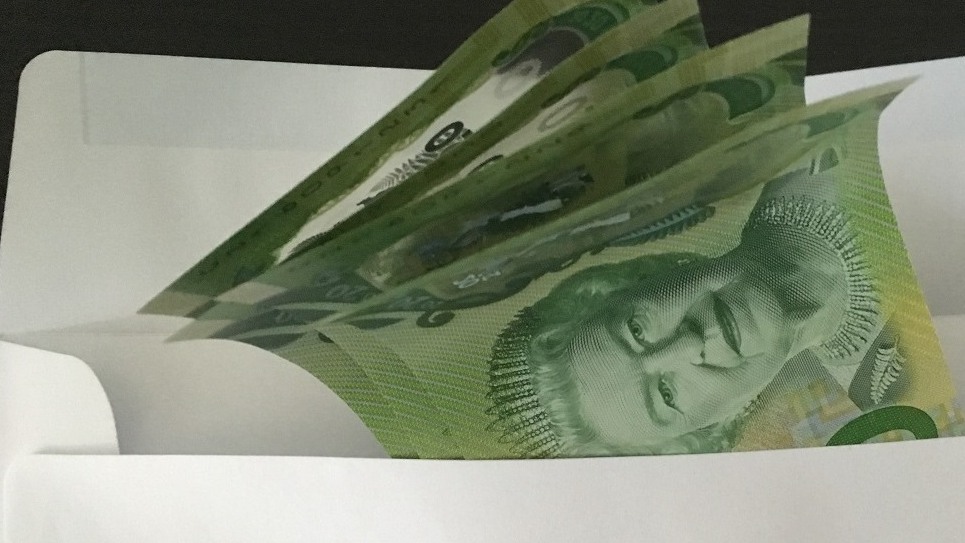 The Reserve Bank says the means of physically distributing money - the 'cash system' - is facing significant issues as the use of cash continues to decline.
And it says in the absence of a "policy response", the ability of physical cash to perform its role as a "trusted value anchor" for private money and the wider financial system will be under threat. ('Private' money includes digital money in bank accounts.)
"In other words, the cash system will be unable to meet our objectives," the RBNZ says.
It has released a discussion document 'Future of Money - Cash System Redesign' that looks at the issues around cash - and suggests solutions. This is the third discussion document in the RBNZ's Future of Money programme series. Submissions are being sought on the latest document by March 7, 2022 and the RBNZ is planning to have a summary of all the submissions to the three documents issued by April next year.
The RBNZ says the need for a policy response in the face of declining cash usage and the issues that is causing is "significant and urgent".
"We conclude that, in the absence of a policy response, the cash system will not be fit-for-purpose: the cash system's lack of resilience will become acute; the ability of cash to perform its role as trusted value anchor for private money and the wider financial system will be under threat; and there will be a considerable reduction in the contribution cash makes to financial and social inclusion."
The RBNZ estimates that overall the cash system currently "absorbs resources" worth around $600 million to $900 million annually. The bulk of these relate to merchants accepting and dispensing cash.
It says that a customised report based on Statistics New Zealand's Household Economic Survey ('HES') that records data on payment methods shows that in 2019 cash was used for 13% of transactions, down from 30% in 2007.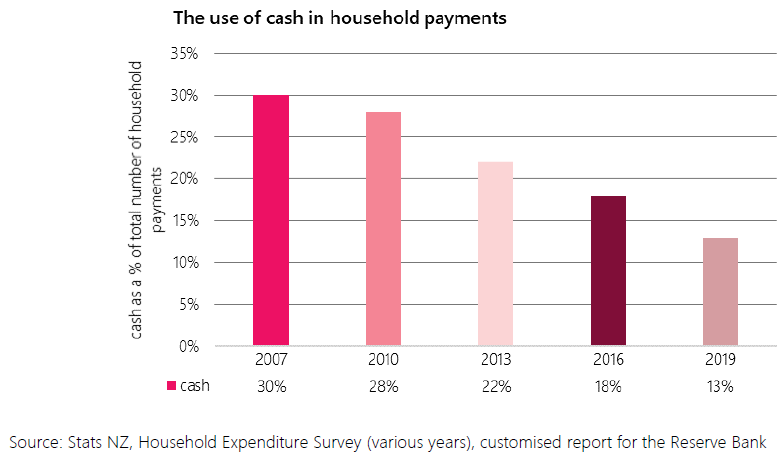 "We expect an even lower figure when findings from the 2021 HES survey are released in 2022. The HES shows that the use of cash in transactions has been on a steady decline since 2007, when payments data was first collected in the survey."
The RBNZ has been surveying the public on cash use since 2017.
"The surveys, while disrupted by the Covid-19 pandemic, suggest there has been a reduction in the number of people using cash as a way to pay (71% of New Zealanders in 2020, down from 96% in 2017 and 2019.
"Whilst the decline in bank branches began prior to 2017, in the period since 2017 alone the five large banks have closed over 25% of their bank branches, and many remaining bank branches appear to have begun operating on restricted hours.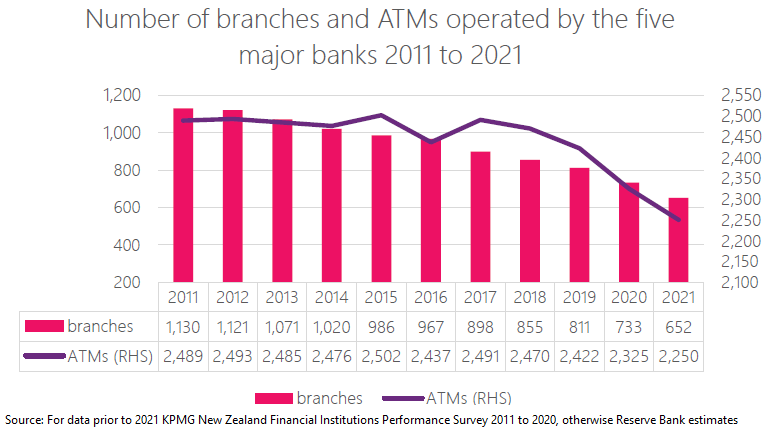 "Based on the HES data, New Zealand appears to be among a small group of advanced economies that could be said to constitute the global 'vanguard' of declining cash use. Among the advanced economies, only the Nordic countries appear to report similarly low cash usage."
The discussion document says that in the RBNZ's view, cash continues to perform well as a value anchor as there is no apparent crisis of confidence in New Zealand-dollar-denominated money.
"However, we are not complacent. The decline in access to cash is affecting some people's trust and confidence in banks. For example, the Banking Ombudsman has reported to us that some members of the public express concerns to them about the security of banks, particularly where banks appear to limit the ability to transact with cash."
The document says cash can only perform its role as a trusted value anchor for private money and the wider financial system if converting private money to cash is easy.
"That means the infrastructure that enables this is widely available, efficient for users, and resilient."
In the absence of a policy response, there is likely to be a 'tipping point' at which the network effects of a diminished cash system act to undermine the value anchor role of central bank money.
In the absence of a policy response, it seems likely that the use of cash in transactions will continue to fall, to the extent that cash might practically cease circulating at all, the RBNZ says.
"Households and small businesses with surplus cash will store it rather than deposit it at their banks; large merchants might gradually replace cash-enabled self-service checkouts with card-only checkouts reducing their need for CIT [cash-in-transit] services; banks will largely succeed in migrating their personal and small business customers to a digital-only bank service model at the expense of genuine choice; pay-to-use ATMs will expand, but taking only some of the business formerly done by bank free-to-use ATMs; and households will transact almost entirely using digital payment instruments, using cash only for cultural activities and then at considerable expense.
"The counterfactual scenario we present does not seem unrealistic given that it bears a close similarity to the present-day reality in some of New Zealand's more remote communities."
In terms of solutions, the RBNZ says as well as consolidating similar physical infrastructure, integrating functions vertically has the potential to save costs. Combining the supply, maintenance and on-going replenishment of ATMs within one entity, for example, may lead to operational efficiencies and reduced overheads. Business reorganisations of this nature are being witnessed in cash systems around the world.
"We currently conceive of the collaboration in the form of the creation of a 'utility entity', a stand-alone legal entity that could be jointly owned by a number of parties and performs a clear set of agreed functions within the system. One or more utility entities could be required."
A relevant question, however, is, 'Who should pay for the costs of the system: bank customers when they access their account; bank shareholders; taxpayers; merchants; or providers of payment options that compete with cash?'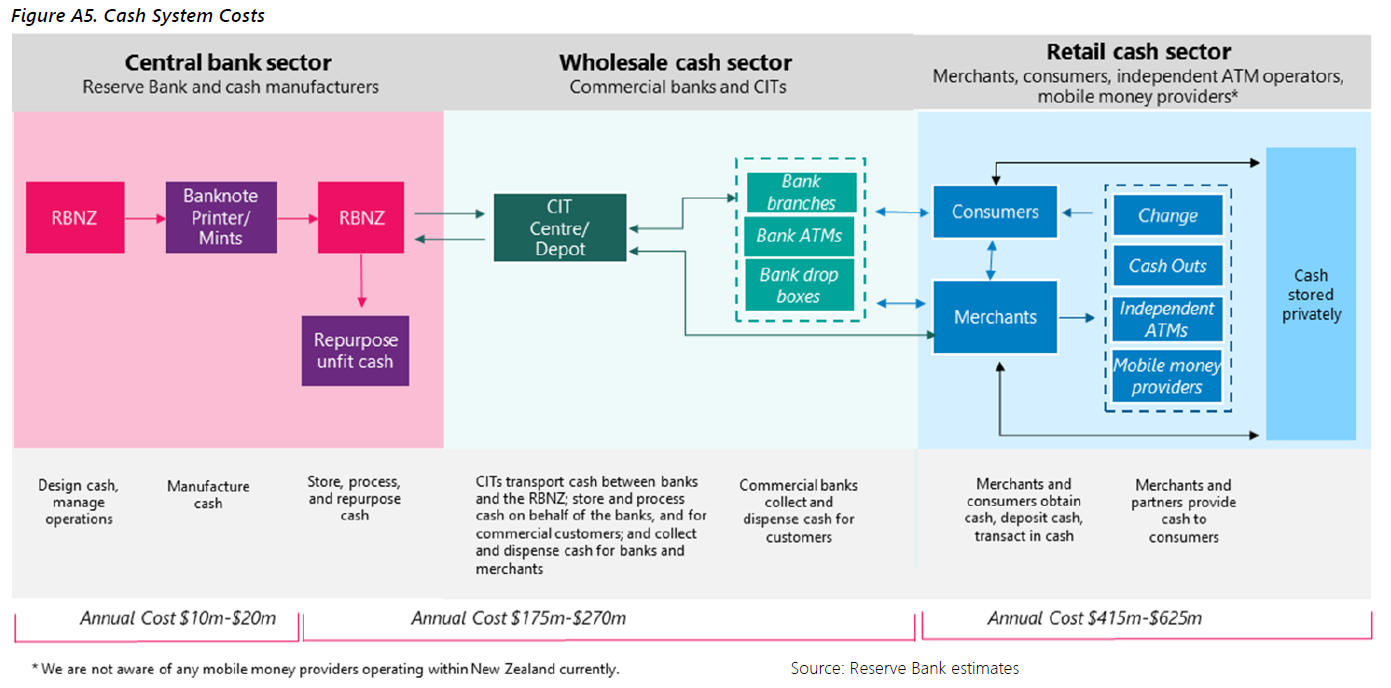 "This is a complex question. The public good nature of the benefits produced by the cash system suggests taxpayers should pick up some of the tab, and they currently do, covering the costs of the central bank sector and related policy functions."
Underlying the question of who should pay, is the question of who is paying now, the RBNZ says.
"Some of the policies raised for further consideration suggest a rebalancing of costs towards banks. In some ways, the question of what role banks play in the cash system – historically, now, and in the future – goes to the very essence of what it means to be a bank.
"Banks may prefer digital only, or digital-dominant, relationships with customers, but that has consequences for cash availability, which in turn affects the value anchor that we argue underpins private money. This is as much a social licence argument about banks' relationships with customers, as it is an economic argument.
"Similarly, we raise the prospect of the government shouldering more of the costs by way of accepting cash when its agencies interact with the public and being directly involved in cash system utility entities."
RBNZ Assistant Governor Christian Hawkesby says the central bank is wanting input to develop the right set of policies to ensure the cash system is resilient and efficient in the face of changes in use and availability.
"We hope the option set presented today prompts discussion and debate, and identifies gaps or refinements."
The document sets out 16 possible policy responses that could help deliver a fit for purpose cash system and eight policies that could operate as a coherent 'bundle' to appropriately shape incentives and address the Reserve Bank's objectives.
Hawkesby says the Reserve Bank plans to release a summary of submissions received on all three papers and an indication of next steps before the end of April 2022.
"We will firm up proposals up next year following the feedback we're inviting now and then consult further before making final decisions," he says.
This is the RBNZ's 16 recommendations, with what it calls its 'starter for 10' bundle of eight policies in bold:
Achieve consolidation within the cash system via the creation of utility entities.
Broaden access to wholesale cash.
Accelerate setting of cash machine standards.
Find efficiencies related to coins.
Outsource core functions performed in the wholesale cash sector to an offshore supplier.
Mandate acceptance of cash by merchants and government entities (requires decisions about scope, thresholds).
Instigate the remuneration of merchants (or other retail cash sector cash service providers) by banks when a cash-out service is performed.
The Reserve Bank remunerates merchants for cash quality checking.
License ATM providers.
An agency representing taxpayers contracts merchants (or other providers) to provide cash services.
Use moral suasion to impact on banks' cost recovery strategies.
Prescribe minimum standards for the services provided by banks.
Create new tools that allow the Reserve Bank to direct banks to provide cash services, and at low cost to customers.
Campaign to increase public awareness of cash issues.
Financial incentives to use cash (e.g. a discount).
Limit use of consumer rewards by payment card issuers.