Roger J Kerr says doomsday senarios already priced in to euro markets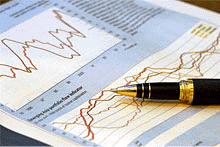 By Roger J Kerr
The jump up in the NZ dollar exchange rate from 0.7400 to 0.7500 on Saturday's general election result is not too surprising.
The markets are satisfied that the second Key Government has a validated mandate to push ahead with partial state asset sales and economic policies that promote growth.
The partial listing of four SOE's is certainly positive for the NZ sharemarket, even if foreign ownership of the shares will be restricted.
The political result is positive for business and positive for the economy. Albeit that there is a fair amount of risk and uncertainty surrounding Europe right now, the underlying fundamentals of the NZ economy (grass growth and agricultural commodity prices) remain very positive and it is hard to see the Kiwi dollar being sold in such an environment.
The risk in the short-term for further NZD depreciation to 0.7000 is that Europe totally implodes and the EUR/USD rates drops to $1.2500 (currently $1.3300), with the NZD/USD rate dragged down with the Euro.
As we approach the end of the year, I still see global hedge funds curtailing their speculative activities against European bond markets and bank share prices.
Therefore, despite all the scaremongering locally from several economic commentators that Europe is going to pull the NZ economy under, my view is that market turmoil in Europe recedes somewhat over coming weeks and the NZ dollar stabilises in the 0.7400 to 0.7600 trading range.
The very negative doomsday scenario for Europe is arguably already priced-into many markets, so the view is that sideways markets through the Christmas/New Year period will prevail, rather than continued heavy selling.
The 8 December Monetary Policy Statement from the RBNZ also has the potential to push the NZD up rather than down from 0.7500, as Governor Bollard really has to repeat his 27 October statement that interest rates will have to go up sometime in 2012.
Despite all the analysis and conjecture that goes into forming a view of where the Kiwi dollar will go next, the chart below suggest we should be spending all our time understanding the demand and supply equation for copper prices.
The copper price/NZD correlation exists because the Kiwi dollar tracks the Australian dollar, which in turn is viewed by the world as a proxy for Chinese industrial demand for copper.
A "hard landing" for the Chinese economy from monetary tightening earlier this year would send copper prices lower.
A "soft landing" in China is more likely to see stabilisation of copper prices at current levels. Hence the stabilising Kiwi dollar position in the mid-0.7000's over the next few months.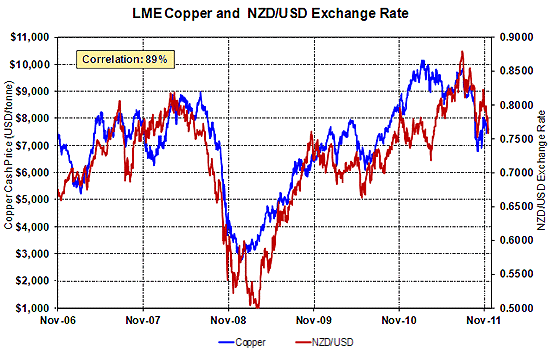 --------------------
* Roger J Kerr runs Asia Pacific Risk Management. He specialises in fixed interest securities and is a commentator on economics and markets. More commentary and useful information on fixed interest investing can be found at rogeradvice.com